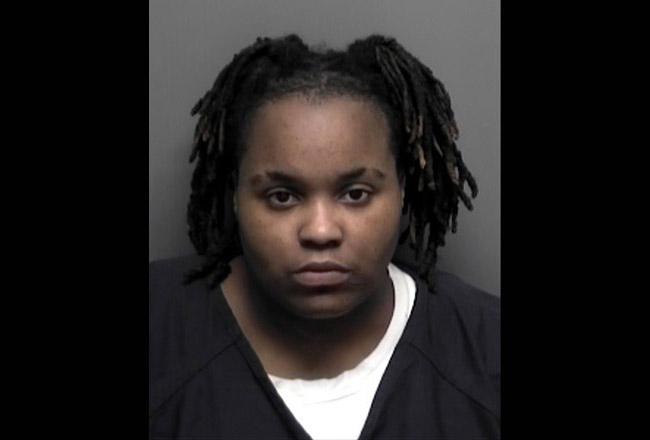 A jury of six men and six women found Gytonia Cheek guilty of first-degree murder, burglary and robbery today (Feb. 23) in Flagler County Circuit Court, in the 2007 killing of Myrtle McKinney in Palatka at Christmas that year. Gytonia was sentenced to life in prison.
The trial took place before Circuit Judge Terry LaRue in Flagler because of the publicity the murder had garnered in Palatka.
Gytonia,31, is the second of four people to be tried for the murder. (See below). Hers was also the second trial. A first go was declared a mistrial in late January, after a hung jury. Jury selection for the new trial took place Tuesday morning. The trial began that afternoon.
One former inmate testified at trial that Cheek told her that she and co-defendant Quritus Lowe, II, "tortured" McKinney and that she beat McKinney with a bottle "until she had a hole in her head."
The case was tried by Assistant State Attorneys Mark Johnson and Josh Alexander.
Two other Palatka women, Melissa Watson and Barbara Mundy, are yet to be tried for the murder. Those trials have not been scheduled.

From Jan. 27
Teacher Myrtle McKinney Murder: Mistrial Declared Today in Gytonia Cheek Case
Gytonia Cheek is the second of of four people charged in the 2007 Christmas murder of 58-year-old retired teacher Myrtle McKinney, who was found bludgeoned to death in her Palatka apartment by a nephew. Quritus Lowe II went on trial last December in Bunnell and was found guilty of murder. He is serving a life sentence in prison.
The trial was moved from Palatka to Bunnell at the request of Cheek's attorneys because it had drawn too much attention in Putnam County to ensure fair proceedings. Cheek's trial was moved to Bunnell for the same reason. That trial began Monday.
Earlier today, Circuit Judge Terry LaRue declared a mistrial in Cheel's case. The jury could not reach a unanimous verdict. A new trial will be set at the end of February, again in Bunnell, according to State Attorney R.J. Larizza's office.
Cheek is charged with first-degree murder, burglary with assault with a dangerous weapon, and robbery with a deadly weapon. Robbery was deemed the motive of the teacher's murder. Larizza's prosecutors are not seeking the death penalty in her case.
The trial took place before nine women and three men, who were chosen in day-long proceedings Monday, out of a pool of 50. Two potential jurors were excused when they said they didn't want to see the gruesome photographs of McKinney's murdered body, which were shown at Lowe's trial. Another potential juror, a woman, was excused when she intimated that Cheek was guilty until proven innocent by physical evidence. Three potential jurors were dismissed because they had connections to law enforcement (two were retired police officers, one was married to a homicide investigator.) Yet another potential juror who admitted to have traveled to Orlando three times to watch the Casey Anthony murder trial last year was also dismissed.
Myrtle had been a special education teacher in new Jersey. She'd retired to Florida. She lived in the Forest Glen Apartment complex in Palatka. Others charged in the murder are Barbara Mundy, 44, and Melissa Watson, 35. The dates for those trials have not been set.