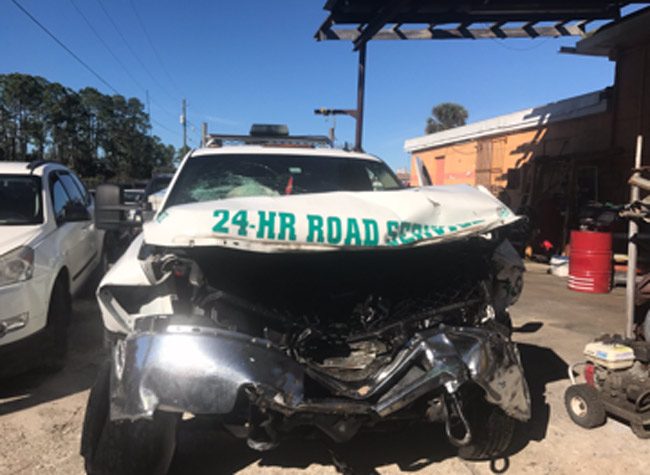 Last Updated: 8:12 p.m.
A multiple-rollover crash on I-95 just past the intersection with State Road 100 in Palm Coast shut down all three northbound lanes of the highway after 12:30 p.m. today.
There were three minor injuries and one more serious injury to a child, who was being transported to a hospital as a trauma alert. The child was being transported to Halifax hospital in Daytona Beach. Others are being transported to Florida Hospital Flagler.
The injured child, Sophia Prieto, 9, was listed in critical condition and subsequently taken to Arnold Palmer Children's Hospital in Orlando.
Also injured were Gregory Fehrenkamp, 62, of Palm Coast, Delia Gonzalez-Rodriguez, 37, of Miami, Eduardo Prieto, 14, of Miami, all of whom were listed in serious condition. Prieto and Gonzalez-Rodriguez were taken to Halifax hospital in Daytona Beach, Fehrenkamp was taken to Florida Hospital Flagler.
The crash was caused by David Blank, 58, of Daytona Beach, who was at the wheel of a 2012 Chevy truck owned by National Tire, the road-service company. The Florida Highway Patrol reported that Blank collided with the rear of the Volkswagen Gonzalez-Rodriguez was driving, catapulting her Volkswagen into the middle lane, where she struck the Toyota Tundra Fehrenkamp was driving. Fehrenkamp's Toyota overturned, crashing into a Honda Accord with Carla Cohen, 40, and Ana Mount, 6, both of Orlando, on board. Neither was injured. Blank was cited for careless driving.
I-95 was extremely busy with holiday traffic in both directions. The Palm Coast Fire Police was diverting northbound traffic onto State Road 100. Northbound traffic had backed up several miles, to Old Dixie Highway. Southbound traffic was not impeded, but the crash was causing rubbernecking in the southbound lanes, backing up traffic all the way to Palm Coast Parkway just 20 minutes after the crash.
Motorists were advised to avoid I-95 in both directions, exiting northbound at Old Dixie Highway, and southbound at Matanzas Woods Parkway. The Florida Highway Patrol is responding to the crash, as did the Palm Coast Fire Department and Flagler County Fire Rescue, and the Flagler County Sheriff's Office.
At 1:22 p.m., the Fire Police re-opened I-95 northbound to traffic, at the State Road 100 intersection.
At 12:55 p.m., another crash was reported five miles south of the SR100 crash, at mile marker 277, also in the northbound lanes, causing traffic to be diverted there, onto Old Dixie Highway. That crash caused four injuries.