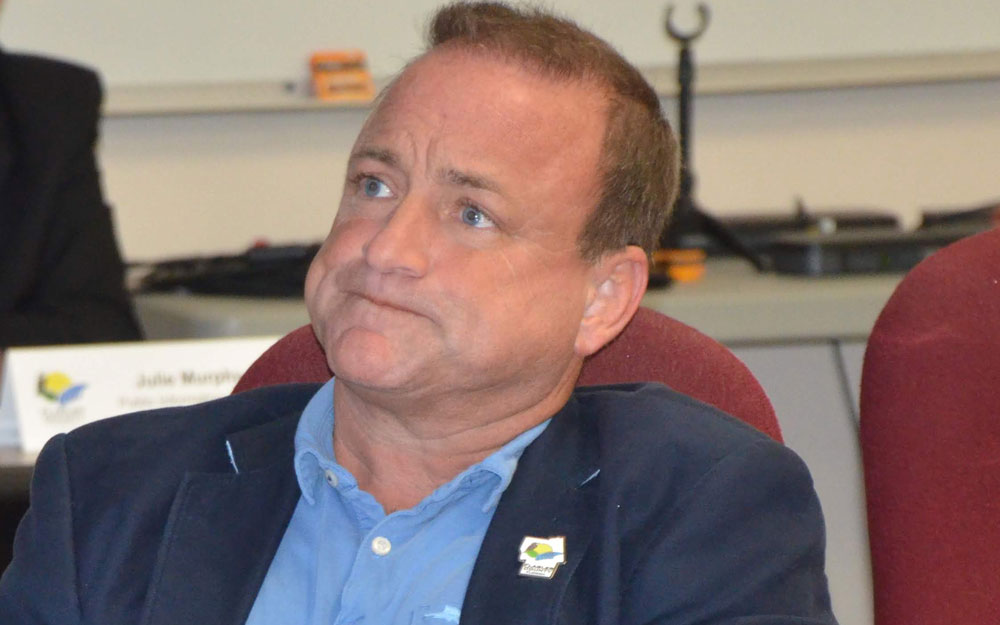 Commissioner Don O'Brien tried to have it both ways. He prefaced his support for Joe Mullins in what at first sounded like the opposite. He described himself frustrated over the controversy and public outcry over Mullins becoming chairman of the commission, and frustrated with Mullins's own "social media activities and contentious stance on some highly charged political issues." He called the social media activities "nonsense." Then, seemingly oblivious to the abrasiveness of Mullins's behavior even as he acknowledged it, he said the chairmanship "should just be a non-event."
But in the end, that's all it was: a veil for what proved to be the unsurprising vote that made Mullins, a bigot with a propensity for lies, slanders, insults, anti-Semitism and unprecedented divisiveness for a commissioner, chairman of the county commission for the next year. The two commissioners who had twice refused to censure Mullins for brazen attacks on fellow-commissioners and constituents now saw fit to elevate him as the representative of the county.




Commissioner Dave Sullivan nominated Mullins. O'Brien voted for him, and Mullins voted for himself. Commissioner Andy Dance nominated and voted for Greg Hansen, who also voted for himself. Mullins had called Hansen, who has had health issues, a "fat sonofabitch" on the dais during a commission meeting.
Sullivan nominated Hansen for vice chair. Dance nominated himself, saying it's been protocol in the commission's history to elect a commissioner in his or her second year in a leadership position. His colleagues shrugged that off. Hansen got four votes, with Dance in dissent.
O'Brien, who'd scripted his remarks, asked Mullins before the vote if he wanted to be chairman, given Mullins's other commitments–and referred to the emails that had packed his account in opposition to Mullins. "It is something I'm interested in and I do feel like that we should rotate it," Mullins said. "And I'm going to do the best I can. And I do realize that is one spot. That's one of five. It's not the ultimate spot. It's not the ultimate ruling point. It's one of five, so I would be honored and I would love to take my part in it."
"My reservation is really with the online banter," Dance said, "because there's really no separation as I see it as an individual and as a commissioner. When I'm out in the public, I'm a commissioner. People address me as such and I behave that way in the public knowing that. I'm just not sure how Joe can separate those issues and represent the commission in addition to all the other social media postings. That's my reservation. I just don't know how that's feasible based on the track record."




Evading the point, Mullins reached for equivalency, as if his behavior was no different than anyone else's: "I think all of us could sit here and say we don't like a certain thing that the other one does," Mullins said. "That's what makes us unique. Do I understand that I'm sitting in that seat and I'm speaking–I'm speaking for me. I've never said that I'm speaking for anyone else up here on this commission. I've always spoke for me. Is it something that I keep in mind if I'm in that position to tone back? Absolutely. And so I absolutely respect that that needs to occur."
"I don't see it as a separation, and that's where we differ," Dance said.
The last time the commission had a long-winded chairman goes back to 2014 and the George Hanns era. Hanns, who served 24 years as commissioner and at least twice as chairman following the Cromwellian reign of Jim Darby in that chair, was long-winded as storytellers are, by good nature and self-deprecating wit, not narcissism and grandstanding. "I've looked at the clock and Swamp People isn't on until 10 o'clock, so we have time," Hanns once said at a hearing on the tax rate. "I'm very pleased that we don't have to put in a numbers system like they do at Publix deli," he said at the end of an unusually brief public comment period. "I didn't get to talk much this weekend at home so I'm trying to make up for it," Hanns said at a May 5, 2014 meeting.
And in a classic from 2016, during a discussion on library construction: "And I will get to the point–in a moment."
Don't expect that kind of long-windedness, humor or Everyman geniality from Mullins. He tends to make his listeners cringe from his lack of self-awareness. He has a remarkable knack for bringing back any issue, any talking point, including other people's grief, to himself somehow, to show off, puff his chest or seem more important than the occasion, or the speaker or staffer before him, requires. His meetings will be long.
Ten people had spoken nearer the beginning of the meeting Monday about the next chairmanship, all of them opposed to Mullins, many of them nominating Dance, though of course the public has no role in the nomination process.




Robin Polletta said Mullins should be disqualified, as should Hansen, since both are up for re-election. (An elected official's term as chair coinciding with an election year is not a disqualifier, and is not unusually if slyly used on elected boards to give the official a leg up.)
Ironically, even as the first speaker spoke in his favor, Dance, ever the stickler for correct procedure, raised a question about the propriety of public comments addressing the nomination period in that particular segment. "I don't know that we've ever had public comment for nominations before," Dance said. "It's just between the board." But since the board doesn't take public comment when it does address its reorganization, O'Brien said the public had to have at least one part of the meeting where it could address the matter. Hadeed gave the allowance legal weight. "The legislature broaden the right of public participation at public meetings and allows public comment on any quote proposition," Hadeed said. "So I would recommend to the board in order to keep with the spirit of the Sunshine Law is to allow any comments that people may have relative to the election of the chair to occur now, because it cannot be accommodated at the time that the nominations and election are called."
On the comments went. O'Brien was accommodating, his decision as certain as his script, if not as certain as the outcome: Mullins smirked through the 10 commenters' remonstrations to the point of drawing a rebuke from one of the speakers: "I really do not want someone to represent me as the face of this county that has so much disrespect that as people were talking here tonight, He had a smirk on his face the entire time, and was thinking this was humorous," Sallee Arnoff told the commission. "That type of disrespect does not deserve to lead our county and be the face of our county."




"Our country is divided enough but we don't need elected officials in our own county degrading us on a daily basis," Cheryl James, whom Mullins had once publicly told she'd been "chained and muzzled," told commissioners. "He's a sick man. He doesn't have any integrity nor respect," she said. Others who have been publicly vilified by Mullins also spoke, asking commissioners not to elect him, as did Mike Cocchiola, who said it was him Mullins had in mind when Mullins said on the air certain liberals should be beheaded. (O'Brien, acceding to Mullins's own fabrication of a separation between his social media persona and his role as commissioner, has never addressed the Mullins of the half hour radio commercial he buys weekly, and where he routinely unleashes his denigrations and discriminations.)
Denise Calderwood, a former candidate for the commission and a social services advocate, delivered one of the longer entreaties against Mullins and again spoke at the end of the meeting, both times drawing eyerolls from one of the commissioners. "Of course money speaks loudly in Flagler County," she said. "Those of you on the commission have been subjected to the same bullying that he has does to the rest of us. Of course, he has bought off some of you, passively. And then also the past County Administrator, when he he purchased land that had been for sale for several years. However, we wash all that under the table." She said the commissioner's failure to censure him enable him to get away with more–at which Point Sullivan rolled his eyes.
It was Sullivan's preface to his nomination of Mullins.