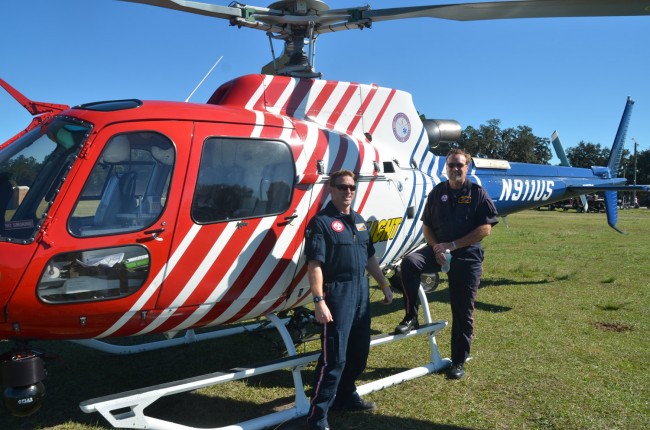 Wayne Oley, 30, and Brigett Madorma, 24, are regular mud fiends. They drive up from Holly Hill to Mud Muckers in the western part of Flagler County once a month and do what you do in that 11,000-acre expanse—muck around, and revel on an all-terrain vehicle as far as the enormous property allows.
That's what the pair was doing Saturday. Oley had driven up in his truck, trailing his ATV, parked the truck and gone off with Madorma into the woods on the three-wheeler—until something went wrong. A wheel on the ATV malfunctioned. So did Oley's cell phone: dead battery. He'd done what the Mud Muckers management recommends that all its visitors do: he'd strapped his wrist with the place's emergency phone number and carried his cell phone, but that plan was now inoperable. Madorma hadn't brought her phone. They were quite far from their starting point—about six to seven miles, when it was later calculated.
It was late. Night was falling. And the coldest night of the year since last winter was approaching. Temperatures were expected to be in the low 50s or upper 40s.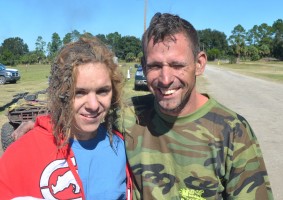 Back at Mud Muckers, the day's event was shutting down at 6 p.m. The gates were closed. At 8 p.m., management discovered that a pick-up truck with an empty trailer was still on the property. It was then that Oley and Madorma were reported missing, said Dan Davis, Bunnell's city clerk who doubles up as the city's spokesman.
Bunnell launched a rescue operation, with the Bunnell Police Department, the Bunnell Volunteer Fire Department, the Flagler County Sheriff's Office, Volusia's Air One (Volusia County's helicopter) and members of the Bimini One Hunt Club.
Bunnell's Fire Chief Derek Fraser set up his command post in a small office at Mud Muckers, with a map of the grounds that was broken down into 18 sectors, with roads and swamps delineated. Fraser assigned seven two-by-two teams, and set them loose on the specific quadrants, with Air One helping from above. Since the rescue effort had begun after 8 p.m., Flagler County's Fire Flight was not available: its hours were cut back a few years ago because of budget constraints. On the grounds, local members of the hunt club, who knew the grounds intimately, were paired off with other personnel as the search wore on into the night.
But it had to be suspended at midnight. It resumed in early morning, and after 8 a.m., with Fire Flight.
"They were located by Fire Flight right around 10:35, and they were out of the woods about half an hour after that," Fraser said.
"The flight medic spotted them out there, that's how we found them," Fire Flight Chief Pilot Brady Winslow said. "That's the hero."
"We just flew over the woods and I just saw movement," Flight Medic Gill Kerek said. "It's very, very difficult to get any view of anything, through the amount of vegetation. But I just saw them walking. They had the better sense to get to a cleared area, a road, and started to wave. They saw us, I saw them, that was it." Oley had a stick in his hand that added to the visual help.
"I found a clearing about a half a mile away and dropped him off," Winslow said. "He was walking toward them to see if they were all right when one of the ground personnel, one of the ATV's, picked him up walking down the road."
The pair was brought back to Mud Muckers, checked out by a Flagler County Fire Rescue crew, given blankets and fluids and cleared. They looked ragged, muddied, tired, their hair in rastafarian clumps of mud, but not distinctly different than muckers might look like after a day in the bog. What had stood out during the night was the cold.
That's what Madorma remembered most. How did she survive it? "Body heat," she said, pointing to Oley, who was recounting the night in the kind of sentences still rhythmically tuned to an ATV on the loose.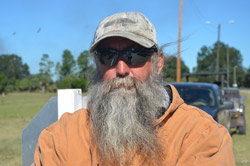 Robert Harris and Iron Horse Billy lease the property from George Allen, and run Mud Muckers. "It's the largest off-road park in the United States, if not the world," Harris said. "We call it the largest in the world. There's a total of 19,000 acres, but we let them ride on 11,000 acres. We have had people get lost a little bit. I go out and recover them when people break down. A lot of people do get lost out here. They call, I talk to them a minute, kind of figure out where they went and where they started and where they were going, and I can go right to them. I have stories where people go, well, 'How do you find them?' I just do."
Most of them time, rescues needn't go further than that. But Sunday night was a different story. "We had no idea because they didn't have a phone on them," Harris said, "so we knew they were missing. I was hoping that they'd be walking in at any time, you know. When it got late, we were really concerned."
By then Bunnell City Manager Armando Martinez had made his way to Mud Muckers. "I'm proud of the efforts conducted by the Bunnell Fire Department, the Bunnell Police Department, Flagler Sheriff's Office who assisted, and also the volunteers that we got here," Martinez said. "It's a happy ending. Any time that you can come into a situation like this, which is like finding a needle in a haystack, and find two people to walk out OK in their condition, it's a happy day." Of Fire Flight, he said: "In all honesty, anybody that wants to say how much money we might spend on it? Today, well, how much money do you put on a life? I think Fire Flight paid itself off today." Just then, Fire Flight took off—to go to another fire: the County Line Bar on County Road 305 was engulfed in flames.