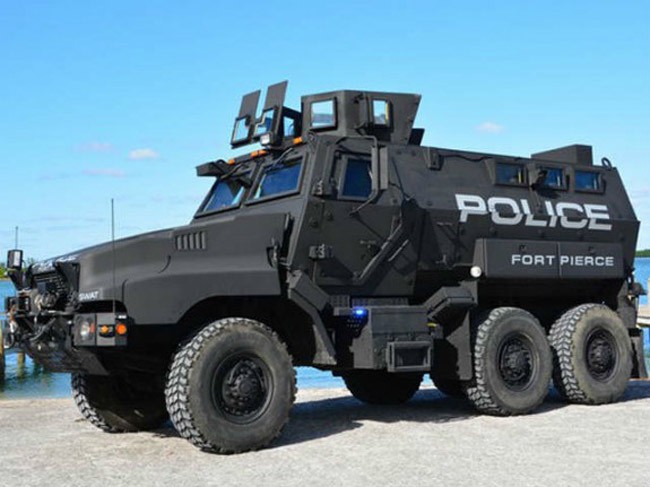 The Florida Center for Investigative Reporting on May 10 published an infographic and searchable database breaking down the types of surplus military equipment, as well as their monetary values, doled out to civilian law enforcement agencies in Florida.
The research revealed that the U.S. Department of Defense has provided 47 mine-resistant armored vehicles, also known as MRAPs, to dozens of police agencies throughout the state. MRAPs are designed specifically to withstand improvised explosive device attacks and ambushes by enemy forces in combat zones. (On Monday, the Obama administration announced that it would be scaling back the militarized hardware it makes available to local police agencies.)
From 2007 through 2012, the Pentagon put more than 12,000 MRAPs into service in the Iraq and Afghanistan wars. Now many of those MRAPs are being unloaded to 780 domestic civilian law enforcement agencies, many of which are on waiting lists to receive the vehicles.
To receive an MRAP, a law enforcement agency has to meet certain criteria by providing justifications for use, such as shooting incidents, SWAT operations, and drug interdiction. Geographical area and multi-jurisdictional use are also factors, as is a department's ability to pay for repairs and maintenance and guarantee security and restricted access to the vehicle, according to a 2014 National Defense magazine article.
The MRAP received prominent media attention last year when police in Ferguson, Mo., rolled out one of the vehicles in response to civil unrest and protests after a grand jury declined to press charges against former Officer Darren Wilson in the shooting death of unarmed black teenager Mike Brown.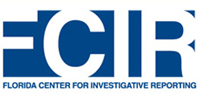 Of the 47 MRAPs delivered to Florida law enforcement agencies, 20 have been given to small and mid-sized municipal police departments. Here are some facts about where MRAPs are being used in Florida:
Florida International University is the only state college with an MRAP on campus. The FIU Police Department received one last year when the Pentagon distributed MRAPs to 60 universities across the country.
The Coral Gables and Fort Pierce police departments each have two MRAPs to deal with any possible insurgencies in their respective cities.
Police departments in 10 Florida cities and towns where blacks and Hispanics account for more than 40 percent of the population received MRAPs.
MRAPs have been deployed in 12 Florida cities and towns where the population is less than 50,000 people.
The Department of Defense sent MRAPs to 14 police departments in towns and cities where the annual crime rate dropped by two percent or more, according to the Florida Department of Law Enforcement's 2013 annual crime report, the most recent available.
MRAPs were awarded to 16 police departments in municipalities where 15 percent to 35 percent of the population lives below the national poverty level.
Eighteen MRAPs valued at $733,000 each were delivered to 17 law enforcement agencies between February and May 2014.
Law enforcement officials have claimed MRAPs enhance SWAT team responses to hostile situations, as well as provide effective assistance during disaster relief efforts. But civil libertarians argue that MRAPs don't belong outside of the military theater.
In an interview with Fusion Network last year, FIU Police Chief Alexander Casas defended his department's use of the MRAP. "As a homeowner, you have to have a fire alarm in your home, but you hope to God that you never have to actually depend on it," Casas said. "It's the same thing with us and this equipment."
However, local chapters of the American Civil Liberties Union around the nation have called on police departments to stop using MRAPs. In a report released last year, ACLU senior counsel Kara Dansky decried the use of MRAPs and other military equipment provided by the Pentagon to local police agencies.
"We found that police overwhelmingly use SWAT raids not for extreme emergencies like hostage situations but to carry out such basic police work as serving warrants or searching for a small amount of drugs," Dansky said. "Carried out by 10 or more officers armed with assault rifles, flashbang grenades, and battering rams, these paramilitary raids disproportionately impacted people of color, sending the clear message that the families being raided are the enemy."
–Francisco Alvarado, Florida Center for Investigative Reporting