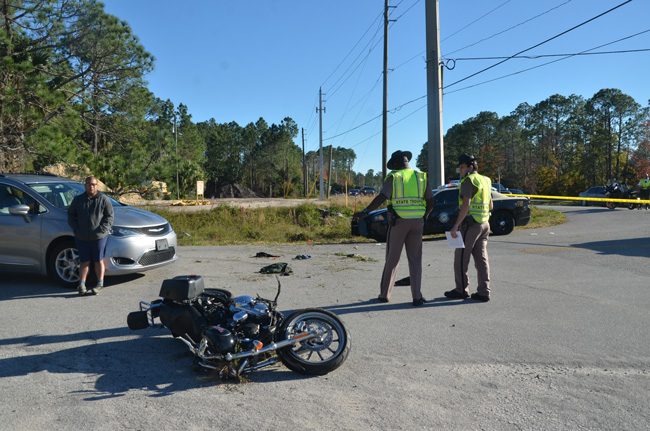 Last Updated: 8:22 p.m.
Robert Roy Robbins, a 62-year-old motorcyclist, lost control, swerved off U.S. 1 and crashed on Old Dixie Highway near the White Eagle Lounge this afternoon. He was pronounced dead minutes later.
It was the fourth road fatality in Flagler County since Dec. 7, ending the year on a grim note though Flagler had begun December with less than a third of the road fatalities it experienced in 2017. The crash near the White Eagle was one of several that took place on major roadways in Flagler today, particularly I-95, the scene of two major crashes totaling seven or eight injuries this morning, including a child.
This afternoon's crash near the White Eagle, a notoriously deadly zone, brings the number of people killed in crashes there to eight since May 2016, including three motorcyclists.
The crash took place at 2:30 p.m. Robbins, of Holly Hill, was riding north on U.S. 1. According to a witness' account to a Florida Highway Patrol trooper at the scene, Robbins failed to negotiate the curve immediately south of the intersection with Old Dixie Highway. He then fishtailed through dirt and brush, struck a culvert and a road sign, toppling the sign, and both he and the motorcycle went airborne.
The witness, Charles D. Lopez, was driving a van on Old Dixie, approaching U.S. 1, at the exact moment of the crash. (He had three passengers, including two children, 5 and 3.) Lopez described to FHP the motorcycle passing over the van and crashing on the pavement, Robbins striking the van, and falling to the ground by the van's passenger side.
Robbins had previously lived in Missouri. "For those of you that knew my dad," his son of the same name wrote on his Facebook page this afternoon, "He was involved in a Motorcycle Accident this afternoon and did not make it. Its a sad day. He just came here to retire and spend time with the family."
The Flagler County Sheriff's Office responded, as did Flagler County Fire Rescue, FHP and the Palm Coast Fire Police.
The cause of the motorcyclist swerving off U.S. 1 is not known. No charges are pending. Robbins was not wearing a helmet.
The scene was cleared at 6:30 p.m.
Because of the intersection's grim history, the Florida Department of Transportation developed a plan to reengineer the whole stretch of U.S. 1 and the intersection and build a $4.1 million roundabout there. Construction is scheduled to begin on Jan. 7. Roundabouts don't eliminate traffic crashes, but drastically reduce the incidence of fatal and severe crashes.