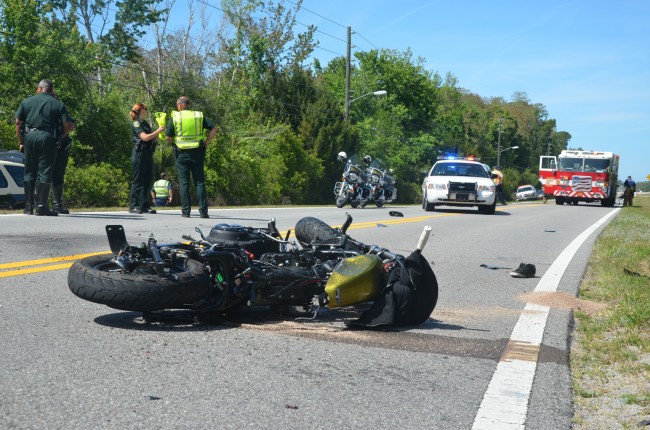 Roads reopened at 4:35 pm.
Robert Trainham, a 27-year-old Palm Coast motorcyclist riding north on Belle Terre Boulevard, south of State Road 100, was killed in a collision with a Chevy pick-up truck just before 3 p.m. Trainham, a resident of Palm Coast's W Section, almost lost a leg and appears to have bled out. He was pronounced dead at the scene by Flagler County Fire Rescue paramedics.
The wreck took place on Belle Terre's final curve south of SR100 (Belle Terre Boulevard starts south of 100; Belle Terre Parkway starts north of 100). Trainham hit a truck driven by Eduardo Borges, who owns Luzo Home Improvements, and who was heading south.
Six people have died on Flagler's roads since the new year, three of them on motorcycles, one of them on a bicycle.
Two witnesses in separate cars saw the wreck. Mary McLellan, 18, was heading home south on Belle Terre. "The guy was going around the corner, and as he's coming," she said, referring to Borges, "the bike is coming around and he swerved into his lane. The bike swerved into his lane. He tried to swerve out of the way, but then he didn't get out in time and they crashed." Everything, McLellan said, "went flying," the bike in one direction, the truck in the other.
The bike ended up on its side in the northbound lane in the middle of scattered debris. Trainham was thrown to the grassy shoulder, some 10 feet northeast of the the bike. Borges's truck swerved down a berm and ended up off the road, straddling the concrete footpath, facing south.
"I'm going this way, and this guy is going too fast," Borges said. "He's halfway into this side of the lane, I slowed down, tried to get away from him, . Here's the result. He was boogying."
The Palm Coast Fire Police was diverting traffic off of Belle Terre onto Zebulahs Trail, which arcs around the road.
Michelle Boyles was driving her Chevy pick-up truck behind McLellan, heading home. "He was in his lane," Boyles said of Borges, "the motorcycle came around the corner and you could see he was just going too fast, and he lost control and that's when he swerved and hit him, and he [Borges] tried to swerve by going off the road, and it was just, it was too late. And all I saw was the guy fly into the grass and I got on the phone with 911 as quickly as I could. I couldn't jump out because I had my baby girl," who is 3. "We were doing 45, he was doing at least more than 50. You could see, he was trying to take that corner as good as he could, and he lost control and that's when he came over."
A Florida Highway Patrol homicide investigator confirmed that Trainham "failed to negotiate the curve, a sharp curve," and slammed into the truck, triggering his ejection. He was not wearing a helmet, but he did not die of a head injury. "He severed his left leg, I believe, below the knee cap," the investigator said, causing his death.
At 4:15 p.m., Saxon's Towing removed the victim's Harley from the road, which was due to open around 4:30. The medical examiner had also arrived at the scene, and the body, which had been covered with a yellow tarp, was being removed. The identity of the victim was withheld until his next-of-kin in Virginia was notified. Trainham's fiancee lives in Palm Coast.
Flagler County Fire Rescue, the Palm Coast Fire Department and the Flagler County Sheriff's Office all responded, in addition to FHP.