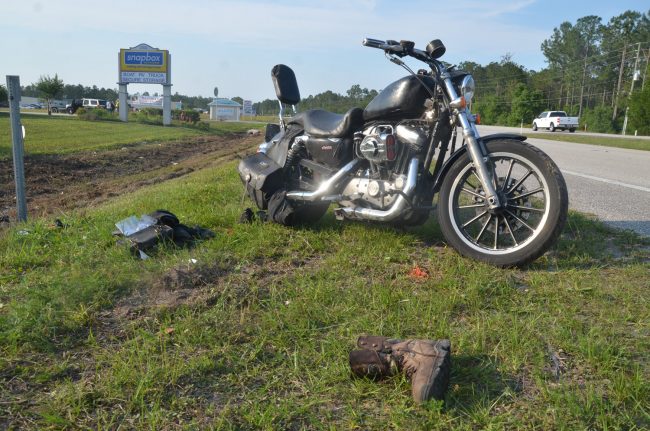 Last Updated: Saturday, 9:30 a.m.
A man and a woman were thrown from their motorcycle and injured on U.S. 1 after being clipped by an SUV in Bunnell this afternoon. The woman was severely injured and air-lifted out, the man was taken to a local hospital with lesser injuries.
Both were said by an investigator at the scene that they were expected to survive, though by the time the Florida Highway Patrol issued a release on the crash late Friday, both were listed in critical condition: William R. Westervelt, 53, of Bunnell, who had been driving the motorcycle, and Kimberly Dawn Boyer, 48, of Palm Coast.
The crash took place minutes before 5:30 p.m. in the southbound lanes of U.S. 1 at the south entrance to the Atlantis shopping center in Bunnell.
Tyler P.C. Anderson, 25, was driving back from a new job in Port Orange at the wheel of his 2002 Chevy Tahoe SUV. He was returning to the Atlantis center to pick up a paycheck from a previous job.
A Florida Highway Patrol investigator at the scene said Anderson had begun the turn left to go onto the center. There was a vehicle in the left lane making a U-turn, and a semi was driving south. As soon as the semi cleared, Anderson drove ahead across U.S. 1. He had not seen the victims on their motorcycle immediately behind the semi.
Anderson's Chevy clipped the motorcycle, sending it sough a few dozen feet, and knocking its victims off the bike, which came to rest on its right side.
Boyer is likely to lose a leg that was severely inured, the trooper said, and was air-lifted to Halifax hospital in Daytona Beach by Flagler County Fire Flight, which landed on U.S. 1. Westervelt was transported by ground to Florida Hospital Flagler. The SUV sustained light damage to its front-left. Anderson remained at the scene after the crash was cleared, cooperating with authorities. The FHP trooper said he violated the motorcyclists' right-of-way, resulting in a citation.
Bunnell police and the Flagler County Sheriff's Office initially responded, as did Flagler County Fire Rescue and the Palm Coast Fire Police, and of course FHP, which was simultaneously working two crash scenes on U.S. 1. There was another at Whiteview Parkway: it was a similar crash–a BMW against a motorcyclist, involving one victim on the motorcycle (the woman driving the BMW was not hurt). The victim was taken to Halifax by ground.
The Atlantis scene had been cleared by 6:30 p.m., the scene at Whiteview by 7 p.m.