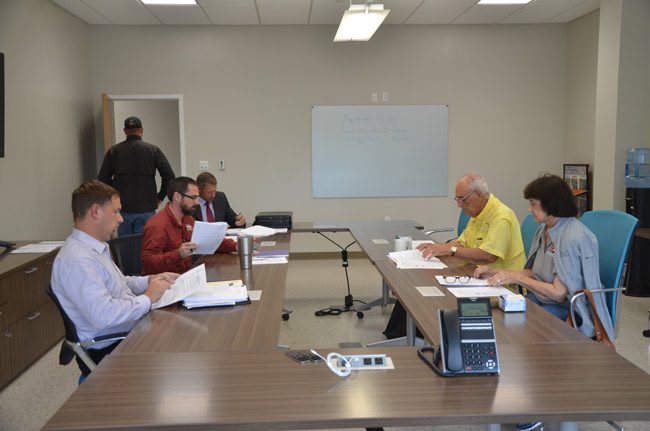 The East Flagler Mosquito Control District in its second and final budget hearing this afternoon approved a $2.1 million budget and a tax increase of 10.25 percent above the rolled-back-rate–the rate it would have have set if it were going to take in as much revenue next year as this year.
The actual tax-rate increase, from this year to next, is 4.8 percent. Either way, property owners will not see much of a difference in their tax bills: the new rate will be $0.2518 per $1,000 in assessed value (up from $0.2403), so for a $175,000 house with a $50,000 exemption, the total burden on a homeowner will be $31.48, a difference of $1.44, or about the cost of a small order of fries at McDonald's.
The Mosquito Control District is an entirely independent government entity with its own elected board, budget and taxing authority over the majority of Flagler County's population centers, including Bnnell, Palm Coast, Flagler Beach and the Hammock. Its trucks and helicopter spray chemicals to suppress the mosquito population. They do not do so in Flagler's agricultural west. The cities and the county have no authority over the district, though they have cooperative agreements allowing the spraying.
The three-member district board approved the new budget and tax rate on a 2-0 vote, with Chairman Julius Kwiatkowski and member Barbara Sgroi voting. The third member, Florence Fruehan, was absent. Kwiatkowski said Fruehan called him a couple of days ago to say he would be tending to his mother, who Fruehan said is in an intensive care unit. Last week the Flagler County Sheriff's Office filed two misdemeanor battery charges on Fruehan on allegations by two women that he touched them inappropriately during what should have been routine medical exams. Fruehan had been under investigation by the state Department of Health over similar charges, and last month agreed to quit practicing medicine and surrender his license. His status as a member of the mosquito control board was unclear, but Positano said he had been attending meetings–until today's absence.
The district a year ago went through a crisis of its own as its director was pushed into retirement after the district discovered that it had overspent $1.1 million in a $1.8 million budget, shortly after celebrating the opening of its new headquarters on the grounds of the Flagler County Airport. The crisis led to a state legislative audit, which is ongoing. Positano said two state officials "camped out" at the district's offices for almost three weeks, "they looked at every piece of paper they possibly could look at, basically." Positano said auditors, who are back in Tallahassee, are now asking questions about documents already provided, suggesting the audit is nearing completion.
The district is looking to raise $120,000 more money than it did this year: it had to raise $60,000 and cut expenses by 5 percent to break even, Positano said, and it is looking to raise $60,000 more in anticipation of a proposed constitutional amendment that, if approved by voters come November, would reduce all government revenue that depends on the property tax. Reserves currently are at $451,000. According to the district's budget documents, those reserves would grow to $651,000 next year, while the operating budget would decline by $100,000.
Today's hearing generated no discussion between the two board members and their director, and was conducted in a largely empty conference room but for the district's attorney and three other people. It was over in a matter of minutes. The district's monthly meeting, held earlier, was equally uneventful.
The budget outline is below.

East Flagler Mosquito Control District 2018-19 Budget: