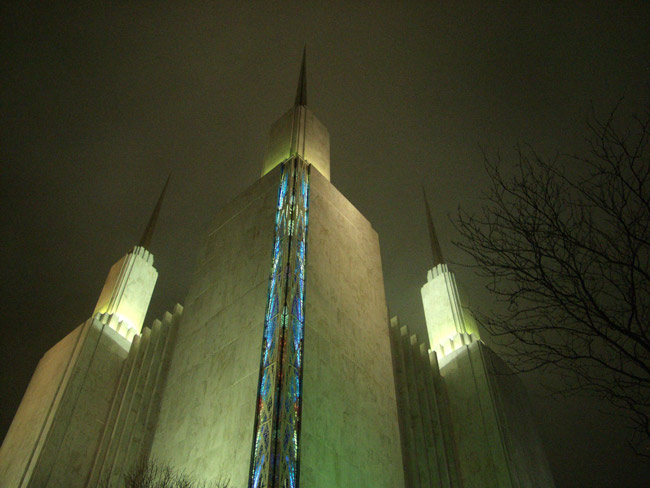 Angels don't make a habit of visiting Upstate New York, particularly to talk books, even more particularly one called Mornoni, and in late September at that, when it gets pretty nippy in Upstate, so it was quite unusual that one did in 1823, dropping in on a young Joseph Smith with a preview of the Book of Mormons. It was a warm-up act to another revelation that starred no less than Jesus and God, neither of whom had ever made an appearance for, say, Mohammed in his dreamy phases, or Black Elk, or the encyclopedic number of men and women who, before Hollywood serialized storytelling on screen, imagined visions for millions.
With that advantage Smith pulled a Horace Greeley and went west, but only as far as Missouri and Illinois, where his bent for authoritarianism and silencing dissenting opinion got him jailed before fanatics of a different sort murdered him in his jail cell. It was left up to Brigham Young to carry on to Utah and carry through the establishment of the Church of Latter Day Saints, now 12 million strong worldwide and one of the fastest-growing Christian sects in the United States, ahead of Catholics (Islam currently holds the Speedy Gonzales title worldwide; Presbyterians are in the loss column). Joseph Smith begat Mormonism, Mormonism begat–as cults from Catholicism to Southern Baptism to Shiitism usually do–its share of mysterious rituals, elaborate belief systems, famous progenies, not least among them Mitt Romney, Harry Reid and Glenn beck. Roseanne Barr used to be a Mormon but didn't like the male totalitarianism of its one-way streets and quit.
---
Editor's Blog
---
---
Romney's prominence of course is giving Mormonism plenty of publicity, good and bad. J. Spencer Fluhman, assistant professor of history at Brigham Young University and the author of the forthcoming book, 'A Peculiar People': Anti-Mormonism and the Making of Religion in 19th-Century America, takes on the "fear" of Mormons in a column for The Times today. The column, oddly, lays out the many peculiarities and prejudices of Mormonism without refuting them. Rather, Fluhman appears to justify them by way of relativism: "Making Mormons look bad helps others feel good," he writes. "By imagining Mormons as intolerant rubes, or as heretical deviants, Americans from left and right can imagine they are, by contrast, tolerant, rational and truly Christian. Mitt Romney's candidacy is only the latest opportunity for such stereotypes to be aired."
But religions making Hatfields and McCoys of each other is the oldest trick in the book, the books of Mormonism included ("let them apostatize, and they will become gray-haired, wrinkled, and black, just like the Devil," Brigham Young writes in a double-whammy at religious transgressors and blacks. Among the innumerable dogmas Mormonism and Islam have in common is the disdain for those who leave the faith.) Fluhman at any rate doesn't corrrect the record, but rather diagnoses it: "Any religion looks weird from the outside, but the image of Mormonism seems caught somewhere between perpetual strangeness and strait-laced blandness," he writes. "Liberals were outraged by Mormon financing of Proposition 8, the 2008 ban on same-sex marriage in California. They scoff at Mormonism's all-male priesthood and ask why church leaders have yet to fully repudiate the racist teachings of previous authorities." Yes, but what about that financing? what about the all-male priesthood (no different, let's be clear, than Catholicism) and the absence of repudiations for past bigotries? Southern Baptists crossed that line back in 1995.
"Some big-hearted evangelicals have recently reached out to Mormons with genuine understanding, but they must now fend off charges of getting too cozy with Satan's minions," he continues, a set-up for a swipe: "Because evangelicals are hard pressed for unity to begin with, and because they have defined themselves less and less in terms of historic Christian creeds, their objections to Mormonism might carry less and less cultural weight."
He concludes: "Many conservatives, in fact, seem more concerned with Mr. Obama's political heresies than with Mr. Romney's religious ones. It may be that Mr. Obama's unpopularity will prove a key factor in Mormonism's continued mainstreaming. With politics and religion so inextricably linked in our culture, a Romney presidency would entail lasting effects for Mormonism and its image. Segments of the religious right might finally make peace with, if not quite accept, Mormonism's various heterodoxies. The left may struggle to comprehend a steadily diversifying faith that has increasingly global reach. […] But until Americans work through our contradictory impulses regarding faith, diversity and freedom, there is no reason to believe anti-Mormonism will go away anytime soon."
Especially if the contradictory impulses are inherent to Mormonism, and primarily unresolved from within.
–Pierre Tristam