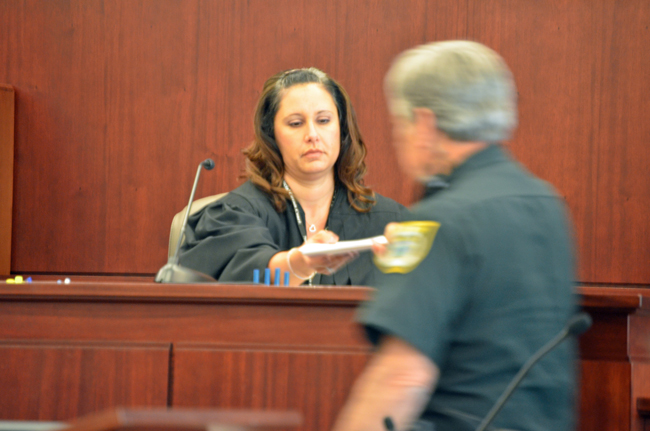 Flagler County Judge Melissa Moore-Stens was not happy.
Not only was Palm Coast improperly telling drivers that the city could have their red-light traffic camera citations dismissed. Not only was the city improperly telling drivers, as part of that deal, that they could get their dismissal as long as they directly paid the city $158, though they would supposedly not have to pay additional dollars to the court system. But Palm Coast had requested a hearing before the judge on its own motion to dismiss a slew of red-light camera tickets—and hadn't even bothered to show up to its own hearing.
Clerk of court staffers and about a dozen individuals who'd been issued citations were in court Wednesday morning for that hearing. So was the judge, of course. Not Palm Coast. And for the second time in six weeks, the seemingly boundless audacity of Palm Coast's authoritarian interpretation of the state's red-light camera law was ticking off a judge in Flagler County.
On March 20, Flagler County Circuit Court Judge Dennis Craig appeared before a Palm Coast hearing officer to contest a red-light citation he had himself been issued improperly, as the judge proceeded to show. Wednesday's case did not involve a judge personally. But it was just as clearly a battle of wills in which a court system was signaling that it was tired of getting pushed around by a city that, in Moore-Stens's judgment, was exercising authority it did not have.
And exercising it rudely.
Some 22 minutes into the hearing, the judge got Liliana Filipe, a Palm Coast code enforcement customer service representative and data-entry clerk—that is, one of the city's lowest-rung employees—on the phone.
"Why is the city not present? This was scheduled at 11 o'clock and it's now 11:22, and I have a courtroom full of people that are waiting for their cases to be heard," Moore-Stens said.
"The notification that we receive didn't inform us that we needed to be present," Filipe said.
"Well, if it's your motion, and it's set for a hearing, you need to be here. You did file the motion to dismiss?"
"Correct."
"So why would you not need to be present at a hearing on your motion?"
"I can't answer that."
Filipe placed the judge on hold for several minutes. Filipe then returned to say someone from the city would show up in, at most, 10 to 15 minutes. The court recessed. Thirty minutes later, no one had showed up. When the court reconvened the judge explained that an attempt to contact Filipe went to voice mail.
Moore-Stens had thought of issuing a contempt of court order. Instead she issued a show-cause order, requiring Palm Coast to provide within 14 days an auditable list of all the names and citation numbers of people issued traffic citations by the city, and told that as long as they paid the city $158 directly, the traffic citation in the court system would be dismissed, and they would not have to pay additional fines owed the court system.
Red-light cameras are at the source of a long stream of problems that go beyond drivers' aggravation at being snapped and fined by robotic cameras that presume a car owner's guilt until innocence is proven. Several court cases have made their way through county, circuit and appeal courts, all the way to the Supreme Court, where two cases on the legality of pre-2010 camera systems may be resolved this year.
The case before Moore-Stens illustrates a lesser-known problem, but one that has driver clerks of court like Gail Wadsworth up the wall, because Palm Coast had seemingly found a way to cash in on red-light tickets by intimidating drivers on one hand and locking out the money owed the court system on the other.
---
A court steps in to remind Palm Coast that it has no authority to interpret the law, even on red-light cameras.
---
When a driver is issued a notice of a red-light violation, that infraction is at first a code violation issued through the city's code enforcement department and the private vendor that runs the system(American Traffic Solutions). The accused can choose to pay the $158 immediately or contest the citation. If the fine is not paid within 60 days, the violation is immediately converted into a state traffic ticket, or a Uniform Traffic Citation. A court file is created for it, and additional fines and fees may accumulate. In many cases, such UTCs are triggered not because the driver doesn't want to pay the initial fine, but because Palm Coast and ATS have committed errors—as, for example, when initial notices are sent to the wrong address, or when a vehicle owner is falsely accused of having been at the wheel of the cited vehicle. As the case makes its way through the system, and the clock ticks, the case can be resolved in several ways.
But the moment the case becomes a UTC, it is no longer up to Palm Coast to decide how that resolution may occur. That decision rests in the hands of the court system.
Palm Coast has been interpreting the law differently—in Moore-Stens's view, the city has been misreading the law by presuming that the clerk of court must dismiss violations issued in error. Not so: the law states clearly that the clerk "may" dismiss such tickers, if so requested by the city. But the decision is the clerk's alone.
"We are here," Moore-Stens told vehicle owners and others in court Wednesday, "because the city of Palm Coast is telling persons issued these red-light camera tickets information that is not accurate, OK?" She went on: "What the city is doing is they're issuing these citations from American Traffic Solutions in Arizona. Whether or not you get the ticket, if it doesn't get paid, it gets sent to the clerk, then the clerk opens a file. The clerk has to docket it, you've got an actual person who's inputting all this information, they're incurring costs, they're sending information to you or whoever is named in it, and that person either comes or doesn't come. If you don't come, if you don't pay, there's a D6." A D6 means your driver's license is suspended. "This takes a lot of work on our clerk of court. So for them, when you find out about it a year or two later, your license is suspended or whatever the situation is that's happening and you go to the city and you ask to clear it up, they're wanting to dismiss these infractions without any consideration for all the work that's been put in by the clerk of court."
Moore-Stens was at pains to explain to the dozen or more drivers present that the court system was not trying to double-bill them, or add fines or prevent them from driving. She wanted them to understand why they were suddenly finding themselves in the middle of this tug of authority between court and city.
"When you pay the city of Palm Coast the $158, when it's a notice of violation, the city of Palm Coast keeps the bulk of that money," the judge told the drivers. "Once it becomes a UTC, the state gets money, the clerk's office gets money, other people get money and the city gets a whole lot less than what they get if you pay it initially as a notice of violation. That's why they want to dismiss the ticket, so that they can keep more money by being paid under the notice of violation rather than it being paid as a UTC going onto your driving record. I'm not trying to get this on your driving record. I'm not trying to make this difficult for you individually. The city of Palm Coast is citing a statute that does not require anybody in this building to dismiss your tickets." Moore-Stens added: "For them to tell you that it will be dismissed is improper. That's why I'm issuing an order to show cause to them for not appearing today."
Six weeks ago Flagler County Circuit Judge Dennis Craig appeared before a Palm Coast red-light camera hearing officer and declare the city's red-light citation system flawed to the point of operating in "bad faith" and at the expense of innumerable drivers who are illegally being cited so the city can collect as many fines as possible. Craig was appearing as a vehicle owner who'd been improperly cited: he wasn't at the wheel of his car when it was caught crossing a red light. The city dismissed his case, but only to get out from under accusations backed up by evidence it could not refute: that it routinely had code enforcement officials sign citations under false pretenses, assuming that most drivers would not challenge the procedure. Craig did, though he won the sort of victory that left the bad-faith system in place.
Today's case illustrated a different part of that convoluted—and, to the judge, "troubling"—system.
Around noon, the judge got word that the city was calling. "That's too late. I'm not taking a phone call," she immediately told an aide.
Later in the afternoon, Moore-Stens issued the written order to the city to show cause.
"We'll get to the bottom of it," she had said in court before closing the day's proceedings on the issue.