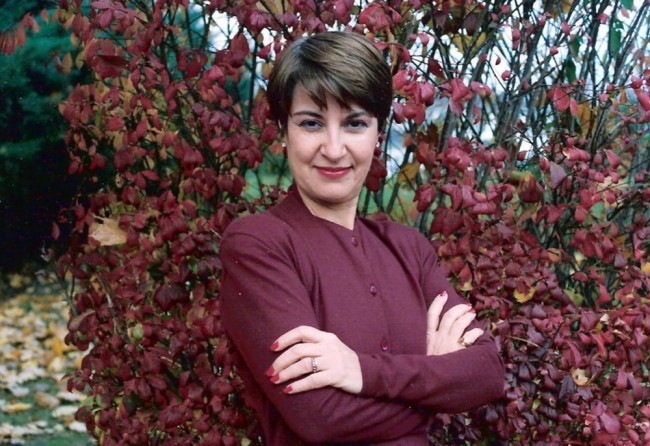 Note: Monique is FlaglerLive Editor Pierre Tristam's mother.
Monique Haddad-Branon, née Safa, passed away peacefully at home on the evening of Sunday 17 November 2013 in Palm Coast, Florida (United States), surrounded by her children, after more than a decade of a devastating battle with Alzheimer's Disease, aged 75 years. Funerals took place on Thursday 21 November and a mass will reunite relatives and friends in the New York/New Jersey region.
A kindergarten teacher by profession, she kept a weekly column at the Beirut French-speaking daily L'Orient-Le Jour, was the agent of the English company Galt Toys in Lebanon, hosted weekly radio programs on two successive national stations (Radio Liban then La Voix du Liban), organized annual group trips for youths to the great historical sites of England, France and Italy, and created, wrote and hosted a live TV show entitled Le coin des jeunes (Young People's Corner) on the French-speaking national channel for 15 years. She was also a reporter and foreign correspondent of the Lebanon daily Le Réveil since its inception in 1977, where she created the weekly profile "Men of Our Times" and "Women of Our Times."
Two years into the Lebanon war she lost her husband of 18 years, the photographer Fouad Haddad, in 1976, and moved to New York after marrying James Francis Branon, desk editor at CBS. "Jim-Jim," as she renamed him, took in her three grown boys, helped send them to good schools, provided the family a loving home in the beautiful Queens neighborhoods of Sunnyside then Woodside, and gave the four of them U.S. citizenship and a safe, rich, happy new life. (Jim-Jim died in Palm Coast in 2010.)
She picked up again her intense pace of activities and work where she had left it, successively becoming a correspondent and regular contributor at the Paris-based Figaro Magazine, author of an autobiographical novel entitled Le violoniste au couvent de la lune (The Violinist at Moon's Convent, after her father Anis's native village in the Chouf district of Mount Lebanon) which was published in Paris, as well as a collection of poems, another one of short stories, a textbook of elementary French for English speakers entitled Vis-à-vis published at McGraw-Hill, a series of radio programs on nutrition for UNICEF, and the French translation of A Christian Critique of the University—a collection of three university lectures by the Lebanese thinker and diplomat Charles Malik, one of the co-drafters of the Universal Declaration of Human Rights. She also served as a trilingual interpreter at the General Assembly of the United Nations in New York. None of her New World activities changed her, however, from her old self as a literary hostess and gastronome of countless warm and gleeful home reunions of family and friends, to Jim-Jim's great delight.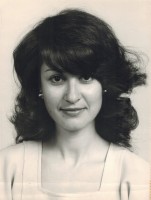 Her great literary love was Marcel Proust, whose works she read in full and studied formally with one of his world specialists at Columbia University. Wife and mother, women of letters, musician, natural innovator, pioneer and feminist, always active, lively and brave, generous, filled with joie de vivre, hospitality and humor, such was Monique. Her writings chronicle life, childhood, the Levant of traditions, conflicts and bittersweet exiles, loss and reunions, the pilgrimage of the spirit through endless learning and variegated creeds, love of family, of Mount Lebanon—especially her beloved village Hamlaya, where she had spent the first years of the war—and finally her adopted city and country, New York and the United States.
She is survived by her three children Gabriel, Robert and Pierre (Tristam) and their respective spouses Faridah, Susan and Cheryl; nine grand-children (in the order she came to know them): Fouad, Sadie, Alexandra, Taher, Justin, Abdulghani, Luka, Alauddin and Karim; and by her brother Paul-René Safa.
Farewell to Monique, our sweet friend, neighbor, cousin, aunt, colleague, sister-in-law, mother-in-law, darling sister and beloved Mom, who hailed from loving, respectful and responsible people then raised the same. We had long been missing you and always will. Knowing that you are now relieved of your heavy burden and praying for the Most High to keep you with Him is for us a consolation and a redemption.
–Gabriel Fouad Haddad
Brunei Darussalam

Monique Haddad nous a quittés
Monique Haddad-Branon, née Safa, s'est éteinte paisiblement dans la soirée du Dimanche 17 Novembre 2013 à Palm Coast en Floride (Etats-Unis) entourée de ses enfants, après plus d'une décennie d'une lutte dévastatrice avec l'Alzheimer, âgée de 75 ans. Les obsèques ont eu lieu le Jeudi 21 Novembre et une messe réunira proches et amis dans la région de New York-New Jersey.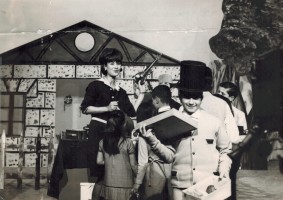 Jardinière d'enfants et véritable forcenée du travail depuis son plus jeune âge, auteur d'une rubrique hebdomadaire au quotidien L'Orient-Le Jour, agente de la compagnie anglaise Galt Toys, hôtesse de programmes hebdomadaires à Radio Liban puis à La Voix du Liban, organisatrice de voyages annuels en groupe pour jeunes vers les grands sites historiques de l'Angleterre, de la France et de l'Italie, enfin créatrice-animatrice de l'émission télévisée Le coin des jeunes à la Compagnie Libanaise de Télévision pendant 15 ans, elle perd son mari le photographe Fouad Haddad en 1976 et se repatrie à New York où elle se remarie avec James Branon, journaliste à la chaîne CBS pour vivre désormais a Sunnyside puis à Woodside, son beau quartier boisé et ensoleillé de l'arrondissement de Queens. Reporter et rédactrice-correspondante au quotidien Le Réveil dès son inception en 1977, elle y crée une chronique hebdomadaire, "Les hommes de notre temps" et "Les femmes de notre temps." Correspondante du Figaro Magazine à Paris puis auteur d'un roman autobiographique paru chez Stock, Le violoniste au couvent de la lune (son père Anis était originaire de Deir al-Qamar dans le Chouf au Mont-Liban), d'un recueil de poèmes, un autre de nouvelles, un manuel d'apprentissage du français pour anglophones titré Vis-à-vis chez McGraw-Hill, une série de programmes radios sur la nutrition pour l'UNICEF, et la traduction française de l'essai A Christian Critique of the University par le penseur Libanais Charles Malik, elle sert aussi d'interprète trilingue à l'Assemblée Générale des Nations-Unies. Elle n'oublie pas pour autant, au Nouveau Monde, ses habitudes Beyrouthines puis Hamlayotes d'hôtesse littéraire et gastronome tant chaleureuse qu'hilare.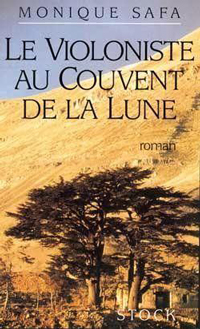 Son grand amour littéraire fut Proust, qu'elle lut intégralement et étudia avec un de ses spécialistes mondiaux à l'université de Columbia. Epouse et mère, littératrice, musicienne, pionnière, innovatrice-née, féministe avant la lettre, pérégrine, vivace et courageuse, généreuse et débordante de joie de vivre, d'hospitalité et d'humour, telle fut Monique. Ses écrits font la chronique de la vie, de l'enfance, du Levant des traditions, des conflits et des exils doux-amers, des pertes et des retrouvailles, du pélerinage de l'esprit à travers les connaissances sans fin et les convictions variées, de son amour de la famille, de la montagne libanaise—en particulier son bien-aimé Hamlaya, le village du Metn où elle vécut les premières années de la guerre du Liban, enfin de sa ville et de son pays d'adoption, New York et l'Amérique.
Elle est survécue par ses trois enfants: Gabriel, Robert et Pierre (Tristam) et leurs épouses respectives: Farida, Susan et Cheryl; par neuf petits-enfants (dans l'ordre où elle les a connus): Fouad, Sadie, Alexandra, Taher, Justin, Abdulghani, Luka, Alauddin et Karim; et par son frère Paul-René Safa.
Adieu Monique, notre amie, voisine, cousine, tante, consoeur, belle-soeur, belle-mère, soeurette et petite maman adorée, issue d'êtres aimants, respectueux et responsables et en formant à ton tour, tu nous manquais depuis longtemps déjà et nous manqueras toujours; mais de te savoir reposée de ta lutte herculéenne et priant le Très-Haut de t'avoir auprès de Lui est une consolation, et même une rédemption.
–Gabriel Fouad Haddad
Brunei Darussalam