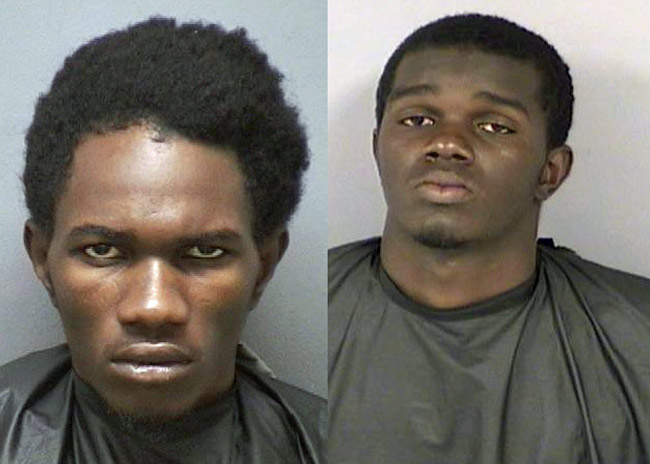 Few people saw it: it took place in the earliest hours of Saturday in the western edge of the Mondex. But it required the intervention of numerous Flagler County Sheriff's deputies, led to a 45-minute standoff, and didn't end before a 22-year-old man had shot himself in hopes of staying out of jail. His hopes were dashed.
Henry Brock, no stranger to the Flagler County jail—he'd been booked in there a half dozen times in the last four years—was back in jail Saturday, where he remains on $36,000 bond. He faces several charges, including domestic violence, burglary, and two counts of assaulting a law enforcement officer.
The ordeal began early Saturday morning at a house on Cinnamon Street. Patricia Park and Michael Brock, 25, were asleep in a bedroom in the house. Sometime after 4 a.m., Michael's brother Henry, 23, broke in through a bedroom window, according to a police report, then, according to Michael, "sucker punched and thr[ew] me to the floor." Cops found Michael with a bloodshot eye, and found locks of hair on the floor in the living room.
Park and Henry Brock used to date, according to the report. They broke up. Park started dating Henry's brother, Michael. Henry was upset. Park told police she asked him to leave the house when he broke in, but Henry started fighting with Michael over her.
The sequence of events between the fight and what happened next isn't clear. But soon after the fight, likely when Henry returned to his home nearby, where he was eventually arrested, he called his mother and told her that he didn't want to go to jail.
And, according to the report, he told her he'd shot himself in the arm.
Henry's mother called the sheriff's office and informed authorities of Henry's location, at 1144 Cedar Street, just a block down from the house on Cinnamon. Deputies set up a perimeter around the house.
"Using a public announcement system in one of the Flagler County Sheriff's Office patrol vehicles," the report reads, "Henry was given loud verbal commands to exit his residence. Phone contact was then made with Henry and he stated that he was in the house, in a room near the front door. Henry made himself visible through the front window while on the phone with deputies."
It took 45 minutes of verbal commands and phone contact before Henry was persuaded to come out. He was taken into custody. Flagler County Fire Rescue units were there to tend to him. He refused their medical attention.
While being driven to the jail, he told deputies that he'd been shot with a .22 caliber bullet. He wouldn't say how he'd been shot. The supervisor on duty at the jail would not accept him before he'd been seen by a doctor—normal procedure, since jail supervisors don't want to be liable for medical issues out of their control. Henry was taken to Florida Hospital Flagler, where he was treated, then back to the jail, where he was booked for the seventh time in four years.
His previous charges: burglary, assault, battery, violating probation, resisting arrest, felony battery, injunction violation. His brother Michael has been in the local jail twice, both times on minor charges for possessing small amounts of marijuana.