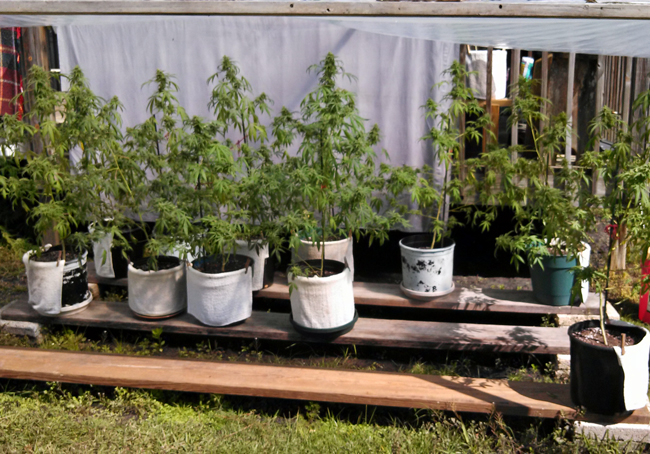 Attention pot enthusiasts: a proposed constitutional amendment to legalize the sale of medical marijuana is on the November ballot. But pot growing, pot sales and pot consumption is still illegal in Florida, which continues to enforce some of the nation's most prohibitive pot laws. Guessing or hoping for the legalization of marijuana in the future is no defense.
Dwayne Reed, a 49-year-old resident of 5637 Nutwood Avenue in Bunnell–an isolated property surrounded by woods on its east and west, but facing a neighbor to the north, in Daytona North, also known as the Mondex–was fingered to police by an anonymous source as having marijuana plants.
On Wednesday, a joint task force of Flagler County Sheriff's investigators and members of the Florida Department of Law Enforcement responded to the anonymous tip and found 67 marijuana plants on Reed's property and inside his metal trailer, a 1,000-square-foot structure.
Reed was not arrested. A charging affidavit was completed and forwarded to the State Attorney's Office, leaving it up to prosecutors to decide how to proceed on the case. That's in contrast with several previous grow-house discoveries by local police, in which case the person or persons involved in the grow operations were arrested every time or soon after, when located, at the time of the discovery.
According to the charging affidavit, members of the police task force walked through the open gate at Reed's property at about 11:30 Wednesday morning. As the members of the task force made their way to the door of the house, along a gravel road, two detectives could see what they recognized as pot plants growing behind the house. (The area–lush, green, well served by water and sunshine–is ideal for pot growing.) "A strong smell of cannabis was also present and grew stronger upon reaching the front door," the charging affidavit states.
One of the investigator knocked on the front door "and was greeted by a male," Reed himself, and a woman, who was later found not to be involved in the grow operation. The investigator informed Reed of the complaint, and that investigators could see and smell the stuff as they were walking up to the house. The detective asked Reed for consent to search the property.
---
The medical marijuana ballot proposal is changing the tenor of recent pot busts.
---
"Reed asked what would happen if he denied consent," the affidavit relates. The investigator answered "that based on the observations made by law enforcement, the residence and property would be secured and detectives would pursue further action to investigate the matter." The visible presence of pot plants gave police more than enough probable cause to move forward without consent, though the detective "assured Reed that he has the right to deny or withdraw consent at any time."
Reed was cooperative throughout and signed a search-consent form, then directed investigators to the back of the property, where 18 plants were growing in pots. Reed then brought the detectives inside the house, where two grow rooms were dedicated to pot-growing. The rooms were equipped with high-voltage grow lights, ballasts and fans, much like grow houses previously uncovered by the Flagler Sheriff's Office in Palm Coast in a spate of such discoveries over the past two years. But there hadn't been a seizure since last October.
Investigators found 29 pot plants in one bedroom, and 14 plants in another, for a total of 61 plants. Reed bought the property in 2008 for $80,000, according to property appraiser records. The property currently has a taxable value of just $3,700, once a $25,000 exemption is calculated.
Loose pot was also found in the trailer and collected, as were glass bongs, pipes and smoking devices. The affidavit charges Reed with manufacturing pot, a third-degree felony punishable by up to five years in prison.
Reed explained to investigators that he grows the plants for personal use, because he is ailing from an injury, and does not sell it. Sheriff Manfre, who has not yet taken a position regarding medical marijuana but has not been unsympathetic regarding people with serious illnesses and the use of medical marijuana, does not quite believe him. "It is hard to believe any one person could conceivably try to claim that growing 61 marijuana plants was purely for personal use," Manfre said in a Sheriff's release. "We'll have to wait and see how the case unfolds once it's in the courts."
Just five days earlier, on Feb. 14, Reed was charged with marijuana possession of less than 20 grams, a first-degree misdemeanor, and possession of drug paraphernalia, also a first-degree misdemeanor. He was scheduled for an appearance before County Judge Melissa Moore-Stens on March 25 on those charges. He was never actually arrested on that charge, either, being a misdemeanor. As of Friday evening, Reed remained free.