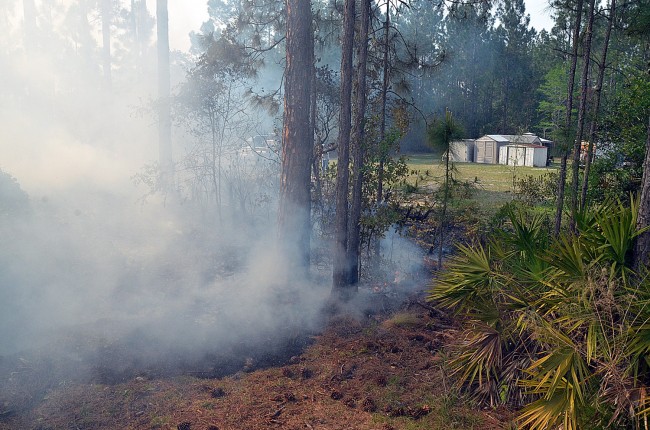 Last Updated: 6:46 p.m.
A small fire that started in the backyard of a house on Holly Lane in the Mondex at 2:30 this afternoon appeared to have been quickly controlled, only to flare up, rapidly spot and trigger another fast-moving fire that snaked its way past Laurel Street to Avocado Boulevard, forcing the evacuation of 10 to 15 houses in the area, Flagler Fire Chief Don Petito said.
No houses were damaged. One garage was thought to have been damaged, but in fact wasn't: the shed in question is still up and its contents undamaged. But the fire's behavior and the rapid way it traveled is worrying fire officials and suggesting that conditions are ripe for dangerous fires.
Less than 24 hours ago, Petito signed the year's first burn ban. In early March, Mike Kuypers, district manager for the Florida Division of Forestry, warned county commissioners that this year's fire season could be be "as active if not more" than last year's, and could rival the fires of 1998.
"It's ironic," Petito said this afternoon at the scene of the fire, "you sign a burn ban and all of a sudden you start getting fires." At about 4:30 this afternoon, he said, of the Mondex fire: "We're going to call it contained, but not controlled yet." At 4:50, Fire Flight, the county's helicopter, which had been dropping bucket after bucket of water on the fire scene since 2:30, called it a day. "Fire Flight is going home. That's a good sign."
The fire started in the Steven McOsker's yard, near a shed. McCosker was working in New Smyrna Beach at the time, but his wife was at the house, as were more than 20 Dachshunds, who were running around the yard and in the house. "She called me up, told me there's a fire in the backyard," McOsker, 43, said. "We don't know how it started or anything else. We haven't barbecued since January."
McOsker, who's lived at the one-and-a-quarter acre property at 1761 Holly Lane since 2001, got in his car and drove up, thinking, "where's my house? Where's my wife? Where's my family," he said.
Investigators were at the scene. Petito said that at the moment, the cause of the fire was "unknown."
The fire was estimated at 3 acres, but that figure may change.
Fire Flight's quick reaction enabled the suppression of the fire even as it was maneuvering its way through yards. Fourteen units from Flagler County Fire Rescue, the Bunnell Volunteer Fire Department and the Palm Coast Fire Department responded, as did nearly a half dozen unit from the Florida Division of Forestry, and a strike team of five units from the Volusia County Fire Department that were placed on stand-by at Cody's Corner, on State Road 11, in case homes were threatened. The stand-by team was cancelled around 4 p.m. By 6 p.m., several additional units were being released from the scene.
Shelter was set up for evacuees at First Baptist Church in the Mondex, behind Tucker Insurance, but no one showed up there: Matthew West, a special projects coordinator with the county, was posted there with refreshments in case people decided to turn up. By 5 p.m. none had, but West said he'd stay there longer in case people returning home from work, unaware of the conditions in the fire zone, were to need a place where they could wait before returning home.
By 6 p.m., residents were allowed to return home.