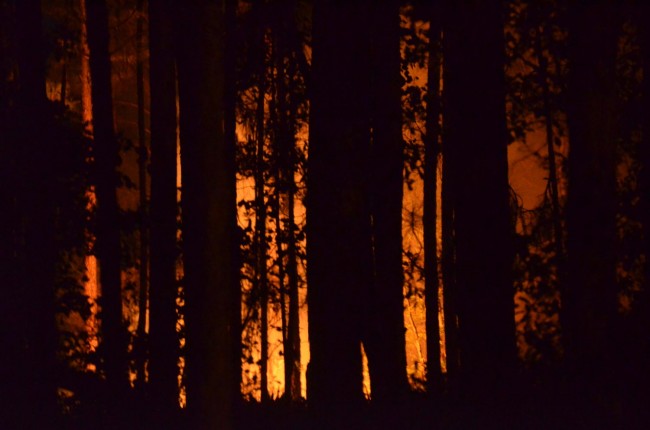 A brush fire believed to have been triggered by a lightning strike between 7 and 8 p.m. Friday consumed a 100 by 40 foot area in an empty lot between inhabited homes in the Mondex, also known as Daytona North, and was still burning late into the night, though Flagler County Firefighters and the Division of Forestry had it contained by about 10 p.m.
No evacuations were necessary.
Ten units from the Flagler County Fire Department and the Bunnell Volunteer Fire Department responded after a call at 7:59 p.m., along with the forestry division, which sent in a bulldozer at 9:12 p.m. to cut lines around the fire in order to contain it. Daytona North has no fire hydrants. Firefighters brought in 9,000 gallons of water on two separate water trucks, or tenders, in addition to the 1,000 gallons carried by one of the fire engines at the fire, according to Lt. Brian Gilbert, who was in command at the scene Friday evening.
"It is a slow-moving fire, and DOF is on the scene right now, plowing the line," Gilbert said at 9:15 p.m., "and it should be 100 percent contained here in a minute," once the bulldozer had completed the line around it. The fire was not expected to keep burning long. "But there's going to be a lot of drift smoke and what not from this. The humidity is keeping it down right now. As the night goes on, the humidity lowers, so in the morning, expect to see a lot of fog."
One firefighter was treated by a medical unit because of a combination of heat and humidity. "Everyone is fine, nothing life-threatening, just a little fatigue," Gilbert said.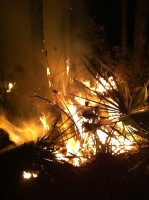 The fire burned pines, palm fronds and dry grass in a lot adjoining Barbara Parker's home at 2254 Mangrove Street, between Ironwood Avenue to the north, Logwood Lane to the south, and Avocado Blvd. to the west. Parker and Rebecca Plant, who also lives in that house, were at Bible study this evening. They came home to see their neighboring lot ablaze, and called 911.
Their main concern: God's Clothing Ministry–two structures, one the size of a small house, the other the size of a shed, on the west side of the property (the side closer to the fire). The structures are filled with clothes and shoes that Parker and Plant, for the past two years, have been providing for people in need. The clothing is gathered and furnished mostly by Bunnell's First United Methodist Church.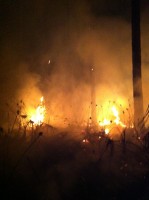 "If that would have went up, a lot of people would have been without clothes," said Jennie Chewning, Parker's niece, who'd come up to check on her aunt.
"That would have broke our heart," Parker said. "It sure would have."
"They do good for a lot of people. here," Chewning said. "I'm probably wearing some of the clothes."
"I'm wearing clothes from there," Parker said. "We get a lot of donations from the United Methodist Church in Bunnell, they go in there, they sort clothes and stuff and they bring a lot of clothes out here. We've got the barn there full, we've also got clothes in the shed. We're open Wednesdays and Saturdays from 9 a.m. to 1 p.m., and it's free clothing. We3 have a lot of people come out here and just go in there and help themselves. It makes us feel good to be helping somebody else. We're doing God's work."