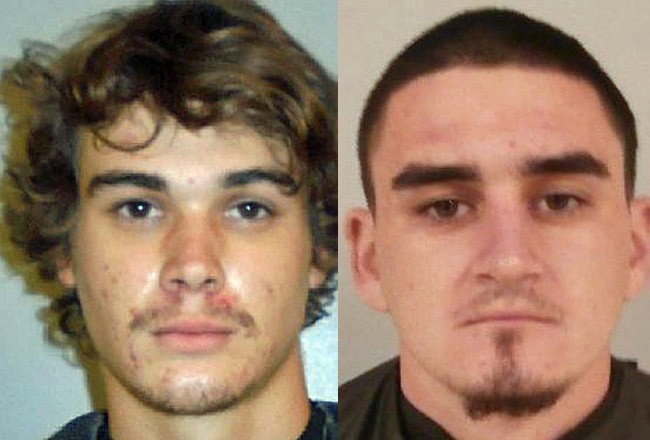 Update: Wednesday evening (Dec. 9), the Flagler County Sheriff's Office released the following statement: "At approximately 5:30 p.m., Spencer Sarmento, the second suspect in the December 7, 2015, shooting at 4571 Canal Street in Bunnell, voluntarily surrendered to deputies at the Flagler County Jail. He has been booked on a warrant charging him with five counts of aggravated assault with a deadly weapon and one count each of culpable negligence, discharging a firearm in public and criminal mischief. He is being held under a $27,500 bond."
By Thursday morning, he had posted bail and been freed.
The previous story is below.

One Arrested, One Still Sought in Mondex Shooting Involving Assault Weapons
Dec. 8–Flagler County Sheriff's deputies aided by a SWAT team early this morning (Dec. 8) located and arrested one of two men wanted over a Monday afternoon shooting spree in the Mondex involving assault weapons–including the reported use of an AK-47–in the presence of several people. A second man is still sought in the shooting.
Deputies arrested Dakotah Wren Clarke, a 19-year-old resident of 4657 Canal Avenue who was out on bail on two first-degree felony charges stemming from a September incident in which Clarke is accused of robbing a man at gunpoint in Flagler Beach. A pre-trial is scheduled in that case on Jan. 5. Clarke now faces five additional counts of aggravated assault with a deadly weapon, third degree felonies, for the Monday incident. Deputies are still seeking Spencer Sarmento, who was found guilty of battery last year and has been booked at the Flagler County jail almost a dozen times since 2010.
According to Clarke's arrest report, Clarke and Sarmento approached the mobile home at 4571 Canal Avenue in mid-afternoon Monday, each armed with assault rifles, at least one of which was believed to be an AK-47. Cody Iglesias, 24, one of the residents at the house, was in a Chevrolet Blazer with his young son, Carson Iglesias, who was in the back seat. Cody was moving another vehicle on the property, a Mitsubishi Mirage, which was on a trailer being pulled by the Chevy.
Mason Brown, 23, Kirsten Crouch and Jamie Rosa, all residents of the property at 4571 Canal, all testified to what happened next: that Clarke and Sarmento, showing their assault weapons, asked Cody about his father and whether he would give them the wheels off of the white Mitsubishi. Cody got out of his truck and told the two men that he would not.
At that point, according to the arrest report, Sarmento fired on the Mitsubishi. The report does not state whether he fired the weapon in automatic mode–which would have been illegal–or in semi-automatic mode. But he fired 10 to 15 rounds. Clarke did not fire his weapon, the witnesses said, but at one point loaded his rifle with a magazine, "which also created fear" in the four witnesses, the report states.
The shooting spree over, Clarke and Sarmento walked back to 4657–just two lots over, across from Rosewood Street.
A deputy observed several bullet holes in the Mitsubishi and several empty shell casings near the car. It took a while for authorities to secure a search warrant, and meanwhile that area of Canal Avenue was closed to traffic. Once the warrant was secured, a team of SWAT members executed the warrant and Clarke "walked out peacefully and was arrested" and taken to the county jail. But Sarmento was at large.
Clarke was being held on $50,000 bond. It is likely that his previous bond for the armed robbery charge will be revoked.
Sarmento is approximately 5'06" and 136 pounds and wanted on multiple counts of aggravated assault with a deadly weapon. Additional charges are also expected as the investigation continues. Anyone who knows the whereabouts of Sarmento is asked to call 911 immediately. Callers can also remain anonymous by calling Crime Stoppers at 1-888-277-8477. Tipsters can remain anonymous and may be eligible for a reward of up to $1,000.