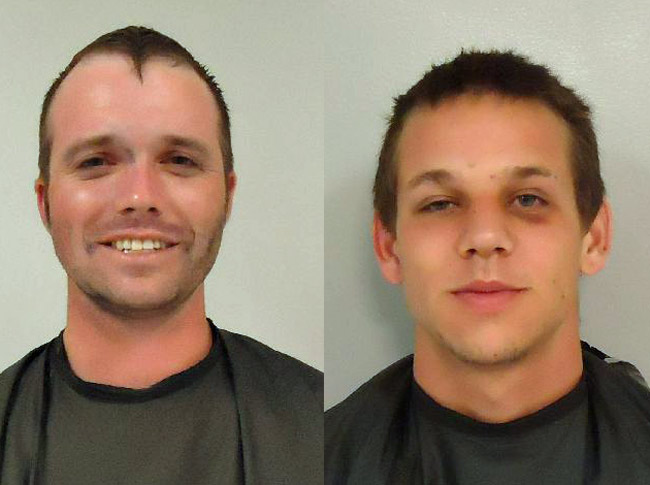 The Mobil gas station and convenience store on Palm Coast's State Road 100, near I-95–notorious for being the site of the execution-style murder of a store clerk 17 months ago–was vandalized by a 19-year-old Palm Coast resident Thursday.
Early the morning of July 3, a store clerk reported to 911 that a man had shattered the glass entry door to the business and sped off in a blue 1995 Chevrolet Camaro. The clerk had been stocking the cooler, and had posted a "closed" sign at the door meanwhile. Moments later, according to a police report, she heard pounding at the door. Before she could get out of the cooler, she heard glass break. She ran to the front door, and saw the Camaro driving off toward the west.
Deputies stopped Sean P. Wilkes, of 1 Walla Place in Palm Coast, at the Kangaroo station in Bunnell. He was bleeding slightly and was covered in glass, his arrest report states. The store clerk identified him as the man who'd been at the door. Video surveillance from the store showed Wilkes and another woman "pulling violently on the doors of the business" when it was locked, the report states. As no one came to the door, Wilkes turns his back to the door and mule-kicks it until it shatters. He and the woman then are seen running back to the Camaro and fleeing the scene.
Muhammad Ansari, the owner of the business, estimated the damage at well over $1,000. Wilkes was charged with felony criminal mischief and burglary, and booked at the county jail. He posted bail on $1,500 bond and was released.
The gas station was the site of the murder of store clerk Zuheily Roman Rosade, the mother of six children, on Feb. 21, 2013, allegedly by Joseph Bova II, formerly of Palm Coast, who was a drifter living in his car in Boca Raton at the time of his arrest and, at the time of his arrest that September. Bova, who's awaiting trial, has appeared several times in circuit court in Flagler County, though his trial has been delayed by various maneuvers that have included his refusal to be psychologically evaluated and his insistence on representing himself. Ansari is himself awaiting trial on a third-degree felony charge of failing to provide Rosado with workers' compensation insurance. He is scheduled for a pre-trial hearing on Aug. 6.

Charles Cowart Arrested Again
Charles Cowart, the troubled son of a prominent West Flagler farmer, was arrested for the second time in two months, and the seventh since 2010, this time on a disorderly conduct charge. Two months ago, he was arrested for burglary.
Cowart briefly became a local folk hero when he illegally rode through Bunnell on horseback, triggering an odd police chase mixed with cheers from gathering crowds. Though he faced five charges from that incident, three were dropped, adjudication was withheld on a charge of interfering with a railroad (he'd ridden his horse on a train track), and he was found guilty of obstructing an officer without violence. Two months ago he was accused of burglarizing a family property in Flagler Beach. A month earlier charges against him and three other men were dropped following a woman's accusation that the men had kidnapped and raped her at the Cowart hunting camp in west Flagler.
Sunday night, Cowart, according to his arrest report, had painted his face and gone to Publix in Flagler Beach, where he allegedly became disorderly in front of a Flagler Beach police officer. According to the arrest report, he approached the officer "in an aggressive manner and began yelling and creating a disturbance" despite multiple warnings. Cowart, the report states, appeared intoxicated, was barefoot and wearing "wet, dirty, soiled clothing." He was arrested "to end the disturbance," the report states, and taken to the Flagler County jail.

Sheriff's Patrols Net 30 Arrests Over Holiday Weekend
Flagler Sheriff's deputies conducted extra patrols on local roads and waterways during the July 4 holiday weekend. The extra patrols were conducted beginning Thursday, July 3 and ended Monday, July 7.
At the conclusion of the holiday weekend, deputies conducted 123 traffic stops, issued 42 traffic citations and 81 written or verbal warnings. Deputies made 7 DUI arrests and 23 other arrests.
The marine unit completed 15 stops on the Intracoastal Waterway over a two day period, issued 12 written or verbal warnings, made 5 field contacts, completed 3 security checks and had 2 community policing contacts.
"The DUI arrests are equal to the Memorial Day Weekend enforcement, but the overall arrest total increased," said Sheriff Jim Manfre. "My hope is to see these numbers decrease."