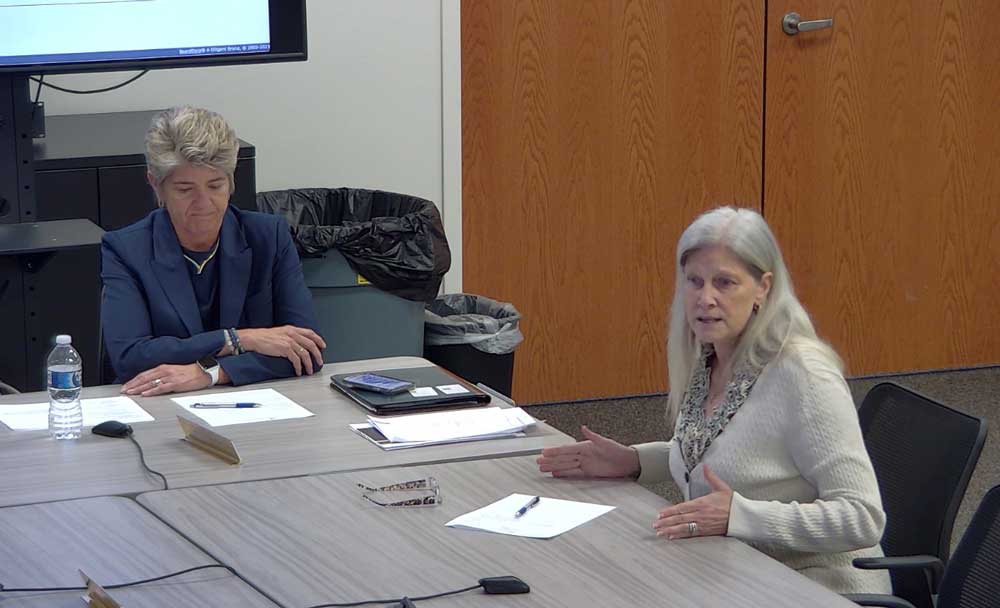 Even as two school board members are explicitly saying they're ready to renew her contract, Flagler County Superintendent Cathy Mittlestadt's future in the district became less, not more certain, with the school board's latest discussion of her contract, which expires at the end of June. Board member Sally Hunt, the swing vote, is an agnostic on the superintendent's future.
Board Chair Cheryl Massaro and Board member Colleen Conklin said they'd renew, and short of that were willing to give her an extension of six months to a year if that's what the three other board members preferred, if they needed more time to decide the superintendent's long-term future.
But none of the three–Christy Chong, Will Furry, Sally Hunt–were willing to grant an extension or decide anything, let alone a pro forma renewal, before a fuller board discussion that appears to be slated for a March workshop. That future discussion seemed to be the result of Hunt's repeated requests for such a workshop, but there never was an explicit consensus to that end. Kristy Gavin, the school board attorney, did not respond to a text seeking clarification on a March discussion.
On the face of it, the uncertainties surrounding the superintendent's future are unusual. Such contract renewals involving a top public executive are usually formalities. When a board is displeased with an executive, as was the case in Flagler Beach on Feb. 9, it doesn't dawdle. It fires the executive.
But the circumstances framing the contract talks are unusual: In the school board's case, a majority of members are new, the board is ideologically split, and the timing of the contract's expiration is nobody's doing. The various factors have combined to create the current dynamic.




Chong and Furry have since the campaign hung fire about their opinion of the superintendent. But they emerged from the campaign from the same camp of two board members they replaced–Jill Woolbright and Janet McDonald–who wanted the superintendent gone. So far they've only asked for time and information.
That left Hunt as the swing vote and suddenly–unlikely as that sounds–the most powerful member of that board, a role previously filled by Trevor Tucker.
But Tucker was a Mittlestadt champion. Nothing Hunt said at Tuesday's workshop suggests that she is. Almost everything she said suggests that she is not, though she insists that her mind is not made up except about one thing: she wants the matter deliberated at length, putting all options on the table.
"I don't want to get in the weeds right now of like, what is it–is it a year? is it six months? Is it a nonrenewal? I just think for so many reasons, time is of the essence," Hunt said, asking for that very process to be detailed in a coming workshop. That pointed non-endorsement will have sent a message to Mittlestadt that her future here is very uncertain.
Hunt said she's had "conversations across the community, with staff from all different levels and fields within the organization" since she was elected six months ago, and seemed to have taken umbrage at the recurring references to hers and two of her colleagues' rookie status on the board. "I've been entrusted by our community through votes to make decisions as one vote right on these matters," Hunt said. "We just at some point need to kind of work through this whole like, hey, newbies, like I think we feel like we have a lot of value here."




Her statement about "conversations across the community" sounded ominous. In an interview today, she was asked for details: who did she mean, what was she being told about Mittlestadt that she wasn't saying at the meeting?
She said she wasn't ready "specifically to answer that question," explaining that her intention "was to say I've talked specifically about the superintendent." She conceded that she'd had a glowing impression of Mittelstadt during the campaign. It's no longer the campaign, but it's been six months since her election, she said. "I am reflecting on things and now my lens is a little bit different being in that elected role, based on these additional new data points. Is superintendent Mittelstadt the right person to lead the district into the future?" She's not saying no. She's not saying yes. "And I very much value all of the different conversations."
Hunt was asked in the interview what she meant by "data points," and whether those were concerns. She never used the word "concern." But she answered at length, explaining what will make up central criteria of her evaluation of the superintendent: "The things I am factoring in, in addition to–and I don't have the contract or agreed-upon metrics in front of me, but certainly in addition to metrics–some of the other components that are part of the evaluation are community partnerships. Another thing I'm looking at is the safety and security of our students and our staff. So it's metrics, it's safety and security, it's community partnerships, and I would say a fourth piece is culture and climate within the district. These are four components that are a part of the evaluation tool and that I take seriously in considering whether superintendent Mittelstadt is a good ongoing fit in Flagler County." She then added a fifth component: "fiscal responsibility."
Hunt said she will be sharing the feedback she has received regarding those four "buckets," as she described them, at an upcoming meeting, where she hopes other board members will share their feedback. She says she will take what other board members say, including Conklin and Massaro, to heart, and make her decision out of that synthesis.
But there's a substantial difference between the "data points" Hunt was referring to, much of it by nature picked up in conversations, anecdotally, or through people who may have axes to grind, as opposed to empirical evidence–student achievement, retention, equity reports–Mittlestadt herself has been urging the board to wait on, once the state issues it.




As she has on two previous earlier this month, Mittlestadt again implored the board to give the process the time it needs. "When I share all that information with you, part of my contract allows for us to have one on one conversation time, so you can give me feedback before you come to a meeting to determine if you want to do an extension or not," she said. "So I just ask that we allow–I know it's a race, but I've learned a long time ago, a race to the finish line without the process to get there first is going to create a stumble somewhere."
Clearly, Hunt and Mittlestadt are not on the same page right now.
At the workshop, Massaro underscored the new board members' status. But the discussion turned into more tactical positioning than light-shedding on the contract, and the way Massaro presented the issue sounded as if she were putting some board members in their place, which couldn't have pleased them.
"We have four months," Massaro said. "I myself, don't believe that a school board with three brand new school board members that have only known the superintendent three months can make a decision without having experienced the actual evaluation process. You've never even done an evaluation. That concerns me, personally. Plus the fact that all three of you have no educational business background. You have various backgrounds, and that's good, you can get your information, but dealing in education is very difficult."
Massaro said there should be no sense of being "under the gun" to make any decisions just yet. The superintendent is providing a list of her accomplishments by March 17, and data is forthcoming that the board can match up against the goals it set for the superintendent. That full data will not be available before summer, because it's dependent on the state Department of Education. Some board members have requested her past evaluations. Massaro said the board has several options, including providing a contract extension or making contract amendments. The alternative, she said, is a search that could take four months or more.
To Conklin, even if the board didn't have new members, "There have been no issues with her performance to otherwise think that the renewal of the contract wouldn't be in place," she said. "So for me that wasn't a concern or a worry. I think we find out what Cathy's intention is as to continuing or not continuing. Hopefully she will choose to continue."




Conklin said it has been a challenging three years for a first-time superintendent, but that Mittelstadt had handled the challenges admirably. "I'm waiting to hear from Kathy to get her letter: Yes I intend to continue, now that there's been no issues of employment, and we need to move on."
Conklin added: "I certainly don't want to lose Cathy either. That's why I want to make sure my intentions are clear. Again, I'd be one of five in understanding that, but you know, there are multiple superintendent openings right now. And I would hate to see us lose Cathy as well. Just saying."
Massaro also took a similar stand: "There's no proof" against a renewal, she said. "Why would we not continue?"
Furry remained silent throughout. Chong spoke only briefly. "I think we need to decide what direction we're going in," she said.
"Yes and no," Massaro said. "There's also the possibility of an extension. I think we need to keep that in mind. It might bear us well to consider a year's extension if Cathy would accept that as a rollover for contracts, and then gives us the time to A) go through the evaluation, B) everybody can learn from their experiences through that time frame." If the board decides not to rehire her, the superintendent should also be given a fair time span to prepare for her own next steps.
"Stability is extremely important," Massaro said. "Every time you make a change, you go backward, you lose that academic focus our teams have been working on and that concerns me, and I want to make sure we don't do that, because we're moving around nicely academically. I'd like to keep that."
Hunt, surprisingly, said the first time she heard about the contract coming to the close of its final year was at the board retreat less than three weeks ago.
Hunt (who explained in the interview that she had been overwhelmed with information during the campaign), along with Chong and Furry, were all asked a question in the Live Interview process, framed around the coming end of the superintendent's contract, with a date specified: "On July 1 Superintendent Cathy Mittelstadt enters the third and, for now, final year of her current contract," the question began, going on to ask the candidate to evaluate Mittelstadt and say whether or not the candidate would renew her contract. All three answered, some, like Will Furry, more combatively or, like Chong, evasively than others. Hunt answered effusively.




"I've met and admire Cathy," Hunt answered at the time, as if echoing some of the very words Conklin spoke last Tuesday. "She's sharp, poised, and well-spoken, and her background is very impressive. She's also proven to show great perseverance. Almost her entire tenure in Flagler County has been filled with out-of-the-ordinary challenges from the pandemic, state and national politics that have crept into our schools, and two school board members who have created chaos. Cathy should be applauded for surviving the past two years and I'm excited to watch her lead with a more supportive school board and normal school environment." Hunt did not answer directly whether she would renew the contract, but there was no indication that she would not.
The new board members were also provided copies of the superintendent's contract. She is one of just two employees they are responsible for hiring or firing (the school board attorney is the other). Massaro said it was also new board members' responsibilities to read the materials they were provided. "It's part of being a school board member: you get those informations. You have to know what's in them, not just say, okay, I've got the rules and regulations."
By contract, the superintendent is required to let the board know by March 30 whether she intends to continue with the district. It meets the 120-day notice requirement in case she's not looking to continue. If she does intend to continue, a meeting has to be scheduled by May 1 so the board develops performance objectives. But Mittelstadt already made clear on Feb. 7 that she does wish to continue. It's only the board's prevarications–a majority of the board, anyway–that have left her on a limb that seems to grow longer, and more brittle, by the day.
That doesn't force the board to make a hire within 120 days, should her contract not be renewed. The board could appoint an interim.




"Board, you are not behind," Kristy Gavin, the school board attorney, said, reminding the board that Mittlestadt's advisory at the retreat was that the board could consider an extension of her contract, for six months or year, enabling the full data to be in before the new board members decide her fate. She noted that when Bill Delbrugge was originally hired in 2005–he had been Flagler Palm Coast High School's principal–it was on a one-year, trial basis. But by the time his renewal came around, the board was head over heels for him, and his renewal was barely a formality. (The district experienced a long streak of A ratings under Delbrugge's leadership.)
"So if you feel that you want to evaluate her appropriately after all data is in, that will not happen until her contract has expired," Gavin told the board. "So if you wanted to extend it for six months, because you're feel like you need to do that full evaluation before offering her that multi year contract. That's doable."
To the extent that Furry had answered the interview question about Mittlestadt as a candidate, that is in fact what he said he would do: "If elected I will evaluate the renewal of the superintendents contact based on merit and results."