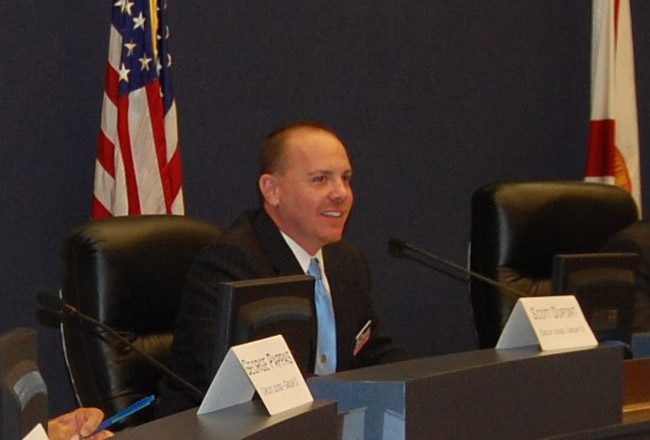 The Florida Judicial Qualifications Commission's case against Circuit Judge Scott DuPont is getting tougher, longer, and now bears directly on his conduct as a sitting judge, not just on his conduct on the campaign trail. The commission, in a Wednesday filing, has expanded the probable cause counts against DuPont from five to 12.
The additional counts point to disturbing incidents in the courtroom that together suggest petulance, arbitrariness, a heavy hand bordering on the cruel and a lack of fairness that, in the commission's conclusion, "constitutes inappropriate conduct" and violates eight canons of the Code of Judicial Conduct and the Florida Constitution.
DuPont has allegedly held first-appearance and other hearings without the presence of attorneys for either one or both sides, including in a case involving Palm Coast city government and the Matanzas golf course. He has allegedly held first-appearance hearing times just after dawn ostensibly to accommodate his campaign schedule. He ordered a woman to undergo a costly psychological evaluation even though she was the victim in a domestic violence case, then found her in contempt when she claimed she didn't have the ability to pay. And in one case, he ordered a defendant searched for money or other valuables by a bailiff in the courtroom.
DuPont hears civil cases in Flagler and Putnam counties. Judicial Qualification Commission charges against judges are rare, and unprecedented in Flagler. If sustained, the consequences can be severe, ranging from a public reprimand from the Florida Supreme Court to outright removal from the bench.
After meeting last October, the commission handed down a five-count finding of probable cause against DuPont relating exclusively to his conduct on the campaign trail. The counts charged that he had allegedly spread damaging information about his opponent without verifying the information first, though he'd taken it from websites that purport to collect criminal and other incriminating information about individuals but warn users not to rely on the information without independent research. He'd spread innuendoes, exaggerations and inaccurate claims about the opponent and his family without substantive evidence, and in one election forum took a position against what he called "legislating from the bench" that was unconstitutional.
At that point the commission's charges were serious, even grave, but likely not fatal to DuPont's judicial career, as they could be ascribed to the errors of a rookie, overzealous campaigner who could either on his own or by public censure be reined in. He was given the opportunity to answer all five charges, at first in an in-person appearance before the commission. That appearance did not go well, as he was more defensive than conceding. In his written response, however, he candidly admitted: "I was wrong."
He took, responsibility for the errors, though he also deflected blame by saying he'd relied on campaign aides for much of the information that ended up being disseminated about Malcolm Anthony, his opponent at the time. He acknowledged the need to "exercise restraint," a reference to his temperament as a sitting judge. But all along he maintained that there was no "intent" on his part to be spreading false information. He had merely been "negligent," he claimed.
That was in December.
Some of the damaging findings by the commission in its new charges refer to incidences since then, and to behavior that, taking place in the courtroom rather than on the campaign trail, significantly raise the stakes for DuPont and the severity of the counts against him.
The commission, which has never stopped investigating DuPont's background, found that before making the damaging information about Anthony public, two judges had told him not to publish it. He did so anyway. At the beginning of the 2016 campaign, he attended a required Judicial Ethics Advisory Committee training session. Instructions spelled out the fact that compliance with the law, the Code of Judicial Conduct and the Election Code were the candidates' responsibility, "not that of campaign managers and others."
After going back to his first campaign in 2010 and charging that he engaged "in a personal attack" against his opponent then, as well as published misleading materials about him, the charges went on to spell out the courtroom incidents.
In the case of City of Palm Coast, Florida v. The Group Golf of Palm Coast, a case that has garnered significant attention in the community, hearings were scheduled on May 31, 2017, for 11 and 11:15 a.m. "At approximately 10:30 a.m.," the charge reads, in its customary second person, as it is addressed directly to DuPont, "you were informed that counsel for Group Golf of Palm Coast were en route to the hearing but would be delayed by 10 to 15 minutes because of a traffic accident on the interstate. You agreed to wait for
counsel to arrive. At 11:16 a.m. you took the bench and presided over both hearings before counsel for the Golf Group had arrived. You engaged with the City's counsel by asking questions, and allowing her to make arguments related to her motions. You ruled in favor of the City of Palm Coast on both motions and left the bench at 11:19 a.m. Golf Group's attorneys entered the courtroom at 11:22 a.m. and were informed that you had already conducted the hearing. You subsequently denied a request for Disqualification based on these facts."
At the end of May he was in charge of first-appearance hearings in Putnam County during the extended Memorial Day weekend. Foir those three days, he directed that hearings beginning at 7 a.m. on Saturday and Sunday, and 6:30 a.m. on Monday. His judicial assistant, in an email, apologized to recipients, saying DuPont had '27 places to be in (4) counties over these (3) days or the early times would not be necessary.' You were at the time campaigning for reelection inasmuch as your opponent had announced his intention to run against you for your circuit seat a month earlier."
Nevertheless, that Saturday, he started first appearances at 6:30 a.m., a half hour early. No lawyers were present—not for the state, not for any of the defendants. "You proceeded to handle all matters that morning without counsel. You significantly increased the bonds of some defendants without counsel," the charge reads.
Two additional charges relate to his conduct in the courtroom in 2012. In one domestic violence case, he appears to have humiliated a woman, the victim, for whom he'd just granted an injunction for protection against her partner. He ordered the woman to pay for a psychological evaluation or he'd have her jailed. He subsequently issued a contempt of court order. In another appearance before him, the victim said she could not afford the evaluation. "You engaged her in a dialogue about her ability to pay, asked if she had a cellular phone, who paid for it and if she could sell the beaded jewelry she was wearing at the hearing," the charge reads. "You found her testimony to be not credible, found her in contempt of court, and ordered an indefinite period of incarceration if she did not seek the evaluation."
The Fifth District Court of Appeal reversed DuPont's decision.
In another case, he ordered a bailiff to search an individual who had claimed poverty regarding child support payment. The man had some money. DuPont ordered the money seized.
DuPont has 20 days to respond in writing to the charges.
In another sign of the gravity of the case against DuPont, and the statewide attention it is getting, is now one of the few links that appear directly on the front page of the Florida Supreme Court's website.
In April, DuPont had solicited a dozen and a half letters of support from judges and others, including Tom Bexley, Flagler County's Clerk of Court, a former school superintendent, a former chief judge of the Seventh Judicial Circuit, a pastor and several lawyers who appear in his court, and included them as part of his responses.

Amended Formal Charges Against Judge Scott DuPont (2017)