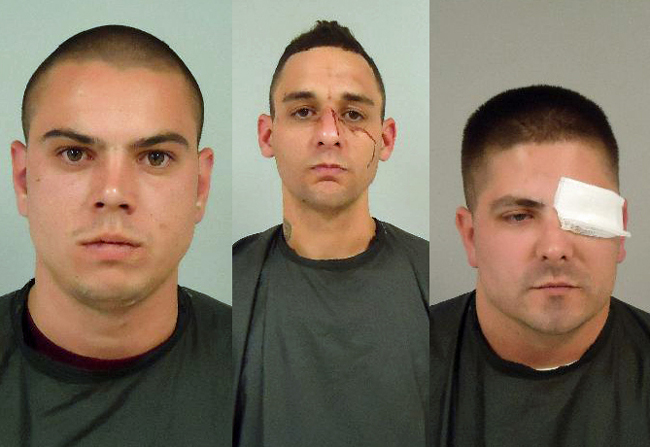 Sunday morning, Vassili Mironov, Roman Dubinschi and Joshua Auriemma were heroes, sought after by media the world over for their role in foiling what could have been a mass shooting at European Village when Mironov intercepted and put down a drunk, Uzi-wielding suspect.
Wednesday morning, all three men were hauled off to the Flagler County jail on disorderly conduct charges, and for Mironov, a battery charge as well. The three were arrested early Wednesday morning (March 19) outside of Finn's bar in Flagler Beach, where a fight had broken out between the trio and a victim iddentified in the arrest reports as Ralph Ortiz.
The three men's arrest relies, however, entirely on the account of one witness. And Mironov, interviewed this morning, vehemently denies that either he or Dubinschi were involved in the fight. He said Auriemma had been "attacked by two drunk men."
According to the reports, the men were at Finn's at about 1:30 this morning when a Flagler County Sheriff's deputy patrolling in the area was flagged down by people telling him of a fight in the bar's parking lot. When the deputy arrived, he saw several people fighting, but he couldn't determine who had made contact with whom.
Back up deputies and police officers arrived and "we quickly took control of the scene and filtered out the individuals who played a role in this incident," the arresting report by a Flagler Beach police officer states. "I then made contact with the only witness who was willing to give a verbal statement, identified as Jenuk Neku. Jenuk said that the altercation took place inside the bar as a verbal argument only between the [three] suspects identified as Vassili Mironov, Joshua Auriemma, Roman Dubinschi and the victim identified as Ralph Ortiz. Jenuk said that Ralph left the bar and the three suspects followed him outside. Once outside, Jenuk said that Vassili threw the first punch on Ralph and the other two joined in. After several moments of fighting, law enforcement arrived on scene."
Mironov was still bandaged over his left eye from the stabbing injury he sustained as he fought Daniel Noble, the 37-year-old suspect who allegedly threatened to shoot Mironov and other patrons at European Village Saturday night. Other than sore knuckles, Auriemma had not been injured in that confrontation, but his jail-booking photograph shows him with fresh lacerations to the face, apparently the result of the fight this morning.
A rescue unit was called in for the victim, who complained of pain in his right leg. He did not appear to have any cuts or abrasions otherwise, the arrest reports state. He was taken to Florida Hospital Flagler by ambulance.
Mironov, Auriemma and Dubinschi were arrested and charged with disorderly conduct. Mironov was also charged with battery. All three were booked at the county jail. All three had bonded out by early morning, posting $250 bond in Auriemma's and Dubinschi's case, and $750 in Mironov's case.
"This is ridiculous, look at my condition, I didn't even get in the fight," Mironov said this morning. "I was smoking a cigarette outside at the corner when the police got there." Dubinschi, who speaks only broken English, was arrested "for walking between the cops," Mironov said, and not knowing how precisely to answer their questions.
In the ride to the jail, Mironov, who was in the cruiser with Dubinschi, said the police officer was making fun of him and his friends over the Saturday night incident. "This is what you get for trying to impersonate a police officer on Saturday night at European Village," Mironov said the officer told him. "I'm going to see my lawyer in a couple of hours." Mironov added that the officer threatened to have him locked up with Noble. If true, that would be an egregious form of intimidation, and an untenable threat: felony suspects like Noble are held separately from the rest of the jail population.
Mironov and Dubinschi were transported by a Flagler Beach Police officer. (An earlier version of this story had incorrectly attributed the transport to a sheriff's deputy.) Only Auriemma was transported to the jail by a sheriff's deputy.
Mironov added: "They were making fun of me, and saying you probably won't be able to get a law enforcement officer job ever, and he's like laughing at me." Mironov recently graduated from a law enforcement academy and was planning a career in law enforcement. He said cameras "all over the place" arund Finn's will show that he was not involved in the fight, and that Auriemma "was defending himself."