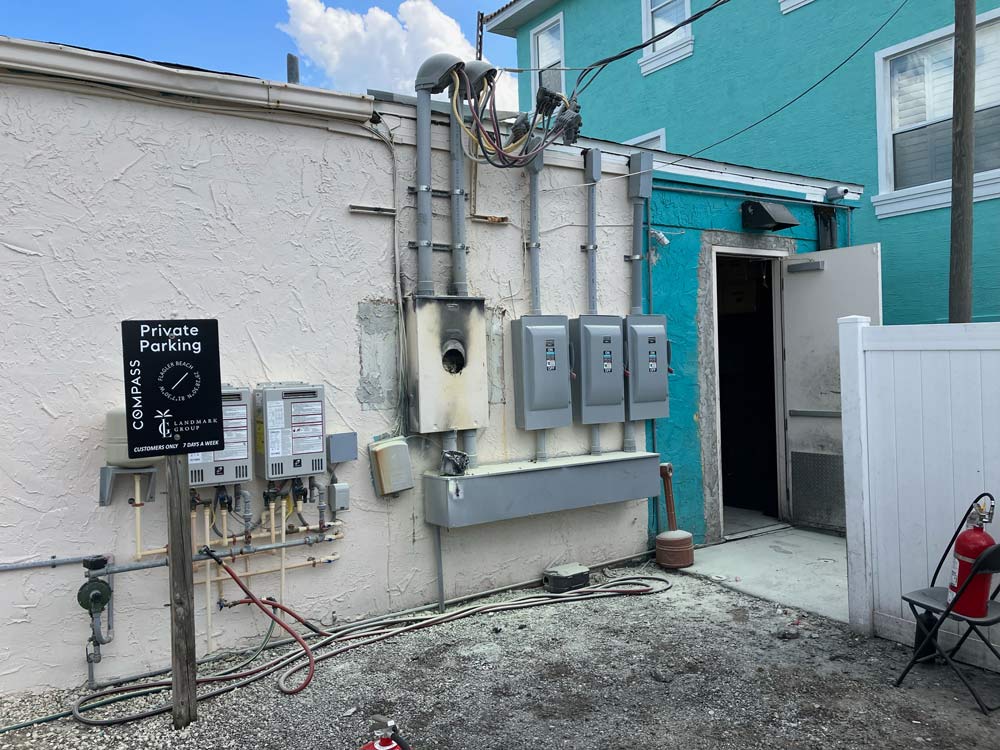 A small electrical fire outside the Next Door Beach Bistro in Flagler Beach late this afternoon sent smoke inside the restaurant and caused it to close for the rest of the evening. But crews quickly put out the fire.
There were no injuries and damage was limited to the electrical equipment outside, Flagler Beach Police Chief Matt Doughney said.




The fire was reported at 509 North Oceanshore Boulevard around 4 p.m. at the relatively new and very popular restaurant, opened in February next-door to the Golden Lion Cafe on State Road A1A, and owned and run by the same family as the Golden Lion. Carolyn Marlow, who co-owns the property, did not immediately respond to an electronic message this evening.
"It looked like it was an electrical fire on the north side of the building," Doughney said. The Flagler Beach Fire Department and the Palm Coast Fire Department responded, with a Flagler County Fire Rescue unit. "They knocked it down really quickly, it was awesome," the police chief said. The fire caused a brief traffic disruption in the area of North 6th Street.
By 6 p.m., only four Florida Power and Light utility trucks were parked across North central Avenue, having responded to the emergency swiftly. Doughney's contact at FPL is Tony Tucci, who "had crews on the way within minutes. He's incredible," the chief said. Tucci is also quick to send crews to the island during weather emergencies. But the incident was localized to the one building; there were no power outages reported in Flagler Beach.
The Bistro normally opens seven days a week from 11 a.m. to 10 p.m.