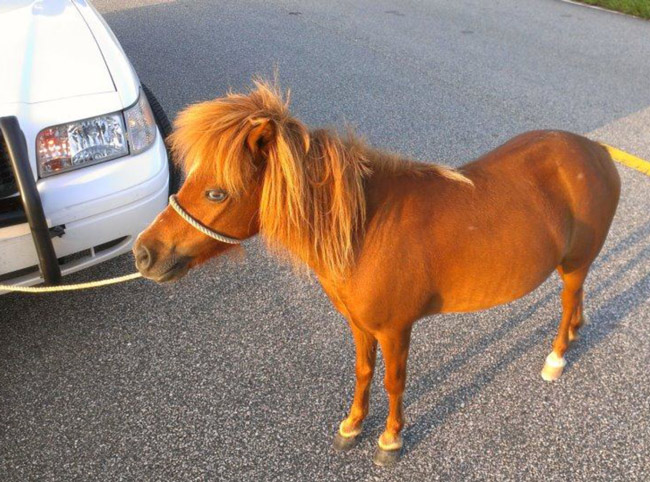 Last Updated: 8:59 p.m.
They're in a good mood today at the Flagler County Sheriff's Office, judging from the latest press release disseminated this afternoon, which we reproduce here word for word, with a caveat: these are not our words. At least not until the third paragraph's end quote, when even more serious journalism took over:
"Patrolling Flagler County roadways can mean more than just traffic stops and getting bad guys – it can also include a few rodeo skills as part of the job. Shortly before 7 a.m., deputies were dispatched to State Road 100 near County Roads 25 and 305 where a four-legged suspect with auburn hair and blue eyes was causing a traffic tie-up. Deputy Steve Williams located a mini-horse walking around the neighborhood in the early dawn hours. At one point, the deputy provided a short escort to County Road 205 in an effort to get her off the main highway.
"At one point, the mini-horse appeared to stop and ask the deputy for directions. Deputy Williams was able to coax the horse to the rear of his patrol car where he slyly slipped a lasso around her neck and secured her out of the traffic flow. The owner was located and shortly after 8 a.m., the horse was returned to her home barn on County Road 25."
The mini-horse, whose name turned out to be Toby, and a male (thank you commenters), was lost at the northeast edge of the Mondex, or Daytona North, a couple of blocks from the insurance office of Elbert Tucker–the Bunnell City commissioner–who said mini-horses "are sprinkled throughout here." The horse was not likely shopping for insurance. "We sell for horses, but not to horses," Tucker said.
It is not clear, from the press release, whether the little horse felt compelled to call Sheriff Don Fleming's cell phone, or required the counsel of sheriff's office attorney Steve Alexander. The horse is, however, a registered independent, and therefore not a factor in the sheriff's election culminating on Aug. 14.