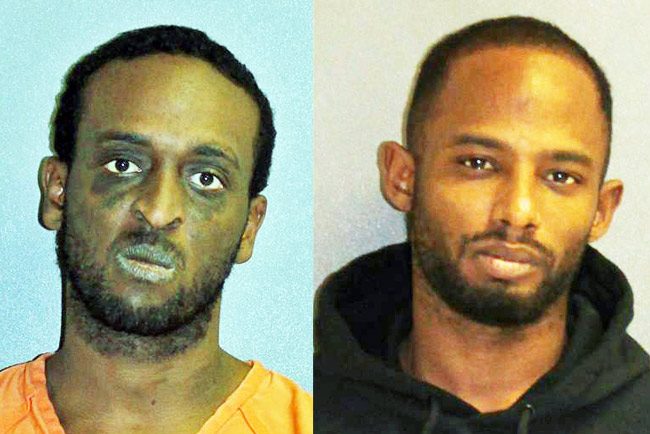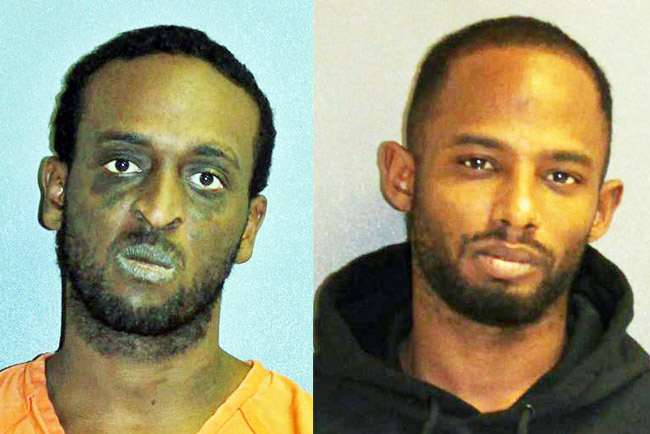 Julian Miller, 31, of Palm Coast, accused of running a heroin and fentanyl operation mostly in Volusia counties, was among nine people arrested in the two counties Friday in a joint operation between the two counties' sheriff's departments and and the Daytona Beach Police Department Special Investigations Unit. The investigation had been ongoing since Last November.
The Volusia Sheriff's Office claims the drug-trafficking organization is responsible for distributing 2 to 3 kilograms of heroin per month in east Volusia. Some of the heroin sold by the organization contained the deadly opioid fentanyl.
On Friday, authorities fanned out to arrest Miller, considered the ringleader, along with his associates and the organization's street-level members. The group called itself "The Money Team." Search warrants were served at eight locations in Daytona Beach, Holly Hill and Palm Coast.
Shykeem Thomas, 30, was arrested in Palm Coast, where two search warrants were served. Flagler County Sheriff's deputies seized 2 ounces of heroin at 15 Brian Lane and 6.6 ounces of heroin and 3.6 ounces of fentanyl from 11 Burton Place. Paraphernalia and packaging materials used to distribute illegal drugs were also recovered at the Burton Place address. Thomas waived extradition from Flagler and asked to be booked into the Volusia County Jail.
Thomas served 15 months in state prison between 2006 and 2007 on a cocaine manufacturing and sale conviction. Miller served in state prison from 2008 to 2010 and again from 2010 to 2011 on convictions for aggravated assault and cocaine possession.
In a joint appearance at the Volusia County Sheriff's Office, Flagler Sheriff Rick Staly and Volusia Sheriff Mike Chitwood spoke of the suspects as individuals "destroying families" and "destroying lives," in Chitwood's words. "We will not sit back and watch this epidemic continue while poison peddlers kill people," Staly said.
It's believed The Money Team was spending $40,000 to $100,000 at a time, roughly on a monthly basis, to purchase heroin for distribution on the street in Volusia County. The investigation also revealed members were distributing trafficking quantities of cocaine and pharmaceuticals.
Earlier this year, in January, undercover Daytona Beach detectives started making controlled purchases of heroin from the head of the organization, 31-year-old Julian Parker Miller. In January, the first purchase was made for $60 in heroin that tested positive for the presence of fentanyl.
After a judge authorized wiretaps on some of The Money Team's phones, detectives were able to monitor repeated calls and texts setting up drug deals on the street. And VBI members conducting surveillance on the locations discussed on the wire were able to watch those deals take place.
Several of the organization's members have been arrested and convicted of past crimes ranging from possession and sales of narcotics, to aggravated assault with a firearm, to possession of dangerous drug equipment, to fleeing and attempting to elude law enforcement.
The 10 Money Team members in custody as of Friday are Miller, Mark Johnson Jr., 31, of Holly Hill and Daytona Beach, Mark Johnson Sr., 57, of Holly Hill and Daytona Beach, Thomas, 30, of Daytona Beach and Palm Coast, William Dennison, 28, of Daytona Beach, Justin Allen, 29, of Ormond Beach, Stacia Schriever, 38, of Port Orange, Andrew Deperalta, 24, of Ormond Beach, Brian Conti, 53, of Port Orange, and Brandon Barker, 25, identified during the investigation as a member of the team but already incarcerated at the Volusia County Branch Jail.
So far in 2017, approximately 100 deaths in Volusia County have been attributed to opioids. That compares to 101 in all of 2016, 111 in 2015 and 76 in 2014. The Volusia County Sheriff's Office is currently investigating three open homicide cases in which the evidence suggests delivery and consumption of an opioid caused the user's death.
"Using fentanyl just one time can kill–and that is why it is vital that we continue to aggressively investigate drug trafficking and remove these substances from our streets," said Attorney General Pam Bondi, whose Office of Statewide Prosecution assisted in the operation. "I firmly believe this investigation saved lives and I am grateful for each law enforcement officer who worked to seize these deadly drugs before they could be sold in our state."