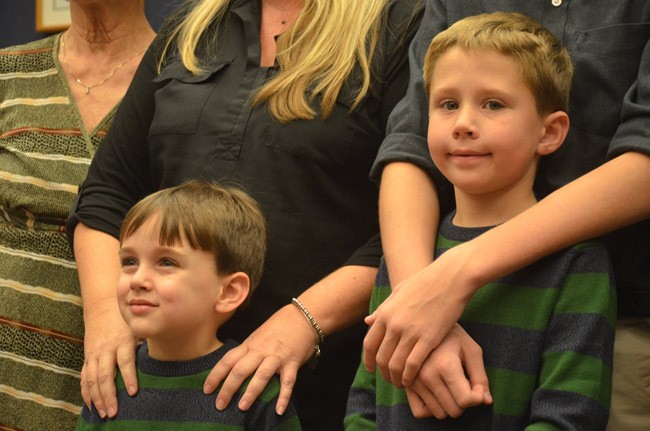 Seven-year-old Miller Clayton and his little brother Luke were at times bewildered by the flurry of attention, picture-taking and praise Monday evening as Miller was recognized at the Flagler County Commission for his bravery the evening of Nov. 28, when he took his brother to safety out of their burning home on Kentucky Avenue.
Miller received three bravery awards and a medal from Flagler County's Professional Firefighters Association and the City of Palm Coast Firefighters Association, and from the office of Jeff Atwater, the state's Chief Financial Officer, through Lt. Paul Patterson of the Bureau of Fire and Arson Investigations.
The awards, to a standing ovation from commissioners and the audience, was a poignant counterpoint to an evening when Miller's father, Kevin, is believed to have shot himself in the house, according to the Flagler County Sheriff's Office, either shortly before or after the fire started. Two of his three sons were home, the third—the oldest—being with his mother elsewhere. Miller and Luke went to the house of a neighbor, a Florida Highway Patrol trooper—he was not at the ceremony—who attempted to make contact with Kevin Clayton but was not successful, the flames having already engulfed the house.
The investigation into the cause of the fire is still ongoing, Patterson said, and is not expected to be completed for another two to four weeks.
The fire started around 8:30 p.m. that evening at the property off a dirt road in western Flagler County, not far from Bull Creek Fish Camp.
"Tonight though we're not here to talk about anybody that responded to the call or any of that," Steve Palmer, president of the Professional Firefighters Association, said as he prepared to hand Miller a plaque. "We're here to honor a true hero in our community. Before the fire crews were alerted to this event, 7-year-old Miller Clayton discovered there was a fire in his house. After this terrifying discovery, he quickly retrieved his 4-year-old brother Luke and led him out of the burning structure through the smoke, out to safety. They went to a neighbor's house, where they had told them what happened and they had called 911 to alert us to what's going on."
Flagler County Fire Rescue and the Palm Coast Fire Department responded to the scene. Kyle Berryhill, president of the Palm Coast Professional Firefighters, struggled to keep his composure even as he mixed humor with gravity as he spoke of Miller's acts that evening. "So every year fire departments across the country do fire safety talks during Fire Prevention Week. It's one of the most important things that we do, we teach children why stop, drop and roll is better than maybe dunking your head in the toilet," Berryhill said.  "We teach children about don't hide, go outside if your house catches on fire. We teach them to crawl like the alligator crawls, we talk to them about telling their mom or place the batteries in the smoke detector, and there's nothing we do as important as this, and so we're very, very proud of Miller who exhibited all of the characteristics of what we ask as an exit drill in the home, and we would encourage other families to practice so their children can also be as safe. We're very proud of what you did, buddy."
Miller declined to speak when Barbara Revels, the chairman of the county commission, asked him if he wanted to say a few words. His mother and both his brothers, among other family and friends, were in the audience.
It was then Patterson's turn, who spoke with Detective Jeffrey Ruland at his side. "Detective Ruland is the one who responded to the scene that night and conducted an investigation," Patterson said, "and felt it important enough to send an email up our chain of command to try to get an award from our office in Tallahassee, which is where the CFO Jeff Atwater's office is. This was in the making when we found out the city was doing one and the county was doing one as well. CFO Atwater wanted to add one to your collection I guess."
Miller received his Certificate of Heroism in addition to the medal and the award from the Flagler unions, stood for more pictures and applause, and then went outside with his family for still more interviews and several rounds of pictures by the side of a Flagler County Fire Rescue fire truck.
Jessica Johnson also received a Certificate of Heroism from Atwater's office for her bravery when she went into her burning house and saved one of her children in a fire in Flagler Beach last May.