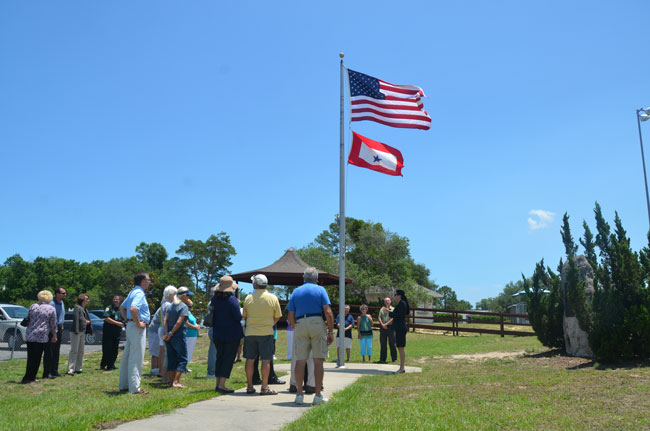 Milissa Holland stood in front of her father's commemorative monument at Holland Park in Palm Coast earlier this afternoon, and, crediting her roots in county politics and family soils to him–Jim Holland, who died in 2002, was a Palm Coast founder and city council member–formally announced her candidacy for the Florida House District 24 seat. The redrawn boundaries of the district encompass all of Flagler County for the first time in 48 years, giving the county its first chance in half a century to have its own representative in Tallahassee.  "We will have the opportunity to have our voice heard in Tallahassee, one singular unified voice for our residents not only to have adequate and proper representation, but good representation," Holland said, speaking to a semi-circle of 25 people, "one that will always look out for the interests of Flagler County, St. Johns and Volusia."
There were no Holland shirts or stickers or any sort of paraphernalia indicative of a campaign kick-off, a reminder of how late Holland is stepping into the race, though qualifying for the election doesn't end until June 8: others may yet jump in. Holland faces one Democrat in the Aug. 14 primary, Doug Courtney. That race is not expected to be competitive. Only one Republican has declared so far, Travis Hutson of Elkton, a 28-year-old novice who's nevertheless ran some 30 campaigns for other candidates, and who raised $75,000 in the first quarter alone.
For Holland, it is, for now anyway, the culmination of a journey that hasn't always been a straight shot but looks, over the past decade or so, like a study in ambition and achievements. "I have served on the Board of County Commissioners for 26 years–for six years, I'm sorry," she quickly corrected herself over guffaws at the beginning of her remarks, then went on to encapsulate why she should be entrusted with the House seat, alternating between personal reflections and the nitty-gritty of policy–what she's achieved, what she wants to achieve on behalf of constituents.
Hutson, in an interview this morning, welcomed the challenge and dismissed suggestions that he is less experienced than Holland, at least in some regards.
Hutson is not conversant with Holland's history as a commissioner. "I've heard she was a great county commissioner, did wonderful things,"  he says. But to Hutson, there is not much difference between his candidacy and Holland's even in terms of experience.
"The only lack of experience that's out there is voting experience," Hutson says. "I haven't said yes or no. That's the only difference. I don't have a voting record. She does have a voting record. That's the only difference. I've been involved in non-profits, I've been involved with people, I understand that stuff, and I can do that stuff, so there's no difference there, and in campaigns, if you want to talk political campaigns, like I said before I think it may be a draw in political campaigns just because of as many as I've ran."
Holland doesn't see it that way: her experience is a pillar of her campaign, and, to her, a defining difference with Hutson.
Holland is the youngest member of the Flagler County Commission, but also has by far the longest biography—a 1,450-word opus that manages to be twice as long as George Haans's, the senior member of the commission—he was first elected when Holland was precisely half her age—and supposedly the wordiest. The biography isn't fluff: she was Flagler County's first elected female county commissioner in 2006, defeating the late Blair Kanbar with 64 percent of the vote in a race that opposed the classic advocate of development (Kanbar) against a candidate who made a point of turning down financial contributions from developers—a pledge Holland is renewing this year, despite her opponent's overwhelming money advantage.
Some highlights of that biography: she represents Flagler on the  Northeast Florida Regional Council, serving on that council's legislative committee  (where she's honed her skills in dealing with the Legislature and the Florida Cabinet). She's also represented Flagler on the Regional Transportation Committee and chairs the county's Tourist Development Council, a position she's clearly cherished while revamping the county's tourism marketing strategy and successfully pushing to raise the bed tax to 4 percent to more broadly carry out the campaign. Holland is in the middle of the re-writes of both the tourist council's and the county commission's long-term strategic plans, or blueprints of how the county sees itself in the longer run.
Holland talks eclectically about government—she loves to talk about public issues and gets into the details with Clintonian compulsion—but always returns to three issues: education, economic development, and bridging the gap between lawmakers in Tallahassee and the consequences of their laws on local governments. That gap, she says, is getting wider, with unintended consequences more often making local governments' jobs harder, not easier.
"I can use my experience on the county commission as a measure on where I think we need to be. I think there's two schools of thought for me going up there. One are the issues of the day in this district are going to have to be managed and managed regularly, so I think part of my time will be spent not only dealing with our constituents, but dealing with our local governments to ensure that the legislation that's being proposed is not going to have an unintended consequence to local government, in which we may be lowering the taxes here, yet we're burdening our residents because local governments are having to raise the taxes here. It's not solving any problems, it's just creating another problem entirely."
She speaks from experience, going back to the first time she went to Tallahassee, when she chaired the county commission and was asked by Palm Coast government to go before the Florida Cabinet, with Palm Coast Mayor Jon Netts, to dispute a state demand on Palm Coast to build a walk-over above Old Kings Road, into Town Center. The walk-over would have cost the city $2.7 million to $3.1 million. It made eminent sense on paper, as far as the state's transportation and environmental regulations were concerned. It made no sense in reality, at a crossing point where neither geography nor traffic compelled it. "I had formed relationships with some government and cabinet members," Holland recalls, and she'd met with legislative aids to lay out the issue. The city laid out its analysis and showed how taxpayer dollar would be wasted if the walk-over was built. Holland and Netts made their case before the cabinet. "We prevailed," Holland said. "When you talk about how unnecessary that would have been, and how that would have added that extra burden—those are the issues that I look at taking on when I'm there."
Just last summer, Holland was again before the Florida Cabinet, arguing against a local developer's appeal—over the county commission's unanimous opposition—to vastly increase construction density in a section of Hammock Dunes. Flagler County prevailed in that case, too.
Holland and Hutson do have some commonality on one issue: education. They both intend to make it a priority, and both want to see more local control over curriculum and governance.
"I think we need to allow teachers the ability and the creativity to go back to teaching," Holland says." I understand the need for testing our students in regards to progress, I also understand the need to measure that progress, but in recent events the system is obviously flawed, and our students are the ones that lose every single time." Her solution? A less restrictive, less robotic testing alternative than the FCAT, with greater emphasis on STEM education (science, technology, engineering and math) and less emphasis on the rigidity of the testing regimen itself (which takes over schools' schedules for weeks at a time, often at the expense of the very curriculum the students are supposed to master).
Hutson parallels some of those same thoughts, if more generally.
"We've got some serious issues right now. As you know, with FCAT, and how we can get our kids to achieve high standards and actually do very well. The FCAT was a starting block, there's already talk of moving to end-of course exams," he said. "Tallahassee is trying to teach all these kids how to reach their goals, and I don't think it's a Tallahassee thing. I think Tallahassee needs to set a minimum standard and give the power back to the local school boards. It's not our jobs in Tallahassee to tell Dade or Leon or Duval or St. Johns or Flagler, Volusia, how to educate their children. It's different across the board."
He stresses accountability—a centerpiece of the FCAT—but on students and parents: "Right now if you look at FCAT, the responsibility is on the teachers because they've got the only skin in the game because they get their salaries from that. It'd be interesting if we could somehow tie it, besides just at regular graduation, to children and families, so they have to help educate their children at home and not just pass them off to the schools." He doesn't mean to increase homeschooling, but to spread accountability: "Now we've got to get the children and the parents involved."
Hutson was born in Jacksonville, raised in Elkton, and graduated college in Pennsylvania in 2007 before returning to the family business, where he still works. "I've bounced around in some stuff with cattle and timber and a charitable foundation. As the economy has changed I've taken up more and more roles here," Hutson says. He handles The Hutson Companies' Elkton Green Inc., a farming operation—everything from PR to ensuring that cattle are in the right places to eat or deciding what timber gets cut next.
Holland was born in 1971 in Peekskill, N.Y., and grew up a few miles north in Poughkeepsie, a distant bedroom community of New York City, on the Hudson River. Her father worked for AT&T, making his way up from utility pole-climber to management even as he contended with multiple sclerosis (he was diagnosed when he was 27). She moved down to Palm Coast, graduating Flagler Palm Coast High School in 1989. She had her first son, Chris, which forced her to get to work—she worked at the pro shop at Hammock Dunes for a few years—and married when he was 8 months old. She lived in Beaver Falls, Penn., for three years, where she met her second husband and had her second son, Tyler, in 1995, and her daughter Tori, in 1996, returning to Palm Coast in the late 1990s to build a house in the B Section and raise her children. A third marriage lasted briefly and ended almost concurrently with her father's death in 2002, which marked her and her family deeply.
"I had a difficult time dealing with that, probably for about a year and a half or so," she says. Politics was the unlikely salve. "I attended my first city council meeting in an effort to not only reconnect with him but really have that sense of closeness. That meeting very quickly turned into 'will you serve on this,' and went to the Citizen's Academy, and really embraced the city government. It very quickly brought me back to a much better place." She served on the Palm Coast Leisure Services Advisory Committee for a little over two years and on the Juvenile Justice Council. In 2005, she established the James Holland Foundation, named for her father, to support children's programs (and occasionally sponsor such dubious gigs as the DeLand-based Cole Brothers Circus). The same year she began attending every county commission meeting, which she did for two years before taking office.
In April she married for the 4th time—David O'Brien, the under-sheriff. Inevitably, because she's a woman and because this is an era of abrasive politics when the personal is often as powerful a determinant of a candidate's chances as the political. Holland appears prepared.
"Our residents deserve much better than dealing with attacks being thrown at people regarding personal issues," she said. "I've demonstrated a clear ability that I'm somebody who has contributed tremendous amount and had the positive impact, and I think at the end of the say that's what the voters care about, and should care about, quite honestly. I've never hidden from anything. I've certainly been very open with my life. Again, it's who I am today because of everything I've experienced and everything I've lived. I lost my father when I was 30, I lost my mother when I was 34, and I've gone through all of these experiences much on my own. I'm proud of the fact that I raised three kids much on my own. I don't think that's anything I should ever shy away from. But at the end of the day we've got some serious issues that we're all dealing with, and we need people in place that are going to represent us and talk about how they're going to solve these issues rather than just attacking people's personal lives."