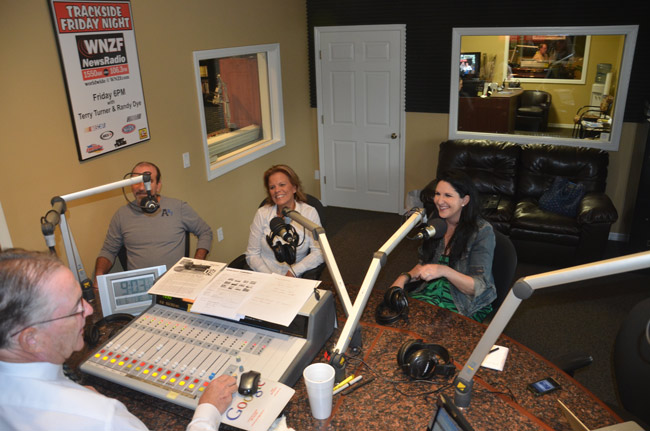 It's been a dizzying couple of years for Milissa Holland, if not for those who follow her career in and out of a life never too far from public policy.
Two years ago she was the most visible and active Flagler County commissioner. She stepped down to run for a newly created House seat centered on Flagler voters. She married Dave O'Brien, then the chief deputy at the Flagler County Sheriff's Office, lost the House race against Travis Hutson in a close election, started a column at FlaglerLive paired with a radio talk show at WNZF, fell gravely ill, ended both media gigs, separated from O'Brien and disappeared from public view for a time.
Now she's back. She's not an elected official anymore, but she may be closer—and may soon exert more influence—on more elected officials than she ever has: Holland has just joined the Tallahassee-based Southern Strategy Group, one of Florida's most powerful lobbying firms, where she will be in charge of representing local governments. She is still the vice chair of 1000 Friends of Florida, the statewide growth management organization, and she was just appointed to the Central Florida Water Initiative to represent environmental interests.
The centerpiece of her new direction, of course, is as a lobbyist. It's an ironic turn for Holland, and she knows it: the Strategy Group's client list reads like a who's who of the sort of special interests, companies and pressure groups that helped the more conservative Hutson defeat Holland in 2012.
And some of the Strategy Group's clients are not exactly beloved in Palm Coast: They include America Traffic Solutions, the Arizona-based for-profit company that runs Palm Coast's reviled red-light cameras, and that sucks out more than $1 million a year from the local economy through fines. It's because of ATS's intense lobbying across the state that the company was able to hook its red-light cameras on the grids of so many municipalities—and to continue to influence state law in such a way as to favor cameras and profits over drivers. Holland could be in a position to do ATS's bidding in the future, though she doesn't foresee that happening any time soon.
"I'm very well aware of the issue and certainly the sentiment amongst our residents," Holland said in an interview this week. "I've had some brief discussions with my partners in Jacksonville about the relationship and what would be expected of me. Nothing has been furthered along regarding that particular issue." She added: "I'm really excited about this opportunity and I've learned valuable lessons in the process. One is you never discount anything but you focus on the area you've been responsible for. This is now my responsibility to lead this focused energy with this firm."
The Strategy Group has innumerable big-name clients, among them Disney, Wells Fargo, the Chamber of Commerce, the Florida Automobile Association, the Florida Trucking Association, IBM, the Daytona Beach-based International Speedway Corporation (whose lobbying pays off handsomely, albeit at taxpayers' expense), CVS pharmacies, Miccosukee Indians (think gambling), Jacksonville Greyhound Racing (think gambling) and many more. It represents relatively few local government agencies, among them the Central Florida Regional Transportation Authority and the City of Orlando, but that will be a client base Holland will be developing.
"That's an area they felt needed greater representation from our firm and they felt I was the perfect candidate since I'd been in the elected officials' shoes to represent them," Holland said.
The Strategy Group does not yet have lobbyists hired by Flagler County governments. Holland's presence could change those equations. She will have an office in Tallahassee, where she will be during each legislative session, and in Jacksonville, where she will commute about once a week, but her base will remain Flagler County.
She already has a good relationship with Hutson, her former opponent. "He has reached out to me on a few occasions to ask my opinion or advice on certain topics he's taken up," Holland said. "He certainly has seemed to have a presence in the community. He's taken an interest in Flagler County, so I look forward to sitting down and having lunch with him hopefully on behalf of local governments." Holland isn't ruling out a future political run. But she's not thinking about that for now. Her focus and interest is the Strategy Group.
It's not been an easy couple of years for Holland—professionally or personally.
"Everybody's been worried about you," WNZF's Free for All Friday host David Ayers told her on the air last Friday. "There's a lot of love for you here in Flagler County. You're one of our big community leaders, county commissioner, quit to run for state representative, and kind of, you know, was let down in my opinion by the Democrats in this community, and the Republicans, because they should have supported you more in my opinion."
Holland opened up. "It's something that happens when you don't realize it and your body tells you to stop, and my body literally told me to stop for quite a while—bronchial pneumonia put me down for some time," she said. "It was quite alarming, to be honest with you, and still today, I'm back riding a bicycle, and I can do about 20 minutes before I really, really feel it. It just takes a while. You realize and you appreciate your health when you're in good health. Everybody should."
She described the new association with the Strategy Group as "the perfect marriage and match for me," and fielded Ayres' wry question about lobbyists and lobbying's "bad rap."
"Just like with everything you have good, you have bad, you have folks that maybe shouldn't be in the industry," Holland said. "But as a former commissioner, I will tell you more and more I see the need and the necessity to have that sort of advocacy on their behalf. Local governments deal with a lot of technical issues, day to day, whether it be transportation, utilities, growth management there are a lot of issues they need a voice on their behalf for them to demonstrate a greater ability to remain on a priority list or to make sure again they're not handing down more and more unfunded mandates. So I don't think it's a bad thing, I think it's a good thing. It's the way the system is set up, and again, why not have somebody on board with you that really feels strongly and that's been in your shoes."
Holland didn't speak about her private life on the air. It was Ayres, on the same show, who had surprised O'Brien during a live appearance by revealing to the audience his impending marriage to Holland (who was in Tallahassee that morning). Soon after Jim Manfre won the race for sheriff last year, he fired O'Brien—officially, O'Brien was forced to resign—in a brutal reversal of favor: O'Brien only months earlier had made the short list for undersheriff. It was one of several such firings and major shuffles at the sheriff's office that have continued to this day, with most of Manfre's transition team now gone, and many individuals paying a heavy personal and professional price in the interim, among them O'Brien.
Between that and Holland's own defeat at the polls, it was too much, Holland said in an interview this week. "We had too much to deal with," she said. "It was too much for both of us."
"It's something I'm moving on from," Holland continued. "I hope all of my next chapter is something very positive."