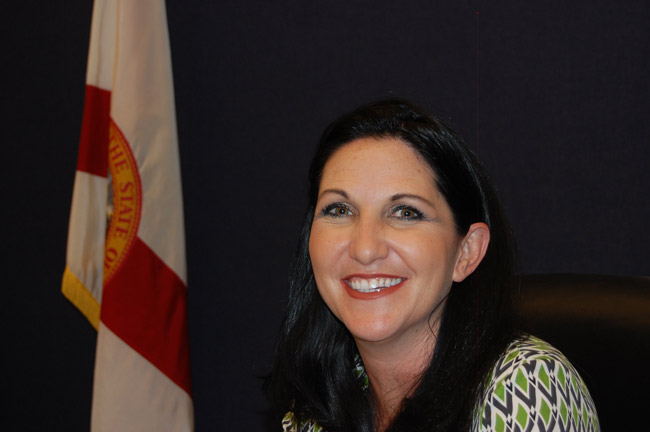 Milissa Holland, the forceful and popular Flagler County commissioner—she was elected with 65 percent of the vote six years ago and ran unopposed two years ago—said today she will run for the Florida House, giving the county its first solid chance in 48 years to have direct representation in Tallahassee by one of its own, and giving Democrats the rare chance of a pick-up in a House dominated by the GOP.
"I've been very proud of what I've accomplished here in Flagler County and I love what I do as a county commissioner, and it's very difficult to make the decision to leave all of that," Holland said. But, she continued, "it's the first time we will have a full representative in 48 years. It's extremely important. If you look at the district, this is why we pushed the census so hard in an effort to have our voice heard. We knew the opportunity was there to have an entire representative, and Tallahassee made that determination that we should. They didn't give St. Johns a whole seat and give us a portion. And they didn't do it with Volusia either. They stated that Flagler County has gotten to a place where our voices should be heard as equally as many other counties in the state of Florida."
Holland will make a formal announcement at Holland Park in Palm Coast Monday (May 21), at 1:30 p.m. The park is named for her father. She will be filing a letter of resignation regarding her county commission seat, but the resignation won't be effective until Nov. 6, so she will remain in that seat until then. At that point the governor has a choice to either appoint a replacement or call for a special election. Frank Meeker, the Palm Coast city council member, is the name on the lips of many people who follow the two governments as a leading contender, including his own.
Holland's decision, following months of speculation and weeks of rumors, upends a race that until now had featured Travis Hutson, the 28-year-old Republican novice with heavy GOP support, and Doug Courtney, a Democrat from Flagler County and perennial political candidate who has yet to win a race, or come close.
Holland would have been a formidable candidate regardless, but the district's new boundaries vastly improve her chances: Precisely 60.12 percent of the electorate in the newly drawn 24th House District is in Flagler County (by voting age population, not registered voters), with 20.51 percent in St. Johns and 19.37 percent in Volusia, making Flagler's voters the clear heavyweights in any contest—the more so since Volusia's and St. John's slivers of the district themselves split the remaining votes.
The question was not whether Flagler could field candidates to take advantage of the new boundaries, but whether it could field viable ones. Donald O'Brien, an insurance executive from Palm Coast and a Republican, briefly campaigned against Hutson but dropped out abruptly last week.
Holland, 40, brings deep experience to the contest, a sense of legacy—her father, the late James Holland, was a Palm Coast founder and city council member—and political acumen that helped her forge alliances across party lines: just last summer she was appearing alongside Sen. John Thrasher, a staunch Republican, before the Florida Cabinet in a battle against a local development Holland and the county commission had fought for two and a half years. She prevailed.
"I think there are a lot of Independents and Republicans that will support her regardless of her party affiliation," Barbara Revels, who chairs the county commission and had been urging Holland to run for legislative office, said.  She's right: Holland has several prominent local Republicans' admiration and outright support.
"I think we're losing one of our most valuable assets in the county. I hate to see her go," said Palm Coast Mayor Jon Netts, a friend and frequent political ally, who was drafted to run for office 11 years ago by Holland's father. "On the other hand, an infusion of dedication and commitment and concern and competence and compassion in Tallahassee is not a bad thing for us either."
Asked directly whether he would support her candidacy, Netts paused, then said: "Yes. Republican, Democrat, that's less important than what you stand for. I thinks she's always been a person of integrity, of honesty, commitment to the constituents. I don't know what more you could ask."
Alan Peterson, a Republican, fellow county commissioner and occasional opponent of Holland's on some issues, was equally categorical about his support of her candidacy, "because this is essentially local government, and whether we're Republicans or Democrats doesn't make any difference at all, it's your philosophy and your outlook on government and what you think is important," Peterson said. "I think Melissa knows Flagler County very well, I think she knows the people in Tallahassee, I think she's had experience dealing with the Legislature in Tallahassee, so there are a lot of very good reasons as to why she would be a major asset and benefit for the residents of Flagler County. I mean, it's very diff icult in my opinion for somebody to be elected to an office who has never had any governmental experience, and her opponent would be one of those who has not had any experience."
Hutson did not immediately return a call about Holland's candidacy Thursday evening.
Revels is contending with a mixture of relief and anxiety, Holland's decision cutting both ways for Flagler County: her voice on the commission will be unquestionably lost. The resignation is irrevocable, at least for this election cycle, whatever happens. On the other hand, Revels had been despairing at the absence of a strong candidate running for a House seat as if gift-wrapped for a Flagler County voice. (It's no small matter that Holland's decision also relieves Revels of some guilt that she wasn't herself running, since she is likely the only other local candidate with as strong a case for higher office. She lost to Bill Proctor, Flagler County's current representative in the House, by a few hundred votes in 2004.)
"I'm so excited that we have an incredibly viable candidate to represent Flagler County, knowing how hard Milissa fights for her constituents and her county," Revels said. "She's got the knowledge and the connections. Its going to be wonderful for us. But on the other hand all those things I said," Revels continued, repeating Holland's qualities, "she's done all that on the commission and it's going to be a big hole to fill with a lot of unknowns for us."
Revels, for years the realist echo to Holland's idealism, continued: "It is a risk for her and she and I discussed that it would be incredibly terrible if she were to resign the commission and not win. But I think just knowing her reach within the county, how well she's known, how  well she's handled all of her constituent services, she'll have many people cross the isle."
Some of that cross-isle appeal across the county was audible in—for example—the voice of John Rogers, a Bunnell city commissioner. "That's wonderful. That's absolutely wonderful. We've got to get her elected," he said immediately when told of Holland's decision. Rogers is a Republican. "I vote the person, not the party," he says, explaining his enthusiasm: "She has a chance of winning, that's why, and I think she would do a great job representing Flagler County."
Courtney, the Democrat now facing Holland in the Aug. 14 primary, on the other hand, was more subdued, describing the coming race as "very challenging," but giving Holland a chance "as good as mine" of winning. He said he had broader contacts and background in the district's three counties.
Meeker, the Palm Coast City Council member with his eyes on a commission seat, weighed his words carefully when asked about Holland's candidacy: he is a member of the Flagler County Republican Executive Committee. He has obligations. "My loyalty oath is to the party," Meeker said. "This is a partisan election, and as much as I like Milissa Holland, I have to support who the party picks. That's just the way it is. And I think we have a very strong candidate." Meeker was not yet speaking definitely of running for the commission, though he said he'd been thinking about it plenty and studying county issues.
For now, however, the attention will be on Holland for creating what Meeker describes as "an exciting race" in contests generally defined by plodding issues and sometimes doddering candidates. It's not a coincidence that the clincher, for Holland, was a moment with her soon-to-be 16-year-old daughter Tori, who often accompanies and assists her mother in community and civic events and has developed civic initiatives of her own.
"The defining moment came when my daughter made a comment to me on everything that I've been able to accomplish here as well as fighting, taking issues to Tallahassee, that affect our residents for the last six years," Holland said. "In her words I've been there for six years acting upon the residents' concerns, and it certainly had positive impacts on a multitude of issues. She had encouraged me to step up and do this at  this moment in time. I had to come to terms with it for me. This had to be right for me. I'm somebody who's very passionate about this community. I'm also passionate about the issues I take on."
And now, she said, it is.