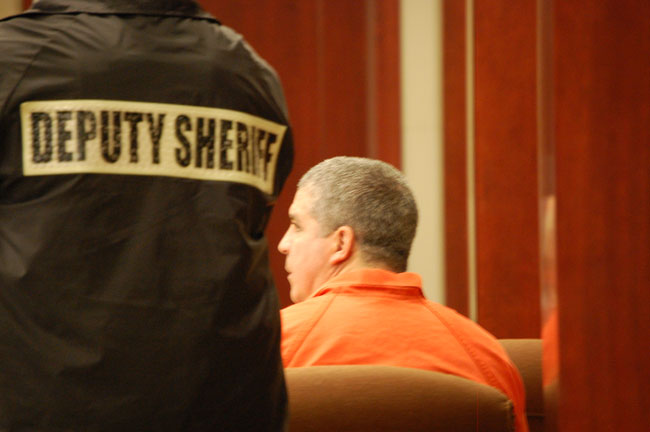 Joseph Milano, aka former mob hitman Joey Calco, is on trial today in Circuit Judge Kim C. Hammond's courtroom in Flagler County this morning. The State Attorney, however, is seeking a 14-day delay. The issue hasn't been resolved. (See below.)
Milano was caught on tape in his own Palm Coast pizzeria brutalizing two customers who didn't like the way their calzone was prepared.
An investigation by reporter Heather Scofield (formerly of the Daytona Beach News-Journal, now with FlaglerLive) revealed as a result of that confrontation last year that Milano had been, according to investigators, a mafia assassin, living in Palm Coast with his family, under his assumed identity, in the federal witness protection program.
Milano, 42, faces assault charges stemming from his pistol-whipping one customer and beating up another in the calzone encounter. He also faces charges of aggravated assault and being a felon in possession of a firearm. Milano's wife, who has since left him, claims he threatened to kill her and her children, and that he'd obtained the weapon from his parents, according to the charging affidavit.
In a hearing last week, Milano said he had no money, no house, no car, and no family to help him. The court declared him indigent, though the state will not pay for his attorney. Milano has one–John Murray. It's a mystery how Milano is paying Murray, though Milano said in court last week that he's in arrears with Murray.
You can follow the proceedings live, below.