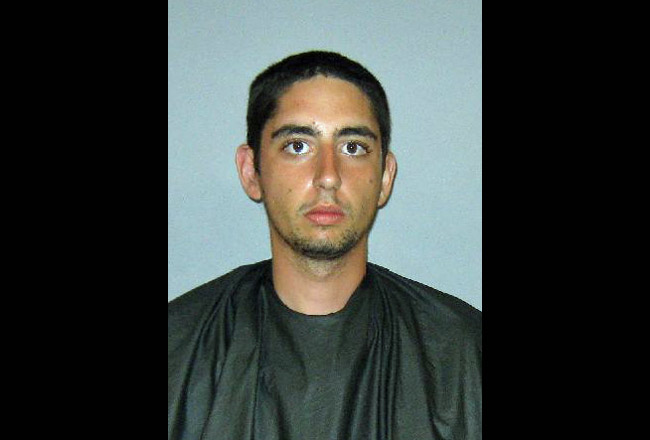 Last Updated: Dec. 9, 12:35 p.m.
Dec. 9–Michael Testa, the Bunnell man who escaped on Dec. 6 from a Flagler County Sheriff's Office deputy's cruiser after being arrested for dealing in stolen property, turned himself in this morning at 9:49 a.m, the Sheriff's office just announced. Testa had been staying in the woods.
"This was a peaceful situation where no one was injured. It is a hoped-for outcome and a wise decision on the part of Mr. Testa," Sheriff Don Fleming said.

Previous story
Dec. 8: Details Emerge in Michael Testa's Escape From Cop Car After Grand Thefts; He's Still At Large
Details have emerged Thursday in the events that led to the arrest and escape of Michael Testa, 21, a Bunnell resident, the evening of Dec. 6. Testa had been in a Flagler County Sheriff's deputy car, filling out statements–which is why he was not handcuffed–when he managed to open the door from the outside and escape through Palm terrace, triggering a nearly hour-long and fruitless search by air, foot and K-9.
According to a sheriff's office report detailing the events that day, Testa became a suspect in a burglary after a resident at 80 Zebulahs Trail told a deputy the afternoon of Dec. 6 of several thefts from her home, and that she'd recovered some of the property at a pawn shop. Her son's Wii system had gone missing on Dec. 3. She found it two days later at Cash It In Pawn, where she was told the system had been brought in by Testa on Dec. 2. She subsequently noticed that her husband's black lock box containing the Civil War replica of a .45-caliber revolver had also gone missing, along with gunpowder, a Taurus magazine, baseball cards and $16 in cash. She suspected her son's involvement, 23-year-old Thomas Deason, but Deason denied any involvement.
Flagler County Sheriff's deputy Joseph Costello was conducting the investigation on Dec. 6. He contacted Deason, whose mother had already told him that the thefts were being investigated. Deason was at Walmart with Testa and two other men. Deason told the deputy that they were about to leave, and that he was looking to be dropped off at Marvin's Garden, the strip mall in Bunnell on State Road 100. Deason identified the car: a green Honda Accord, and gave the tag number.
Costello set up near Marvin's Garden, and pulled over the Honda when he noticed only the driver wearing a seat belt. A K-it was sent to the scene and indicated the presence of narcotics. A search revealed syringes from the trunk. Those not wearing seat belts were issued warnings. Costello read Testa, who agreed to write a statement, his Miranda rights in connection with the stolen property. Another occupant of the car, Michael Saunders, told another deputy at the scene–Arthur Erlandson–that Testa had sold him an antique firearm the previous evening. Erlandson recovered the Civil War replica gun and matched it to the stolen item.
On Thursday, Saunders was found dead of an apparent suicide, in his Honda, in the Walmart parking lot in Palm Coast. The cause was attributed to carbon monoxide poisoning. See the details here.
By then Testa had been placed in Costello's car, without handcuffs. Testa began writing his statement at about 6 p.m. "During this time," Costello writes in his report, "Michael Testa asked for a second page to finish his statement and my rear window of my patrol vehicle was opened and an additional page was handed to Michael Testa by Deputy [Carmine] Celico." It took Testa about 15 minutes to finish his statement, which was handed back to him for his signature. Another deputy found out that Deason (who's been in jail a few times on marijuana, forgery and probation violation charges), Testa and others would occupy the house at 78 Zebulahs to smoke dope, without the owner's knowledge.
Testa argued to Costello that he shouldn't be arrested, and that if he was being arrested, Deason should be sitting in the cop car with him. He asked for his specific charges, then asked what the bond amounts would be, and when he was told ($13,000), he complained that he would never get out of jail, according to the report.
"I was working on my affidavit and on the radio answering questions to Deputy Erlandson," Costello writes in his report, "when I heard the rear door of my patrol car open and saw Michael Testa running away into Palm Terrace. I chased behind him, falling in a [culvert] while yelling at him by name to stop. I continued to chase him around multiple trailers to where I last observed him in the rear yard of trailer #11." It was at that point that the deputy lost contact, and called for patrol units and K-9 to respond.
Testa has been booked into the Flagler County jail three times since February 2010. He faced two counts of dealing in stolen property and one count of grand theft before he fled. He now also aces fleeing charges.
Testa, the sheriff's office had reported on Dec. 7, was able to reach out of the partially opened window to reach the exterior door handle and open the rear door, fleeing on foot with deputies in pursuit. The trailer park is a maze of small streets and empty lots on the south side of State Road 100. It abuts parts of the south side of the E Section.
"This suspect had been cooperating with deputies. Unfortunately, he apparently had a change of heart and now he is in more trouble. He needs to turn himself in," said Flagler County Sheriff Don Fleming.
Testa was booked at the jail for the first time in February 2010 on a marijuana possession charge (under 20 grams). He was booked again on Oct. 26 on a possession of drug paraphernalia charge, and resisting arrest without violence. And he was booked on Nov. 2 for retail theft of property valued at more than $300 and resisting arrest without violence. He posted bond or was released on hsi own recognizance all three times.