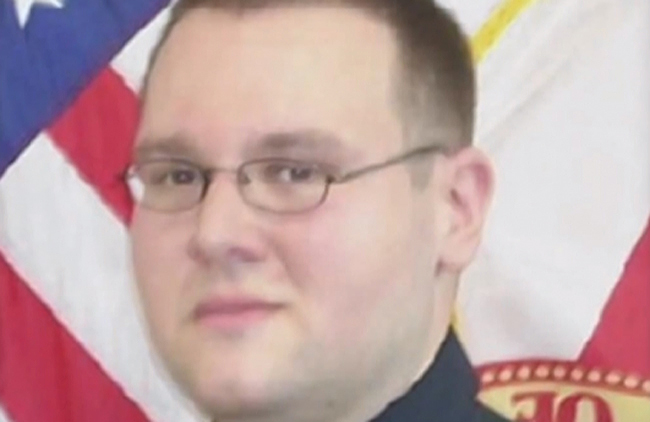 Michael Stavris is the Bunnell cop who late last month was arrested and charged with computer porn and criminal use of someone else's personal information online. Subsequent to his arrest, the Florida Department of Law Enforcement, which is still investigating the case, uncovered evidence that Stavris conducted unauthorized background checks on three sitting city commissioners: Bill Baxley, John Rogers and Elbert Tucker.
Stavris conducted the searches through the Law Enforcement Information Exchange database, commonly known as Linx. That database, containing more than 13 million law enforcement records, facilitates information sharing between federal, state and local law enforcement agencies.
"It's supposed to be used for police work. It's not supposed to be used for personal searches," Bunnell City Manager Larry Williams said. Williams informed the commission of the unauthorized searches by email last month. "We found that he'd used one of the networks to do a track on three of our commissioners."
"This all started out when the new police chief came in and he wanted an audit on everything," Williams said, referring to Tom Foster, who took over the leadership of the Bunnell Police Department in February.
But Stavris may not face any penalties for the breach. The reason: Williams said the database is relatively new and no administrative policies are in place addressing its misuse.
In May 2010, Russell Nasby, then a 45-year-old police officer in the department, was fired after a four month investigation that revealed Nasby conducted unauthorized searches in the state's driver's license  and vehicle database, and also visited banned websites. Nasby's investigation was triggered by a Bunnell Elementary school teacher's accusation that the officer had been stalking her.
It's not clear why the disciplinary standard that applied to Nasby does not apply to Stavris. Commissioner John Rogers, at a meeting of the commission last month, spoke of the unauthorized searches and asked what penalties were in place to address the matter. Williams did not answer the question directly at the time, saying the investigation was ongoing. But Williams acknowledged this week that at this point, "it's a slap on the wrist type thing."
Stavris was suspended without pay in February, after he was charged. He is accused of having used the name of a Flagler Palm Coast High School student's name—a girl—to create a Facebook account and pass himself off as that girl. Stavris is also accused of soliciting suggestive images from underage boys through that account. He posted $125,000 bond.
During his three-year tenure as a police officer, Stavris was an open and ardent advocate of the Bunnell Police Department, taking issue with those who were critical of the department and criticizing those who were critical of the department, politicians included. Tucker on several occasions has held discussions in commission meetings about the possibility of disbanding the police department and having the Flagler County Sheriff's Office provide policing for the city. Baxley and Rogers are usually allies of Tucker, though on the policing issue, Rogers—at least as a commissioner—has consistently lent his support to keeping the department. He had been willing to disband it before becoming commissioner. Stavris was also a supporter of ex-City Manager Armando Martinez, whose tenure was brought to an end last fall by Tucker, Rogers and Baxley.
The unauthorized searches Stavris conducted did not turn up anything of note, Williams said.
Since the Stavris arrest, Williams said that new hires at the department—there was one this week—are being put through a more rigorous hiring process, including the requirement that they submit to a "lie-detector barrage."