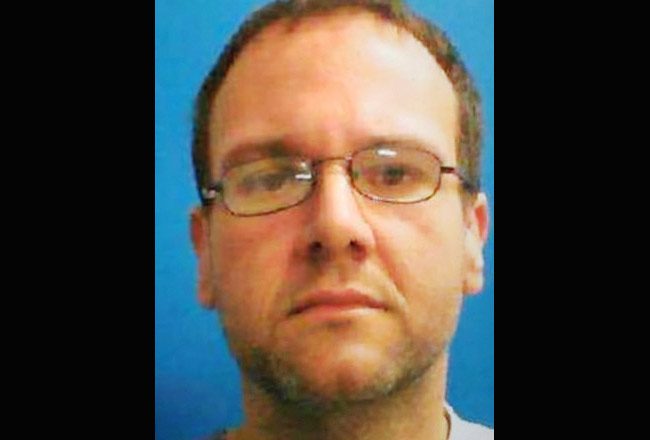 Probation officers often give their probationers a few chances before they throw the book at them. But David Gargon appeared to have no illusions about Michael Stavris, the 30-year-old former Bunnell cop and Palm Coast: Gargon wants Stavris back in prison just days after Stavris's release, because Stavris re-offended within days, in the same way he had when it resulted in charges and his conviction a few years ago. "The offender is a threat to the safety and well-being of the community," Gargon concluded in his probation-violation report less than two weeks ago.
And that was before Stavris got slapped with entirely new felony charges of child abuse, fraudulent use of a minor's identification and stalking, charges stemming from the same behavior that had landed him in prison.
Stavris was originally arrested in 2014 for impersonating his girlfriend's daughter through a Face book page an using that page to solicit lewd pictures of minors. In a generous deal that reduced the most serious charges and eliminated his risk of being branded a lifetime sex offender, he pleaded to child abuse and was sent to prison for three years. He was released last month. Days later, his probation officer, sheriff's deputies and a Florida Department of Law Enforcement agent showed up at his house at 5 Farr Place in Palm Coast, where he lives with his mother and brother. They searched his phone (warrantless searches are permissible when the individual is on probation).
They found evidence of similar behavior: a fictitious Facebook account using the barely veiled name of a girl he'd used before, but using the actual girl's profile pictures, and sending messages to the girl's friends using the account. Stavris allegedly confessed to the behavior. He claimed to have "fucked up" and had had "a lapse of judgment." He was re-arrested and jailed on a probation violation.
First violations tend to be treated with some leniency. Gargon, the probation officer, is recommending against such leniency, according to his probation-violation report. Stavris, Gargon wrote, "appears to lack the restraint necessary in complying with the conditions of his probation. He appears likely to re-offend in a similar manner for these charges that he is currently serving a probation sentence. Although having been sent to prison for the beginning portion of his current sentence, he was not deterred from immediately resuming creating and maintaining false online media profiles."
Stavris, according to his probation terms, was prohibited from creating any social media accounts, or from using social media at all.
"Accordingly," Gargon concluded, this officer respectfully recommends that the offender's probation be revoked, and that he [be] sentenced to prison for a period of time at the discretion of the Court." Stavris is on probation until February 2024. At the time of his sentencing, he was warned that probation violations could lead to the revocation of his probation and the imposition of a prison sentence instead.
Then came the additional charges.
A Flagler County Sheriff's investigation had been ongoing even before the probation check at Stavris's home: the sheriff's office was contacted by the alleged victim's mother on Feb. 14–literally three days after Stavris had been released from prison–to report that someone had created the fictitious Facebook account in her daughter's name–and that the account owner had used it to contact several men while posing as a juvenile. The account owner also let on that he knew details about the victim's vehicle, down to stickers affixed to the rear window, which worried the victim's mother: she believed her family was being stalked. The victim's mother reported seeing a dark-colored car parked in the swale about 100 yards away from the family residence on two successive days immediately after Savris was released from prison, leading her to fear that it was him. She feared for the safety of her family, because she thought Stavris would blame her for his prison term.
Further investigation confirmed that several men were receiving messages from the fictitious account, enticing some into conversation even as the men attempted to stop the exchange.
"The messaging of the victim's friends," the investigative report from Stavris's latest arrest report reads, "while assuming the victim's identity, is an intentional act that could reasonably be expected to result in mental injury to the victim, who is a child. Furthermore, the actions of the fictitious account holder did willfully, maliciously and repeatedly harass and cyberstalk the victim through the above described actions." That was the part of the investigation that led to the search at Stavris's home. But the investigation carried on after his arrest on the initial probation violation.
The investigator subsequently obtained a search warrant to search the cell phone (which Stavris later said belonged to his mother), finding evidence that corroborated many of the allegations.
As Stavris sat in jail last week, he was served with three new charges: felony child abuse, fraudulent use of a minor's identity, also a felony, and stalking, a misdemeanor. His bond was set at $270,000. He is to be arraigned on March 25.
"Probation is not something you can choose whether or not to abide by. Either you toe the line or you go back to jail," Sheriff Rick Staly said.
The Flagler County jail, however, has yet to reflect Stavris's arrest or booking–as has been the case previously with suspects previously in law enforcement. "It is an IT issue that they are working to resolve right now," a sheriff's spokesperson said. "It should be up shortly." That was 12 days ago.