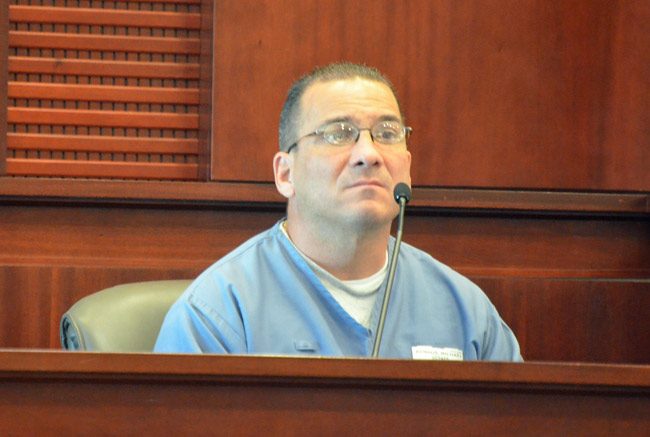 There's no such thing as time passing after a murder. Whether it took place a year ago, 10 years ago, 25 years ago, to its surviving victims, the murder always happened yesterday. Anguish doesn't age. It merely gnarls within those who have to live with its consequences, as do Jason, Dan and Chris Rogers, whose mother Margaret was tortured, sexually assaulted and murdered execution-style by Michael Renaud 25 years ago in Palm Coast, when Renaud was 17.
The testimonies by the three Rogers men in a Flagler County courtroom this afternoon were as emotionally raw as they might have been at the trial of their mother's murderer two and a half decade ago but for the accumulation of 25 years of sorrows and strains that haven't stopped taking a toll on their families. The murder is not so much memory as cauldron and the murderer's life, spared by a jury, a reminder of what he did not spare their mother.
Renaud hasn't been without anguish either, as he tried hard to convey in court this afternoon, though it's a different sort, marred as it may be by the sort of remorse that, like the branding that always marks a convicted murderer, can never be entirely scraped of the suspicion that it's an act. That he's had years to rehearse contortions for just an opportunity like he had today, to convince a judge that he's rehabilitated. To convince the court that he's not the man who tied up a woman with electric cords and terrorized her in her home before shooting her in the eye and the temple those years ago. That he deserves less than life in prison.
And for nearly four hours Circuit Judge Dennis Craig listened to one side and the other in one of the most unusual cases to cross Flagler court's docket in recent years—actually, the very first case of its kind, ever: a man long held in prison but who committed his murder when he was a juvenile, and who is now entitled to a re-hearing on his sentence because in the interim, the U.S. and Florida supreme courts have ruled unconstitutional mandatory life sentences for people who were juveniles at the time of the offense.
But Craig did not quite go for Renaud's remorse.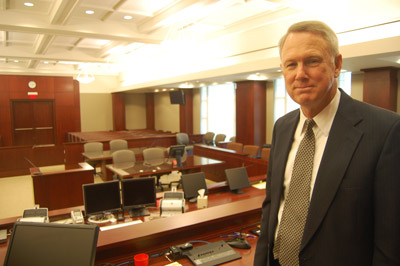 He gave it some weight in his decision. He gave weight to the testimony of Renaud's family, too. That family was there in its entirety: two sisters and a former foster mother, a paucity of blood that by itself spoke of Renaud's terror-ridden childhood at the hands of an abusive mother and an abusive father. But Craig gave more weight to the particularly heinous method of the crimes, and to something else that also has not aged with the years, even though their author died last July and last sat in a courtroom seven years ago: the words of Judge Kim Hammond, who sat through the weeks-long trial and sentenced Renaud those many years ago, and who said something that resonated powerfully with Craig this evening, when he handed his ruling long after dark had fallen: "Rather than saying that he imposed a life sentence on you," Craig told Renaud, citing Hammond's words, "you were granted, as if you were given something, you were given a life, and quite frankly I can see that."
Craig was somewhat impressed with what Renaud had done with his life in prison, at least in recent years. But he wasn't ready to call him rehabilitated. He re-imposed a life sentence eligible for parole after 25 years (since the crimes were committed before 1994, when Florida abolished parole, Renaud is still eligible for parole), and he re-imposed the consecutive life sentences Hammond had imposed for the armed robbery and armed burglary convictions. Renaud was never charged with sexual assault, even though his semen was found on the victim's leg and in her bed, because there had not been actual penetration, though by more contemporary definitions, his act amounted to nothing less than rape.
There was no fist-pumping from the three brothers (as there was from different family members at a guilty verdict last week). There was crying from Renaud's sisters. If Renaud reacted, it was not visible, or apparent. This is the man who had said a little while earlier that he had spent the early months of his imprisonment "religiously fighting for my manhood," and who said he lived among "the scum of the earth"—two statements Craig singled out as examples that, in his view, Renaud had not reached the rehabilitation stage. So he may have also learned to dissimulate emotions, if he hadn't long before prison.
In 1992, Michael Renaud was a few months short of 18. He was trouble. He'd stolen a car. He collected bruises from chronic fights. He was expelled from Job Corps. He'd once tried poisoning his step-mother by pouring ammonia in her drink. He was all anger and violence.
One day he approached Jason Rogers and his friends as they were playing basketball at 58 Point Pleasant Drive in Palm Coast. Jason was 15. Renaud "inserted himself" in Jason's life, as Jason described it, and that of his mother.
Margaret Rogers had raised her three boys alone, gone to school to improve hers and their lot, made it through all sorts of struggles—one of her sons was particularly difficult—but she'd made it through. She had an uncompromising heart. Jason was actually a foster child, handed her when he was an infant, born legally blind and condemned, according to health professionals at the time, to a mentally challenged life. Margaret did not give him up, let alone give up on him. He turned out to be "the one everyone loved best," as his brother Chris put it.
And to round things out for herself, and for Jason, Margaret had finally settled in Palm Coast, where she was about to marry again, and where she planned on enjoying a calmer, less anxious life than she'd known. It was a simpler town back then, its population a third of what it is today, its crime rate notoriously low.
Over the next two weeks Renaud, who lived on nearby Ponderosa Lane, showed up at the house on Point Pleasant constantly. Margaret took him in as she would any of her sons' friends. But Jason was becoming uneasy about his new acquaintance. One day Renaud brought a revolver, which the two boys shot in the nearby woods. Renaud then asked him if he'd ever thought of robbing someone, "beating the shit out of them, taking everything they had and leaving them for dead," as Jason remembered it. Jason was one of three people he spoke to in those terms: his plans were gelling.
Renaud also knew that Jason was leaving for summer vacation at his brother's.
When he did, Renaud broke into Margaret Rogers's house, hid until she came home, assaulted her, tied her up with phone and lamp cords and bound her with a bathrobe, disrobed her and gratified himself by rubbing himself against her leg, then ransacked the place for money and jewelry. When he saw her "hopping" to the bathroom, as he described it, where she locked herself in, screaming, he busted down the door then shot her at point blank range in the head, twice.
That was on June 15, 1992.
---
"If he was four months older we wouldn't even be here today talking about this."
---
Renaud was caught three days later in Massachusetts, where he'd driven after stealing Rogers's Jeep. A jury found him guilty of first-degree murder but spared him the death penalty. He was sentenced to life on the murder charge, and life sentences for armed robbery and armed burglary.
In 2012 the U.S. Supreme Court ruled that mandatory sentences of life without parole for juveniles are unconstitutional, and last year, making the ruling retroactive, ruled that those teenagers previously sentenced to life must be given the chance to re-argue their sentence and given a chance either to reduce it or to be released from prison.
That's what Michael Renaud was doing this afternoon in a Flagler County courtroom. He was 17 years and eight months old at the time of the murder.
"If he was four months older we wouldn't even be here today talking about this," Circuit Judge Dennis Craig said.
For the first time since the murder—for the first time ever, for two of the brothers—all three of Margaret Rogers's sons sat within a few feet of Renaud. And opposite them, Renaud's two sisters and his one-time foster mother: Tina Friend, Elizabeth Blankenship, Elizabeth Cordero. And there Renaud sat at the defendant's table, now 43, in hand and leg chains, staring ahead.
All three brothers and all three members of Renaud's family took the stand, the brothers to impress on Circuit Judge Dennis Craig not to grant Renaud any form of mercy, and the three women to implore the judge to show some leniency, though none asked for anything specific. Nor did Renaud when he took the stand.
"There's nothing I cans say to you or the judge that'll ever bring your mom back," he said, looking at the three brothers in the audience. "If I could go back to June 15, 1992, I would do it in a heartbeat and never ever do what I did. We make mistakes, I made one huge one, but I'm a man now. Regardless of what you may believe, in prison we have one thing, that's based on your word. If you don't have anything else, you have your word, and if I believe one thing, if I give you my word, I mean it."
But one of the three brothers had cleaned his mother's blood off the bathroom floor and off a rug. Another still lives with the guilt of feeling as if he'd facilitated the murder by befriending Renaud.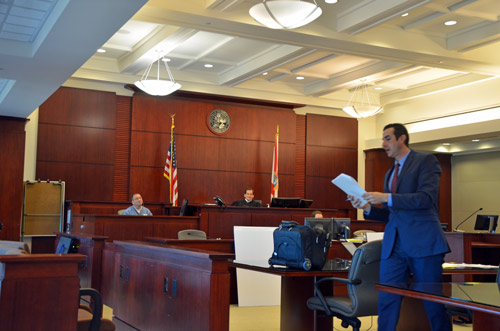 "To be blunt, I think the fact that he still has his life is unfair," Chris Rogers testified. "He's older than my mother was when she died, so he's already had more time than my mother had on this planet." He then ridiculed the notion that Renaud had been a juvenile, that he'd committed a youthful indiscretion, a notion he called "a joke," and ridiculed Renaud's wish to move on. "He may want to get past this. None of us ever will, this will forever stain our life," he said, an allusion to a literal stain. "I scrubbed my mother's blood off of a carpet until [unintelligible] pulled me away. I saw the blood in the bathroom, I saw clumps of hair."
The brothers also spoke of having difficulties connecting at times, of enjoying memories without the trauma of the murder intruding, of being unable to fully revel in their own or their children's successes, knowing of their mother's absence, and of experiencing a breakdown with their own grandmother, who began and sustained a forgiving correspondence with Renaud. Those letters were part of the basis of the defense's claim that Renaud had changed, that he was forgivable, if even a family member of the victim could forgive him.
He had changed enough, anyway, to own up to the judge and to the brothers what he'd not owned up to in the earlier years: that he was guilty. He wasn't inventing excuses anymore, as he had previously (down to alleging that he'd heard voices that made him go back to the house and shoot Margaret).
But he was no dummy, Assistant State Attorney Jason Lewis tried to impress on the judge. He had an IQ of 117, not too far from gifted. He'd always known what he was doing. Lewis did not need to make his allusion explicit: that Renaud's testimony on the stand this late afternoon was also pre-meditated.
Of course it was. But no one could know for sure if it was the pre-meditation of sincere redemption or of a convict's refulgent craftiness. But when Lewis asked him, "What do you think the appropriate sentence is for Michael Renaud?"
All Renaud could answer was: "Reasonable opportunity of release."
"What do you think that reasonable opportunity is?"
"Honestly, I couldn't say. I don't know," Renaud said.
That part was not easy to believe, particularly after Renaud went on to describe himself as having once been a "monster" who now longed to walk barefoot in the grass.
And for all the times that he said that he was no longer the man—"the kid"–he was 25 years ago, there was the note of irrelevance in that admission, made poignant by the three brothers' testimonies that had itself made the passage of time not just irrelevant but unrelenting in its refusal to let wounds heal. Fatal wounds don't, of course. The judge made the point.
"Hearing from the victim's family today," Craig, no stranger to searing personal loss, said, "I mean this crime is now 25 years old and when I hear the victim's family testify, the impression that I get from them is this might have been yesterday. They live this crime that occurred 25 years ago. They live this crime day in and day out, and they've done that for 25 years."
Craig could not have let Renaud walk anyway. The most he could have done was grant him a mandatory 40-year term, though again it wasn't clear whether that meant 40 years from the time of the original sentence or a new 40-year term. An appeal aside, that point is moot anyway, given Craig's new set of sentences.
Still, it's not over.
Renaud may yet come back for re-hearings on the three sentences. That's the law. He may do so 25 years after the sentences are imposed, so he may yet get another chance at leniency. One thing wasn't clear this evening, and neither prosecution nor defense could clarify it to the judge: whether the re-hearings take place from the time when Craig imposed sentence, or from the time of Kim Hammond's original sentences.
Either way, Renaud is not getting out. Nor will the crime of June 15, 1992 at 58 Point Pleasant know a day's peace for its surviving victims in both families.