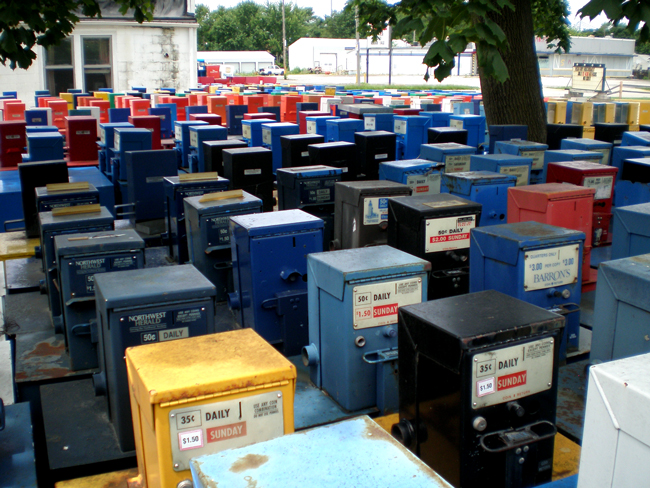 Daytona Beach News Journal Publisher Michael Redding marked the one-year anniversary of the newspaper under his co-ownership with an offer to most of the 400-some remaining employees of the paper, including editors and reporters: Anyone selling a three-month subscription to the paper would get a $25 bonus, or $50 for a six month subscription. Anyone selling $100 worth of advertising would get $50.
Redding described the arrangement—highly unusual in news-gathering operations, and forbidden, for ethical and journalistic reasons,  in many that maintain a strict separation between news-gathering on one side and advertising and marketing on the other—as an "incentive," rather than a requirement: no expectations were set. But staffers have had no raises in four years and were promised none this year. Redding offered up his human resources director, Patty Morris, as an example of what others could do: Morris, he said, netted about 200 new subscriptions through her church.
As with most newspapers, the News-Journal's circulation has been plummeting since the middle of the past decade, though at a faster pace than the industry average, and with a particularly pronounced dive after Halifax Media, Redding's group of three investors, took over the paper last year. The paper lost 10 percent of its circulation between April and September 2010, compared with the same period the previous year. Average weekday circulation fell below 64,000, according to the Audit Bureau of Circulation. Sunday circulation fell 10 percent, too. On some weekdays, advertising content in the paper was falling to around 25 percent, compared with 40 percent in healthier times. More recently the newspaper has been attempting to swell its circulation by re-starting its Newspaper in Education program, which entails the distribution of reams of newspapers to schools in Volusia and Flagler counties. Those papers are not necessarily read so much as stacked.
Redding made the incentive offer during a 90-minute mandatory meeting with 60 newsroom employees on Tuesday, in the paper's recently built newsprint warehouse in back of the News-Journal's property on 6th Street in Daytona Beach. Marble cake and fruit was served, as was a PowerPoint presentation on the state of the newspaper. Staffers interviewed for this story reported being "totally insulted by the whole deal," bored by the length of the presentation and anxious to return to work. "It was bizarro world," another staffer said. "He shook everybody's hand as you walked in."
The presentation was warm-up for an open house on Saturday, when the paper will open its doors to readers and others curious about its inside look since the new ownership took over.
The ethical questions of reporters or editors peddling subscriptions or advertising were never raised, several people who attended the meeting said, while the Q&A that followed Redding's presentation consisted of "softball" questions, as many staffers fear for their job: Redding three times mentioned furloughs at Florida Today, a Gannett-owned paper in Brevard County, but said none were planned at the News-Journal.
"People are just so freaked out by this situation. I think there's Stockholm syndrome going on," one staffer said, referring to the phenomenon where captives begin to identify with their captors. Like many others who spoke, the staffer did so on condition of anonymity. As staffers filed out of the meeting, jokes about the incentives began to flow, along with a measure of anxiety. "I'm worried about it becoming mandatory, not just an incentive."  (Redding had not responded Thursday to emailed questions about his presentation.)
Those incentives were only a small part of Redding's presentation. Redding talked about plans for an eventual News-Journal owned strip mall on 6th Street that would include a McDonald's restaurant—bad news for Gina's Deli, a favorite hangout on 6th Street among newspaper staffers—a bank and possibly a drug store.
He talked about circulation inching back up, though he showed only a graph for Sunday circulation rather than daily circulation, and the graph pointed to the normal winter rise generated by snowbirds returning to the area. Redding said that because he and his investors acquired the paper for just $20 million (rather than the $285 million price set several years earlier) the paper was largely debt-free, relieving it of the sort of pressure other papers are experiencing on top of advertising and circulation looses. Redding spoke proudly of selling two semi trucks the paper was using merely to truck newsprint from a warehouse a few blocks away to the printing plant at 6th Street near Nova Road. Once the newsprint warehouse was built, the trucks became unnecessary. Redding, one staffer said, "was bragging about how much money they made when they sold the semis," each of which had under 10,000 miles on it.
The facility itself was seriously run-down when Halifax Media took over and has been undergoing considerable capital improvements. Walls have been repainted. Walls have been knocked down in the newsroom to accommodate a reorganization. Redding bemoaned the fact that all 40 of the company's air conditioning units had to be replaced, and that it cost $137,000 a day to open the newspaper's doors. Christmas bonuses were skipped last year, he said,  because they'd have cost the company an extra $9,000. Under the Davidsons' ownership, each employee got a $20 gift card to a grocery store plus $10 for each year of service. The News-Journal's overall staffing, at just over 400, is half what it was in 2005.
On Saturday from 9 a.m. to noon, the paper is holding an open house so readers and others can tour the place, including the press room—with "refreshments, door prizes, and gift (sic.) for everyone attending," as Redding described it in an email to the staff. "I am inviting all full-time employees to come in that morning." Pat Rice, the newspaper's editor, told his staff that he wants them to "greet the public and to give them a sense of what we do to create the 'daily miracle.'"
On Sunday, the paper is publishing a one-year anniversary edition, though it will be light on journalistic content. "The section will primarily tell readers about ourselves and the efforts we have undertaken to improve the newspaper," Rice wrote in an email to his staff three weeks ago. "It will include some history, but will largely focus on our efforts this past year to make local news our franchise. And, it will provide information customers can use to take advantage of our product." Most of the material for the section is produced by other departments at the paper, particularly its "advertorial" operations, which mix advertising and narratives flattering to advertisers. Newsroom staffers were expected to contribute only short sketches of what they do. "When I say short, I mean no more than 5 or 6 sentences," Rice wrote.
The edict reflects new priorities at the paper, where the business end of the operation, rather than its journalism, sets its direction, and newsroom employees are referred to by the editor as "associates" (the term ascribed to Walmart employees) rather than as reporters, editors or journalists. "Pat is interested in his mind in creating better journalism," one staffer said. "He is a pretty hard-nosed editor but that's not really the purpose of the newspaper."
The News-Journal, physically slimmer and narrower than it used to be, has shied away significantly from the sort of journalism that would cast a bad light on its coverage zone. A long-time business editor at the paper was summarily fired earlier this month in part over a disagreement about using results from a survey that showed Daytona Beach as the second-most dangerous spring break destination after Orlando. A reporter who'd aggressively covered higher education—and uncovered the questionable use of college dollars by Kent Sharples, formerly the president of Daytona State College—was among those shifted to a different beat. The paper banned all comments from its online edition, even though it had the option of moderating the public forum.
Redding's description of the editorial page as "middle of the road" is accurate in so far as the page no longer takes strong positions that might alienate one side or another so much as it recasts local booster-marketing as opinion. Just as Redding encourages the newsroom and advertising to tear down the wall between them, he's torn down the wall between the editorial board and the newsroom, with two newsroom editors—Rice and Cory Lancaster, a managing editor—joining him and Mac Thrower, the editorial page editor, to form the editorial board. Don Lindley, the previous executive editor, had been a member of the editorial board during the old régime, though the publisher never took part in meetings, nor did other members of the newsroom.
Redding didn't talk about the state of advertising at the paper in his presentation Tuesday, nor did he provide the sort of numbers that would give staffers a sense of the company's overall health. In that sense, he was no different than the previous owners, whose secretive and ultimately self-defeating mismanagement contributed directly to the demise of the paper as a family-owned enterprise.
"I think the new direction is the same direction as the old direction," a staffer said, "except there's new people in charge. New people think they're reinventing the wheel, except they're not."