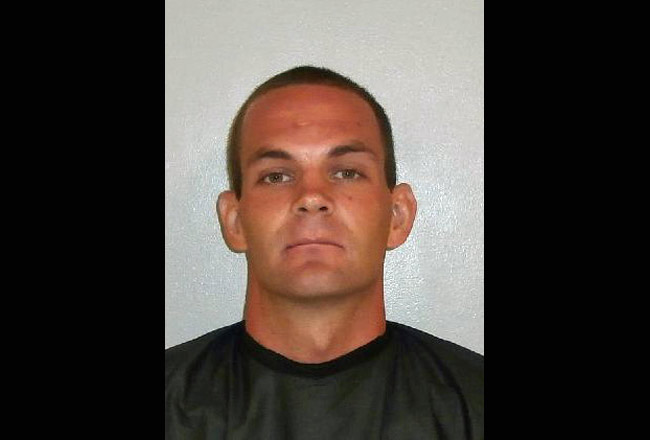 It is many parents' nightmare: an older man using texts or Facebook or other electronic means to make sexual advances on their children.
Michael Lee King is a 30-year-old resident of Hickory Street in  Bunnell. In July, he started sending Facebook messages to three teen-age girls—two sisters and their neighbor—age 15, 16 and 18.
"Hey, beautiful, add me and I would love to get to know you," went one message.
"Do I know you?" the 15-year-old girl responded.
"No," King, who went by the name "Jones," allegedly replied, "but thought you were hot and wanted to get to know you." He referred to the recipient's "sexy ass," asked about her status, and made other advances.
During the course of one conversation, "jones" asked the girl how old she was. She told him she was 15. She asked "Jones" how old he was. He told her he was 27. She then responded, telling him that since their age difference was what it was, they didn't need to be "hanging" out, period.
"Age is only a #," the alleged Jones responded, 'your gonna miss out on something good." He told her he knew the girl's sister, and made other suggestions that he was not a stranger, which led the girl to add him to send a picture. He asked whether she wanted one of him dressed or not. Dressed, she replied.
"At one point," according to a police report, "'Jones' appeared to be begging [the girl] to come with him and stated that he would pay her five hundred dollars, let her ride in his car, and stated that he would have bought her whatever she wanted and would have taken care of her as well."
The whole matter was brought to the attention to Flagler County Sheriff's investigators when the girl's mother referred the matter to them, after her daughter told her that a man was sending her harassing messages. The messages had begun in mid-June. The parent reported the matter to police in late July.
Investigators eventually identified "Jones" as Michael King, the Bunnell resident. Police advised the parent to file for an injunction against him. But subsequently the matter got more serious, with "simple" messages continuing to be sent back and forth–by which time investigators were posing as the girl–until, on Sept. 26, the matter of an in-person meeting was brought up, and a meeting date of Sept. 27, at 1 p.m.—last Friday—was set up.
The meeting place: PetSmart at Town Center.
King allegedly claimed he would turn up in an Old Navy shirt and a pair of plaid shorts, driving a black truck.
Police set up a sting. King showed up in the truck, wearing the clothes he said he'd be wearing. He was arrested in front of the PetSmart door and booked at the Flagler County jail on Sept. 30. The heavily redacted police report leaves unclear the progression of events,  the lag between the Sept. 27 meeting and the Monday booking, or which of the girls he was intending to meet–the 15 year old or the 16 year old.
King was charged with two counts of contributing to the delinquency of a minor. He was released on $6,000 bond Monday.