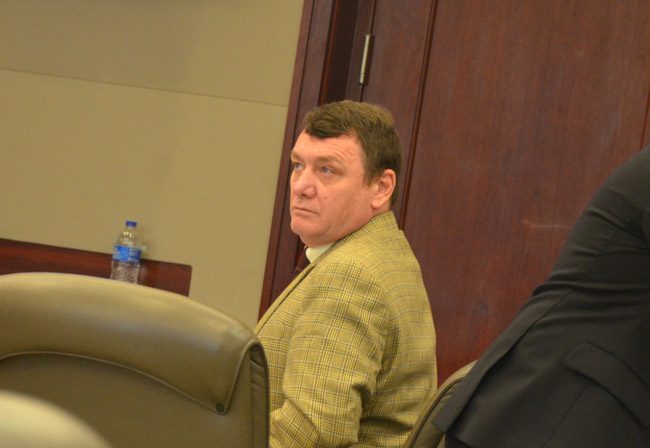 It was not a good day for the prosecution in the trial of Michael Bowling, the 47-year-old Bunnell man accused of molesting a 15-year-old girl who was sleeping over at his and his step-daughter's house in the Mondex two years ago: in an extraordinary turn that should worry the prosecution, even a juror questioned the credibility of one of the prosecution's two chief witnesses.
It's very rare that anyone but the jury would know what the jury is thinking before a verdict is rendered, or at least during deliberations, when jurors from time to time ask questions that the judge reads in court. But a juror had a question after the lunch break today about a witness–Bowling's step-daughter–after she had been excused.
The judge never read the full question, but intimated to the jury of eight that one of them had written a question that went to the girl's "credibility and demeanor." The juror's question appeared to wonder if the girl could be brought back for further testimony.
The prosecution had no intention of bringing back the girl, who is now 17. Both the prosecution and the defense agreed to let the judge instruct the jury that the matter would be left up to the jury: it and that particular juror would have to judge for themselves, based on the evidence presented, the "credibility and demeanor" of the witness.
But the question was enough of a wide-open window into the jury's thinking about the the girl's testimony, which had begun the afternoon of the previous day.
Bowling's step-daughter is accusing him of molesting and raping her since she was 8, in various homes the family lived in in Kentucky and, starting in 2015, in Flagler. But Bowling is not on trial this week on those charges. He's scheduled to go on trial next month for that. He's on trial on two different charges resulting from an alleged molestation of a different girl: his step-daughter's friend, who had come over to spend two nights aqt the Mondex trailer in 2016, and who left the morning after the first night, allegedly after Bowling had masturbated over her and fondled her breasts while they were closeted together during a game of "Seven Minutes of Heaven." (Bowling does not disputing joining the two 15-year-old girls to play games with them, including games of dare. He denies having ever been in the closet with the girl, or been inappropriate with her.)
The step-daughter's friend had testified first, on Tuesday, a testimony that had gone well for the prosecution: the girl was straight-forward, her inconsistencies nothing out of the ordinary in the recollections of children more than two years removed from an alleged sexual trauma at the hands of an adult. She described the scene that led up to twice being in the closet, and described the closet's interiors during Bowling's alleged assaults.
Initially, the step-daughter's allegations that she, too, had been sexually abused by Bowling were not to be entered into evidence except by distant allusions. But Assistant Public Defender Bill Bookhammer, who is representing Bowling, himself started going into those details during his opening argument, thus opening the door to the allegations being fully explored by both sides, as they very much were starting yesterday and this morning.
On cross-examination by Bookhammer, the girl repeatedly and flatly contradicted herself. She did not merely contradict what she had said in depositions as opposed to what she was saying today. She at times contradicted herself from statement to statement, in the moment.
In one instance, Bookhammer was asking her about her initial interview with a Department of Children and Families investigator, who'd gone to the MOndex trailer after her friend had made her allegations. (Until then, Bowling's step-daughter had remained mum about anything that had allegedly happened to her over the years.) The DCF investigator had asked her about abuse in kentucky, in a particular home. Bookhammer reminded her that she'd told the investigator there'd been no contact there, at that time.
"Meaning it wasn't three or four times a week, it really slowed down," the girl said.
"You told the jury that this is where it escalated from touching to intercourse," Bookhammer told her.
"Things went on there, sir," the girl said.
"But you didn't tell [the DCF investigator" that."
"Correct," the girl replied.
It was one of Bookhammer's many openings to plunder the girl's credibility, and he took it: "Multiple times per week, yet never once did anybody, people in and out of the house, coming in and out of work, not once people walked in on you," he told her. (Adult sexual abusers are notoriously adept at developing a choreography of wiles to carry out their assaults undetected, as lawyers and other professionals with experience in such cases well know, but jurors may not be as aware, giving lawyers ample room to exploit common-sense for incredulity.)
"Correct," the girl said.
Moments later, Bookhammer subtly managed to do what judges usually forbid and opposing counsel immediately object to: he impugned the girl's own sexual mores by bringing out an alleged incident when she was only a few years old and supposedly "humped" her stepfather, who then supposedly reported the incident to her mother, upset that it had taken place.
"Did she ask you, did you do this to him?" Bookhammer asked her.
"No," the girl replied.
"You knew it was wrong, right?"
"Correct," she said.
Yet it was only during Assistant State Prosecutor Melissa Clark's redirect that the girl said the "humping" incident never took place.
"Did you actually hump your stepfather in any way?" Clark asked her.
"No, mam."
"But that's something he told your mom."
"Yes, ma'am."
Bookhammer's approach continued, making no distinction of course between a child's and an adult's memory as he reminded her how she'd told one investigator that Bowling had allegedly touched her in the rear, but told a judge that he had not.
"It must have slipped your mind that your stepfather touched you in your rear?" Bookhammer asked her, the sarcasm couched in the even-handed toine he maintained throughout.
"Correct."
"It slipped your mind when the judge asked you that?"
"Yes, sir."
He even questioned her as to why she had not gone for a rape kit immediately after reporting to the Child Protection Team that she had allegedly been raped three days earlier. It was left up to Clark in her redirect to ask the girl, who had just cried for again speaking of the alleged way her stepfather held her head while he masturbated (a description identical to that of her friend's, when Bowling allegedly did the same to her, in the closet), what she had done immediately after the last rape. The girl said she'd took a shower and locked herself up.
The prosecution had its moments, particularly when a video of a DCF investigator's first visit to the Mondex home was played–a video which, to the defense, shows Bowling's stepdaughter denying to the investigator that anything inappropriate had ever happened. But the video also shows Bowling literally lurking nearby, ostensibly in attempts to hear what his stepdaughter was saying, and at one point having to be told by a deputy standing by to back away. The girl would testify that she felt intimidated by his presence, and that just before releasing her to the investigator, her stepfather had told her: "We didn't do this," "we're in this together," "don't forget what we talked about."
Late in the day the prosecution played Bowling's interview with Flagler County Sheriff's detective Dennis Lashbrook. That, too, did not go well: the sound quality was horrendous, loud and muffled, like the sound of a train conductor's garbled and incomprehensible announcements. It did not help that Bowling spoke with overemphasis on every syllable throughout. Jurors' strained faces told the story: they could not understand much of what was being said. One shook his head, another looked at his colleagues, a third shifted in the seat again and again, as if sitting differently might make it easier to hear. They could hear Bowling make denials in drips, how he'd never been in the closet, how "I don't put my hands on kids, OK?"
As to the girl who'd come to visit and spend the night, the girl over whose charges this trial is about, the girl he'd only seen once that night and never again until this week–and who sat in the courtroom this afternoon, in the audience, watching the video screen of his interview, her back turned to him–he said one thing that could be clearly heard: he blamed her. "This girl, there's something wrong with this girl," Bowling said, flailing his arms.
In the courtroom, the girl bristled and winced when she heard the line, but kept staring at the monitor.
At the very end of the video interview, after detective Lashbrook swabbed Bowling for DNA, he asked Bowling about the prosecution's strongest evidence: two distinct spots of sperm on the cloet wall, where Bowling is accused of having masturbated in front of the girl. The sperm had DNA, and the DNA was tied beyond all reasonable doubt to Bowling.
Bowling said he had no idea how that could possibly have gotten there. He was adamant. He'd never had sex in there, and sounded as adamant as his ex-wife, who had testified earlier in the day that the two of them had never had sex in their daughter's room, and never would, let alone in the closet. Bowling said likewise. But the drops, which had fluoresced under a crime analyst's ultraviolet light, were clear for all to see in the courtroom when the prosecution displayed images of them on the same big screens where Bowling was now denying having ever had any sexual activity anywhere near that wall.
The prosecution is expected to rest its case Thursday, and Bowling is expected to take the stand in his own defense.