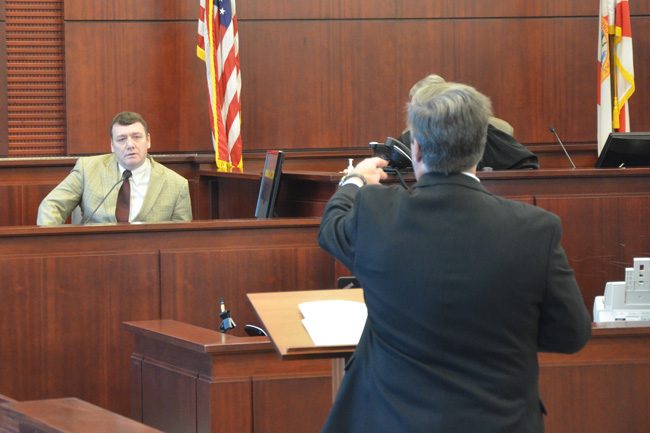 The defense in Michael Bowling's trial today paid no attention to the case at hand. Not directly. Instead, it put someone else on trial: Bowling's step-daughter. The defense used every one of its witnesses to portray her as a liar. It was an odd but potentially effective strategy, even though the girl, now 17, is only a witness in the current case.
Bowling, 47, of Bunnell, is accused of sexually abusing two girls, one of them his step-daughter. He's been on trial this week on charges of molestation and exhibitionism involving only one of the two girls–not his step-daughter, but her friend. He's accused of masturbating in front of her during a sleepover and of fondling her in a dark closet. He faces more serious charges regarding his step-daughter, including rape and abuse going back years, but that trial isn't scheduled until next month.
You wouldn't know it from today's defense. It was all about the step-daughter. Assistant Public Defender Bill Bookhammer's strategy was to so impeach the veracity of the step-daughter that her credibility would collapse, and with it, the credibility of her friend. Bookhammer argued to the jury in his opening that the two girls both lied and made up the stories about Bowling's abuse, for one reason or another: the stepdaughter because she was jealous, the friend because she had "issues," and may have been wanting to help her friend.
Witnesses today included a Flagler County sheriff's detective, a sheriff's deputy, a nurse who conducted a sexual assault exam on the step-daughter, a school resource deputy, Bowling's own son and Bowling himself. Issues related to the case at the heart of this week's trial barely came up. Issues related to the step-daughter constantly did.
Bowling's 22-year-old son spoke of the year and a half he lived with the family, including the step-daughter, describing her as jealous of the attention he was getting from his father, and describing himself as almost always in the house. "I think she was jealous because I took that time she would have with her father," Bowling's son said. "She was jealous of the fact that I was his blood child."
Bookhammer wanted to make the jury question how the step-daughter could claim to have been abused, often, in houses where there was little privacy and a constant traffic or presence of family members. But the son's credibility itself became suspect when the prosecutor questioned him about his girlfriend, a neighbor. He said he never left the apartment to see her, and when they saw each other, they did so at Bowling's apartment–meaning, again, that there would have been little chance for abuse of the step-daughter by Michael Bowling. But the prosecutor also got Bowling's son to concede that he never wanted to have anything to do with the step-daughter.
The most curious diversion from the case at hand was Bookhammer's questions to the nurse who conducted the exam on the step-daughter four days after an alleged rape. The nurse conceded that the girl's hymen was "intact," and that there was no evidence of abuse. But when cross-examined by the prosecutor, the nurse also explained that in a lot of research about children and adolescents, from 86 to 98 percent of the cases studied after sex assault "yielded no diagnostic finding."
"So it is absolutely common that you do not find trauma to the hymen of a child of sexual abuse," Clark asked.
"Correct," the nurse said. "I don't expect to find trauma to the hymen doing any of my sexual assault exams."
"A female child can suffer years of sexual abuse and have no evidence of that," Clark said.
"That is correct."
That appeared to deflate the defense's lines of questions on that score.
But that was only part of the strategy to refocus the case not on the case at hand, but on the step-daughter. That's how Bookhammer led up to his last witness: Michael Bowling himself.
The aim was to portray him as a normal, affable husband, father, worker, a middle-aged man comfortable in his chair, if not his skin, fond of telling anecdotes by always filling in more details than necessary: "Let me tell you, to make you understand," he'd tell Bookhammer, starting an answer with a long, unrelated preface that always bespoke the varieties or complexities of family life, school events, job situations. (With one exception, Assistant State Attorney Melissa Clark never intervened with an objection. Prosecutors are careful not to unnecessarily cause a situation that could make the defendant seem more sympathetic than they want him to appear.)
Bowling, a Kentucky native, spoke assertively with a touch of Appalachian accent, but not angrily, often leaning in with his left ear as if to hear better. He bore every expression he felt on his weathered face. So expressive that Circuit Judge Terence Perkins on Wednesday had to caution him to be less so, as he sat at the defense table, listening to every word of every testimony and reacting almost to every word, at least with his facial expressions. "You are in their line of sight, so when they're watching the witness and they're doing that very intently, they're also watching you," Perkins told him during a break, outside the view of the jury. "So anything that you do, they're going to see, and I know that yesterday you were reacting to some of the testimony." The judge suggested to him explicitly: "I'm asking you to be less expressive in that regard because I don't know what they're taking in that regard."
He was not exactly less expressive afterward: he shook his head less, he mouthed things less, but his face remained a more open book than poker-like. He wrote notes constantly, spoke to his attorney, used a yellow highlighter to mark up his own notes.
Again, the matter of the girl whose accusations led to this week's trial were almost never touched on. Bookhammer alluded to the case, but only to come back to the step-daughter, and to whether she had sleepovers often.
Bowling denied raping his stepdaughter, explaining that he was working and sleeping, that the house was filled with people, that his own bedroom door had no doorknob. Rather, on several occasions, he described her as jealous, possessive, "protective" of him, of having "a lot of hate toward" her much younger cousin for seeking attention from Bowling. "She had a really hard time dealing with that," he said of the attention the niece got.
As much as he sought to portray himself as almost an aw-shucks Everyman, Bowling knew how to cleverly drop in details that had little to do with the question, but that again and again made his step-daughter seem like a person with problems: "She would have dreams and start saying things out of her head and a couple of times I would have to wake her up," Bowling said, sounding as caring as ever, "it was like, crazy stuff, 'stay away from me,'" she'd be saying in her sleep, as he described other psychotic episodes he said were caused by her sleeping medicine.
But there was also the time when he used the phone he shared with his wife to look through pictures of girls flashing themselves on the internet. He said he did so because he was worried about his step-daughter doing the same, and had heard she had, on her school computer, to "half the school."
"I just was researching, researching through it, making sure [the girl] wasn't on it," Bowling said by way of explaining why he kept going through various pictures of flashers.
And he explained why he found himself playing truth or dare with his step-daughter and her 15-year-old friend that evening of the sleepover, in her bedroom: he wanted to play truth or dare because he wanted to indirectly ask questions of his step-daughter, to find out what she was up to on the internet. He said there were just three dares. The rest was truth questions. That's not how the girls remembered it, when they testified.
"Were you ever told to get out of that room?" Bookhammer asked him.
"No."
"Why would you be alone in a room with two girls?" Bookhammer asked him.
"Why would I be alone? I know what my intentions were, I went in there to find out information," Bowling said.
He said he had to eat hot sauce in one of the dares he lost. His step-daughter had to kiss a mirror. One of the girls had to wear a dress as a dare, and did, though it wasn't made clear why that was a dare since Bowling said the girls had been trying on dresses earlier (as the girls themselves testified they had). He said he agreed to get the girls alcohol, or at least told them so, because "all of a sudden I'm a cool dad," and he could get information. But there was no champagne in the bottle he gave them: it was tap water, he said. (He said he re-corked the bottle after filling it with water, though it is almost impossible to re-cork a champagne bottle.)
And on at least a couple of occasions when the questions verged on his alleged inappropriateness, he would, as he did moments after being asked if he'd ever been alone with the 15-year-old in the closet, divert the answer to refer to one of his step-daughter's "inappropriate" acts, as when she flashed a 16-year-old boy "four times" on the Internet.
It did not go much further than that Thursday. Bowling had been on the stand 83 minutes, it was getting dark, it was past 5 p.m. The judge halted proceedings and told the jury the case would likely end the following day with the completion of Bowling's testimony, closing arguments, deliberations, and a verdict.