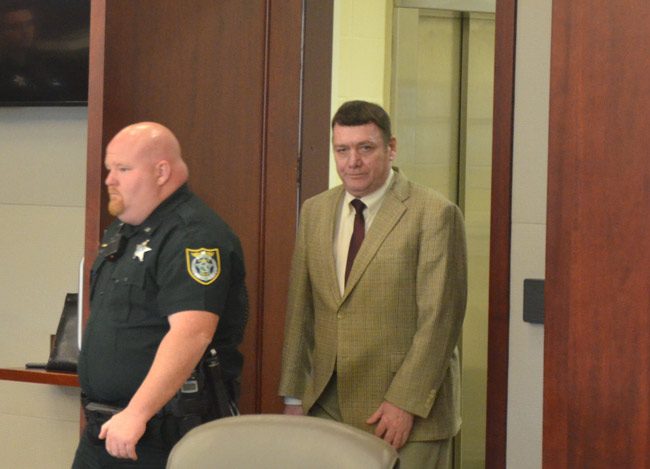 When she first testified in the trial of Michael Bowling two months ago, Bowling's alleged victim of molestation was straight-forward, shy, uncomfortable, and at times emotional as she described what she said he did to her when she was 15 and he was 47.
That ended in a mistrial.
When testimony started in Bowling's new trial this morning, with his alleged victim again the first witness on the stand, it did not go as well for the prosecution. She was much more contradictory, at times giving the prosecutor one answer and giving the defense an opposite answer. She was more mechanical on the stand, providing almost curt "yes" and "no" answers and piling up the "I don't remember" like a defensively coached witness at a Senate hearing. There was no emotion in her voice.
At times she projected a numbness not uncommon in victims of sexual abuse made to speak their experience again and again, though the jury could just as easily interpret it as boredom. And the jury had no idea she was being put through yet another endless testimony about the most private details in front of yet another set of strangers there literally to judge her every word.
The result was not the sort of convincing testimony Assistant State Prosecutor Melissa Clark could build her case on, especially after December's mistrial, which could since be used as a rehearsal for this trial (though the jury of five men and three women, including the two alternates, supposedly knows nothing about that mistrial).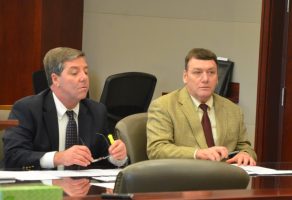 It was the sort of testimony Assistant Public Defender Bill Bookhammer could use to his client's advantage, and did, keeping the alleged victim on the stand much longer than Clark had: 100 minutes to Clark's 30, before Clark's redirect. And that was just a few minutes long. It was as if the prosecution, like its chief witness, was out of steam on day one. (Monday was jury selection.)
Bowling meanwhile, who's been at the Flagler County jail for 14 months and marked his 48th birthday there a few weeks ago, was back in the tan suit and tie he wore at his December trial, back to constantly writing notes and highlighting them in yellow marker as if he were Bookhammer's second chair, back to staring down the witnesses or darting his eyes from questioner to witness and back to questioner, with recurring glances at the jury while making knowing expressions that left no doubt what thoughts he was aiming to telegraph about this or that answer. At his trial in December, Circuit Judge Terence Perkins, who is presiding again, cautioned him almost sternly the second morning of the five-day trial against being so expressive. Perkins told him the jury was watching his every move, too. But it appears to be precisely what Bowling wants, all the while maintaining a deer-in-headlight look of calculated disbelief.
The basic allegations haven't changed. The alleged incidents in question took place in July 2016 at a trailer in Daytona North, or the Mondex. As Clark described it to the jury in her opening arguments this morning, the alleged victim had gone for her first sleep-over there to see her friend, Bowling's stepdaughter. She was to spend two nights. After Bowling's wife went to bed he joined the two teen girls in his stepdaughter's bedroom and plays cards with them. The game turns into a game of dare. The visitor claims Bowling dared her to lift her shirt twice, then lift her shirt a third time without a bra–which she did, she said, because she felt pressured. The girls at one point wanted to drink the champagne that was in the fridge, Bowling allegedly said they'd have to earn it, and had them massage him.
The game then changed to something called "Seven Minutes in Heaven," entailing two people spending seven minutes in a closet, where they could do whatever they chose. Bowling allegedly said it would be weird for him to go in the closet with his stepdaughter, so he would go in with the alleged victim, twice. The first time he allegedly fondled her breast or placed his mouth on her breast, over her clothes. There's a dispute about which because today the alleged victim, who is now 18, contradicted herself, compared to what she had said in December. She said she could not remember exactly, "it was a long time ago."
The second time she said he masturbated within inches of her face and ejaculated on her shoulder–another detail Bowling's attorney seized on to show her as unreliable, because she had also previously testified that she had felt something "warm and wet" strike her arm, not her shoulder.
After that, Bowling allegedly left the girls' room and went to sleep. The next time the girl and Bowling crossed eyes, the girl was in the bathroom early the next morning and Bowling apparently inadvertently and briefly opened the door, but quickly retreated. The girl then decided to contact her grandmother to come pick her up, cutting her stay short.
The girl did not speak of the alleged incident to authorities until she was back in school, and–based on something she'd said in December–only because a friend had urged her to reveal the incident to unburden herself. She wanted to speak to a psychologist. She spoke to a counselor instead, in the presence of a school resource officer, which triggered a Department of Children and Families investigation, an interview with the Child Protection Team, a sheriff's investigation, and, on Dec. 23, 2017, Bowling's arrest.
Bowling was charged with lewd and lascivious exhibition, a third degree felony, and lewd and lascivious molestation, a second degree felony.
That's in connection with his step-daughter's friend. But he was also charged with three other felony counts, including a first degree felony: sex assault by a custodian of a victim younger than 18. Those counts involve his stepdaughter. He is to be tried on those counts subsequent to the ongoing trial.
But the defense had a surprise today: the stepdaughter, who was a state's witness at the December trial, is being called to the stand by the defense–to contradict much of what her friend testified to, Bookhammer told the jury. "The way in which [the stepdaughter] describes that evening and the way [her friend] describes that evening means it could never have happened the way they described it," Bookhammer argued. The stepdaughter, he said is going to deny that she ever encouraged any shenanigans between her friend and her stepfather, or any games that might lead to such shenanigans, "that this was not something she was fine with," Bookhammer said. The stepdaughter is said to have never heard of a game called "Seven Minutes in Heaven" and to have been "shocked" to find her friend and Bowling in the closet.
But if that's the case, it does not eliminate one of the prosecution's most salient facts: that Bowling, a 45-year-old man at the time, placed himself in a dark closet with a 15-year-old girl. Whether it was the girl's idea or anyone else's, the law does not take a minor's consent as exculpatory of an adult's acts toward that child.
The prosecution's other salient fact is the sperm stain a crime scene investigator found on the closet wall, which the Florida Department of Law Enforcement's crime lab directly tied to Bowling's DNA.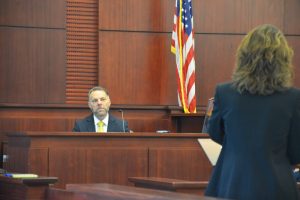 The last thing the jury saw and heard this afternoon was the hour-long interview by the sheriff's detective Dennis Lashbrook of Bowling about that night, when, at various points, Bowling denies doing anything inappropriate and explains why he obsessively looked up all sorts of porn sites to see if he could find a picture of his daughter flashing herself, because he'd heard–and she'd admitted to him–that she had flashed herself to friends at school through a computer app. At the very end of the interview Lashbrook asks him if there should be any reason why his sperm should be in his stepdaughter's closet. Bowling is adamant: it shouldn't.
In December, he later testified that it was there because his wife had given him "a hand job" in there. His wife, now his ex-wife, testified that never happened.
What was never made clear in the December trial or today was why the girl who was visiting her friend at the Mondex home would decide to make up a story–as the defense is arguing–about a man she'd seen only that once and would never see again, involving a friend she was no longer friends with–and why she would then continue to put herself through interview after interview, and now trial after trial.