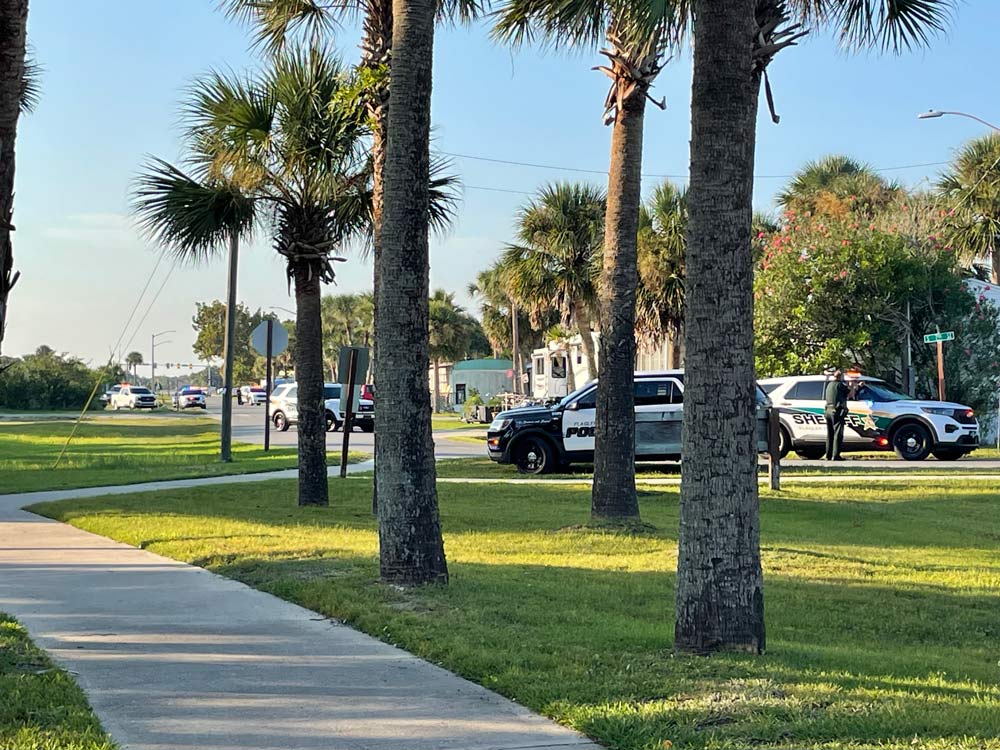 Michael Benkert, the thrice-imprisoned 31-year-old Palm Coast resident who had terrorized family members in Flagler Beach and whose evasion from law enforcement turned a trailer park there into a police zone three weeks ago, was finally apprehended, along with his twin brother Anthony. Michael faces a half dozen charges, three of them felonies, and additional charges in Volusia County.




Flagler County Sheriff's deputies and United States Marshals arrested the Benkerts as they were fueling up at a Circle K gas station on Palm Coast Parkway at noon Monday.
Authorities had traced the Benkerts to a house on Pittson Lane in Palm Coast, a vacation rental they were not paying for. Anthony Benkert, who had days ago been fired from Vacasa, the vacation-rental company, told authorities he "just kinda had" a key to the house. Anthony was charged with burglary, a second degree felony, and an accessory felony count for his role in hiding his brother from authorities.
Michael Benkert was had drawn intense law enforcement attention and resources since Sept. 7, twice evading capture.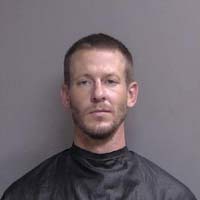 The evening of Sept. 7, Flagler Beach police were alerted to Benkert on a scooter, drunk, armed, and weaving himself into the mobile home park on South Daytona Avenue, newly renamed Flagler Beach Villas. Benkert's stepfather reported to authorities that his stepson had been making statements about not wanting to go back to prison, and that he was possibly armed with a handgun. A warrant was out for his arrest from Volusia County, where he faces narcotics and other charges.
Benkert has been in state prison three times since 2012, on different convictions from Volusia County–burglary, grand theft, and carrying a gun as a convicted felon. He was last in prison in June 2019.
A family member who lives at the mobile home park would later tell police in a statement: "Michael Benkert showed up today at around 12:45 pm. He refused to leave and flashed a pistol threatening to shoot a cop before going back to jail, then went into the shed. I did not let him into the house because he's not welcome. He went into the shed and I stayed inside with my doors locked. I fear my children's and my family's safety."




A law enforcement interview with the family member who wrote the statement summed up the following portrait of Benkert: He's a drug addict with severe anger-management issues. She would allow him into her trailer in the past, when he would use the bathroom for extended periods of time, shooting up or injecting narcotics. Te woman described him as a "very violent person" who's been physically violent toward her children, prompting her to forbid him from her home. But he's continued to routinely drive his car over. He'd park by her trailer and sleep in the car. In August, park management informed her that she would be evicted if he continued to park there. Police had responded at the time as well. Benkert left, and did not return until Sept. 7.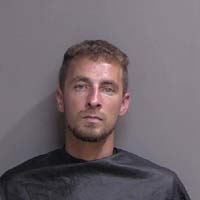 When he showed that day, he was erratic and angry. She gave him $3. He demanded the WiFi password, got it, and went to the shed uninvited, only to return to the trailer as he was yelling at someone on the phone, saying derogatory and threatening things about his brother Anthony, and then screaming: "I'm not going back to jail! If a fucking cop goes to get me, I'm going to shoot them and run!" He then pulled up his shirt and showed what looked like a silver firearm. He got on his scooter and left.
"He's getting angrier because he thinks he's going to prison," the woman told law enforcement. "He's supposed to have court, and I think he was gonna try to run from court because I think he knows he's going to prison for having ammunition and coke [cocaine] on him. He's one of those people that just builds up and gets angrier and angrier and blames everyone else but himself."
She did not call law enforcement right away: she was afraid of him retaliating, and remains afraid of what he might do if she pressed charges. But the stepfather who overheard Benkert after he returned at 5:30 p.m., barging into the house uninvited, called 911.




Law enforcement located Benkert in the shed. A Flagler Beach police officer ordered him to show his hands. Benkert didn't comply, and may be lucky he is still alive: "instead," reported the officer who had his gun drawn, facing Benkert, "he looked around wildly, then reached for his waistband, withdrew his hands toward his torso area, then reached again toward his waistband area. Based on my training and experience, Michael's furtive movements toward his waistband were consistent with a subject preparing to access a concealed firearm. As I continued to give loud commands to Michael to stop reaching and put his hands above his head, Michael began to execute a series of 'mule kicks' behind himself targeting a glass panel situated behind him on the rear wall of the shed. There was an open window on the rear wall above this glass panel."
Officers agreed to use less-lethal means as Benkert started climbing through a hole. An officer took out a Taser and fired. One probe struck Benkert but proved ineffective as the second probe struck a wooden part of the shed. Benkert was able to crawl through the hole and make his way out.
He ran south through the park, officers in pursuit until they lost sight of him around South 5th Street. By then Flagler Beach police and Flagler County Sheriff's deputies had swarmed around the park, long guns drawn, including a K-9 team, a drone team and a police helicopter overhead. (The Seminole County Sheriff's helicopter was providing assistance.) The neighborhood was bristling with law enforcement, worrying residents who were not aware of the nature of the emergency.




The Flagler County Sheriff's Office's Problem Area Crime Enforcement unit known as Pace conducted surveillance in the park for four hours after the surrounding law enforcement perimeter was broken down, without success. Benkert had escaped–until his apprehension on Monday. (There'd been a reported sighting of Benkert on Sept. 17 in the area of Old Kings Road and State Road 100 that led to another large-scale police search, but if he was there, he'd again escaped.)
"You can try to hide from FCSO and our local law enforcement partners, but we will not rest until we find and arrest you," said Sheriff Rick Staly in a release. "Thank you to all who sent in a tip for 'seeing something, saying something' and our law enforcement partners for helping to locate him."
There was a side note to Flagler Beach's investigation at the mobile home park: as officers inspected the trailer with the owner's permission, they "noted that the trailer bore an overwhelming odor of cat urine; the floor itself appeared to be soggy with urine, and was warped. Two dogs live in the trailer, and more cats than could be counted: there were likely over thirty cats." Two children were in the trailer. Authorities contacted the Department of Children and Families.