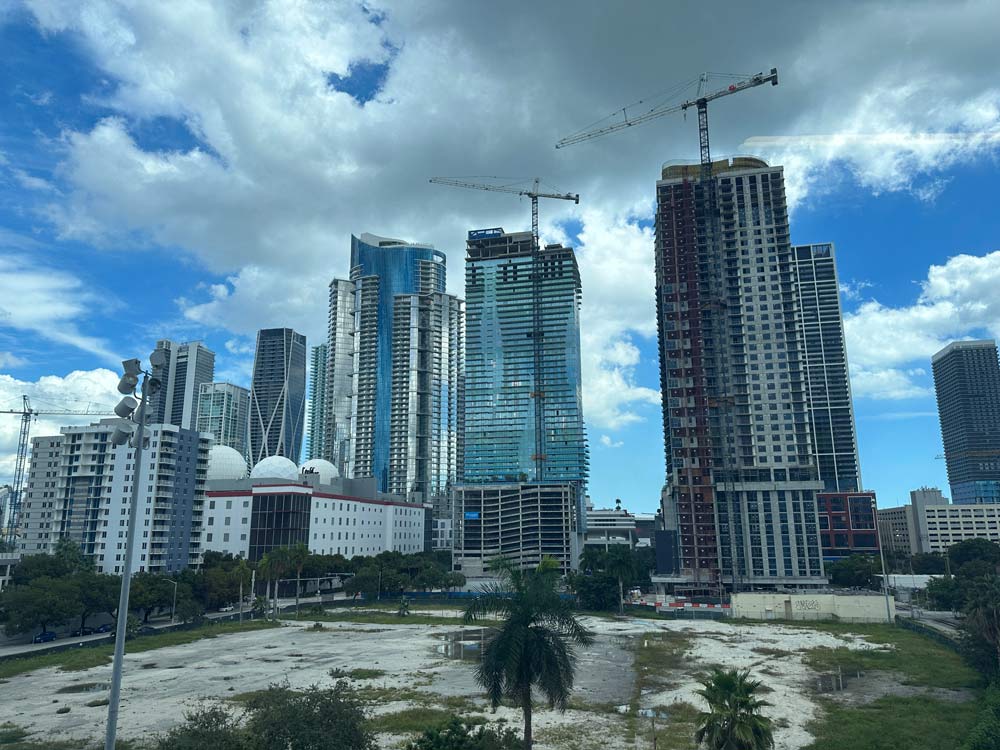 South Florida's Miami-Dade County could be the only local government in the nation to provide heat-related protections for outdoor workers in the construction and agriculture industries, though advocates claim the proposal has been watered down due to lobbying by business interests.
The proposal — a heat standard ordinance for outdoor workers in Miami-Dade County — is set for a final vote on Tuesday, at a time when at least two farmworkers died from excessive heat in South Florida earlier this year.




As originally proposed this summer, the ordinance would require construction and agriculture companies with five or more employees to guarantee workers access to water and give them 10-minute breaks in the shade every two hours on days when the heat index hits 90 degrees. It would also require employers to train workers to recognize the signs of heat illness, administer first aid and call for help in an emergency.
However, the current ordinance that will go before Miami-Dade's Board of County Commissioners on Tuesday has now been amended after input from industry groups: The regulations would only take effect when outdoor temperature equals or exceeds 95 degrees.
How significant of a change is that?
Well, over the past fifty years, Miami has had an average of just 4.1 days per year with a high temperature of 95 degrees. That's compared to an average of 163 days per year when the heat index hits 90 degrees Fahrenheit, according to University of Miami climate researcher Brian McNoldy. He says that there have already been 189 days with the heat index over 90 degrees this year.




"Clearly, there is an enormous difference, and the choice of thresholds is counterintuitive," McNoldy told the Phoenix via email this week. "The heat index is higher than the average temperature here thanks to our high humidity, so to choose a higher threshold for temperature than for heat index is very odd."
A temperature that makes sense
Oscar Londoño is executive director at WeCount!, the South Florida immigrant workers advocacy group that has been organizing for protections for outside workers over the past two years. He says he and his allies will make the case before the commission on Tuesday "to go back to a temperature that makes sense."
"There's a coalition of doctors, nurses and climate scientists who are all going to be uplifting the need to have a more expansive temperature that accounts for the impact of extreme heat on human health, and the need for us to have legislation that actually meets the scale of the crisis," he says.

In the proposal, companies that repeatedly fail to follow the standards would only receive a warning for a first violation. The maximum fines would go to $1,000, though if businesses were found to have threatened, harassed or discriminated against an employee for exercising his or her rights, the maximum fine would go to $2,000.
The proposed ordinance is fiercely opposed by the Builders Association of South Florida (BASF). The organization says the regulations are overreaching and discriminatory, because it is "singling out only two industries" – agriculture and construction.
"The reality is that no one is more concerned with the safety and well-being of their workers than the members of the construction and agricultural industries themselves," says Nelson Stabile, the president of BASF, in a written statement sent to the Phoenix.




"The heart of these industries lies in the well-being of their staff. To truly protect the health of outdoor workers, the real solution is more education and information on best practices for employers and employees, continuing to raise awareness of the risks associated with a warming climate. Creating a new government agency to impose duplicative regulations and excessive fines on two industries crucial to our overall community and economy will only exacerbate some of our other current challenges, such as rising inflation and the cost of housing. However, it will do very little to enhance the well-being of our workers."
Stabile goes on to say that the vote Tuesday will impact members of the entire industry, "from trade organizations to developers to general contractors to small businesses to farm owners to employees in agriculture, construction, and, ultimately, their families. If approved, the ordinance will have far-reaching impact beyond the 80,000 construction and agriculture workers to other industries in Miami-Dade County, which employ another 220,000 outdoor workers."
Industry officials have also maintained that the Occupational Safety and Health Administration (OSHA) already regulates workplace safety. But those are only recommendations.




OSHA does not have a specific standard for hazardous heat conditions, which is what led President Joe Biden in September 2021 to direct OSHA to begin the rulemaking for heat stress standards. However, analysts say it generally takes several years for the federal agency to complete a standard from beginning to end. The ordinance acknowledges that a rulemaking process is now underway, and says that if OSHA ultimately adopts such a rule, the ordinance "may be preempted by federal law."
State lawmakers have also introduced legislative proposals to address the issue over the past five legislative sessions, but none of them made it to the floor for a full vote.
Safety program
The ordinance requires that employers shall establish, implement, and maintain an outdoor heat exposure safety program written in English, Spanish and Haitian Creole, and be available at the worksite to all employees.
At a minimum, the program shall "train and inform supervisors and employees about heat illness, the environmental and personal risk factors for heat illness, how to protect themselves and co-workers, how to recognize signs and symptoms of heat illness in themselves and coworkers, and appropriate first-aid measures that can be used before medical attention arrives in the event of a serious heat-related illness event."
And when the temperature equals or exceeds 95 degrees, companies must ensure that employees have access to immediately report signs or symptoms of heat illness to an employer. And that the employer shall provide access to shade for every 10-minute recovery period requested by the employee.




The employer must also maintain one or more areas with shade that are open to the air "at all times where employees are working." The amount of shade must be able to "accommodate the total number of employees participating in a recovery period at one time without the employees having to be in physical contact with each other."
If the employer can demonstrate that it is "unsafe or not feasible to provide an area with shade" the employer may provide "alternative cooling measures."
Londoño says that the idea of providing basic human rights protections for outside workers "shouldn't be up for debate."
"It should not be up for debate whether a worker has a right to water, shade and rest on the job. And so we're hopeful that on Tuesday the commission sees that," he says. "There has been intense lobbying over the past couple of months from billionaires, industry associations and their lobbyists who have been trying to block this legislation or water it down, but part of what we're doing over this last week is making sure that the commissioners know that the science is with us, that this is common sense protection and that there is significantly more people in Miami-Dade who support this than this small group of lobbyists who want to block it."
If approved by the commission, the law would go into effect in 180 days.
–Mitch Perry, Florida Phoenix