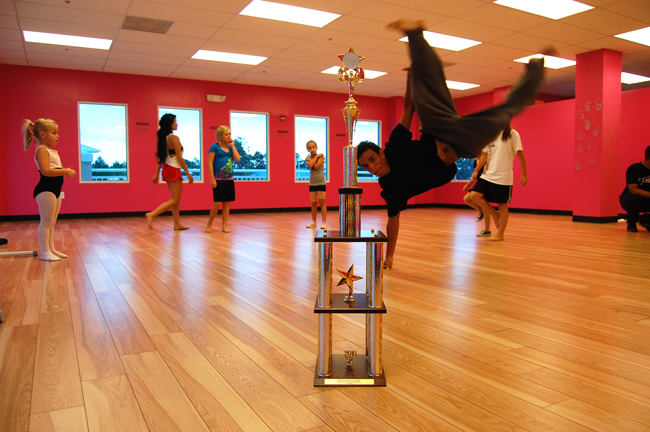 Eight months ago there was nothing more than an empty storefront in Suite D201, an upstairs corner-store at City Walk. Seven months ago, Brie Valenti opened Mia Bella, a dance studio for children as young as 2 and as ambitious as Baryshnikov. Four days ago Valenti took her competition team to Gatlinburg, Tenn., for the national Celebration Talent Competition, where they competed with 800 dancers from 26 studios.
Yesterday (July 28), Valenti and her students returned national champions in the rising star category, and Valenti herself won best choreographer overall. "For a studio that's been open for half a year, you can imagine the possibilities," Valenti says, sitting down for a quick recap of the last few months and days. She took her breather at Venuto's, the ground-floor pizzeria, while hip-hop instructor Alex Seard was conducting a class overhead.
For Valenti, who's just 28, dancing is what she's done since she was 7. It's in her blood and her soul, she says, her tongue twirling on the pun. She credits her grandmother, who danced in the 1930s until marriage and more crimping values put an end to that. Not at the Mia Bella Academy of Dance, where the words on the wall are about "changing the world one dancer at a time."
Valenti, an artist-in-residence at Matanzas High School—she's choreographed and managed dancers at the Backstreet Boys' Howie Dourough club in Orlando, appeared as an extra in Adam Sandler's "Water Boy" and has studied or danced with the Moscow Ballet and the Orlando Magic—wanted a one-stop dance studio in Palm Coast that offered as many styles and to as wide an age range as possible. Mia Bella is it: ballet, tap, jazz, lyrical or contemporary dance, along with—brace yourselves, all you purists out there—musical theater and pilates.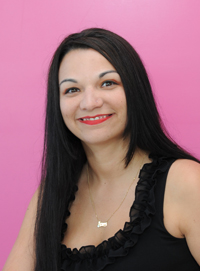 The studio itself is "tailor-made to a little girl's dream: it's pink and zebra," Valenti says. That's no understatement. The place is a cross between the set of something girlish on Nick Jr. and a doll's house (absolutely, positively not Ibsen's), though the dance floor itself is almost all business—polished wooden floors, wall-length mirrors, balance bars and the unobstructed view of the latest storms brewing outside, or what's turning into the county's most varied artist colony: J.J. Graham's Hollingsworth Gallery is a few pirouettes across the City Walk lot, the Art League's gallery is moving in in a matter of days, Fred Astaire has one of its franchise dance studios in another building, and who knows what may be next. City Walk's foreclosure status may soon be as much a memory as its name, which will soon switchto something like Palm Coast Marketplace.
Mia Bella itself is having its own growth spurt. The studio started with 20 students in January, 14 of them in the competition team. The studio now has 75 students, 30 in the competition team, despite opening in what's considered the middle of the dance season in January. It's enrolling for the fall and will soon hold try-outs for the competition team.
A few basics: the studio is open Monday through Friday from 4 to 9 p.m. and Saturday from 9 a.m. to 2 p.m. There are six instructors, including Valenti. The studio's students get to perform in two public recitals a year at Matanzas High School, including this coming Dec. 5 and 6 and again in June (that date yet to be set). The details are all at the website.
Trail classes are always free. Beyond that, it's not cheap: the cost per class ranges from $25 to $40, depending on how many classes students register for and how many children from the same family are enrolled (the more, the cheaper), but there's also a $135 to $155 rate for unlimited classes per month.
To Valenti though, "it's very much not just a business," she says. Her students have birthday parties and sleepovers there, off the clock. And there is that matter of trophies , which are beginning to crowd out the pink and the zebra.

A quick look at the winners:
Alyssa Waldman: High Gold, 1st overall high score petite lyrical solo, 2nd overall high score all petite solos
Jazmyne Valenti: High Gold, 5th overall junior high score solo
Alyssia Ziegler: High Gold
Nicole Ziegler: Gold
Alyssia and Nicole Ziegler, Senior Duo: High Gold
Ashley Schoendorf: High Gold, Celebration Scholarship
Allie Flagg: Gold, 1st overall high score teen solo
Russell Tanenbaum: High Gold, 1st overall senior lyrical solo, 1st overall senior solo
Allie Flagg, Ashley Schoendorf, Russell Tanenbaum, "With or Without You," Senior Trio: High gold, 1st overall senior lyrical trio, 1st overall senior trio
1st place National Showcase Finale Champions
Brie Valenti, Senior trio: 1st place Choreography Award