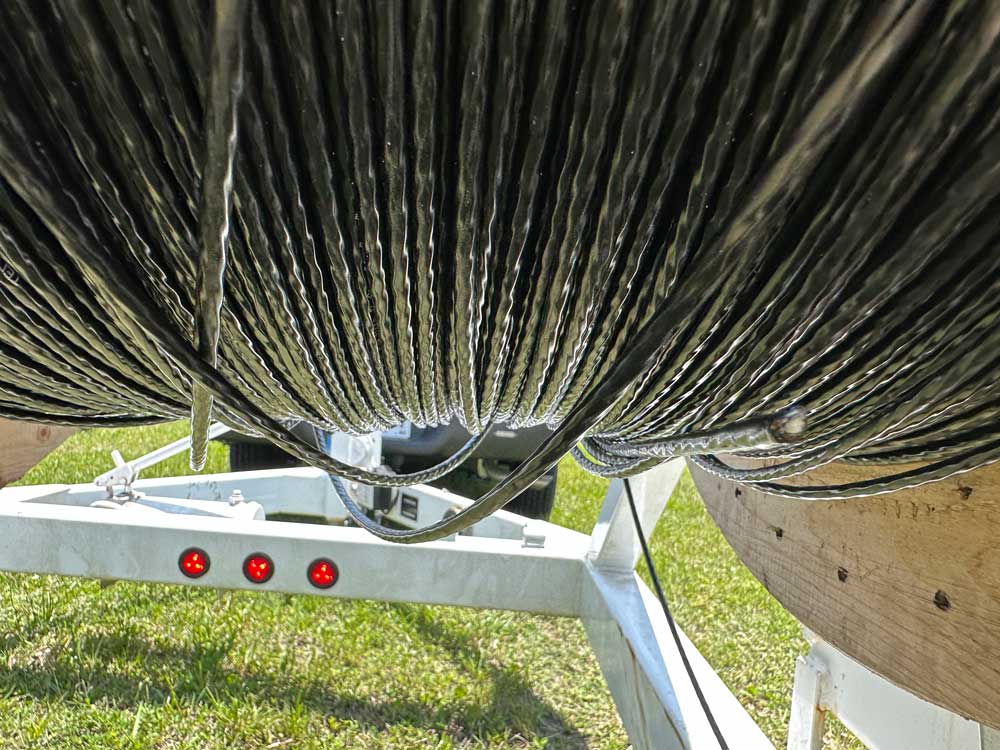 Metronet is an Indiana-based broadband company that partnered with Palm Coast government in December 2021 on a pledge to wire the city's 555 miles of streets with fiberoptic cables, at no cost to the city. The city's role is to ease permitting as Metronet crews dig up rights of way.
On Monday, Bill Gilliam, Metronet's general manager in Florida, was in Palm Coast to announce that the ultra-high-speed service is now available in four neighborhoods: Pine Lakes, Matanzas Woods, Palm Harbor and Indian Trails. The company put down 400,000 feet of fiber and is adding 20,000 to 25,000 feet per week.




"We hope to be done here in about two years, the whole community built out," Gilliam said, "and then we go into what we call expansion phase and that continues forever." (The company had hoped to have the city wired by 2023 wen it first announced its arrival.)
The company got a welcoming reception from the Bunnell City Commission and the Flagler Beach City Commission last year, and said it would expand there, too. But its next expansion after Palm Coast is Ormond Beach, Gilliam said. Flagler Beach and Bunnell will get their turn, but there's no date yet.
Gilliam made the announcement at the foot of the huge cell tower on U.S. 1, next to the Florida Forest Service's office, where a few Metronet pick-up trucks, enormous spools of fiber and protective tubes, hard-hatted and suited personnel, and a few others had gathered under a torrid sun for the occasion. The location was picked for a couple of reasons: a distance north, crews were putting down fiber even then. The site also happens to be one of those with what looks to a passer-by like any other ordinary metal-gray telecommunication cabinet on a concrete pad, but to Metronet, is one of a handful of key nodes, or switching stations, that receives and distributes signals.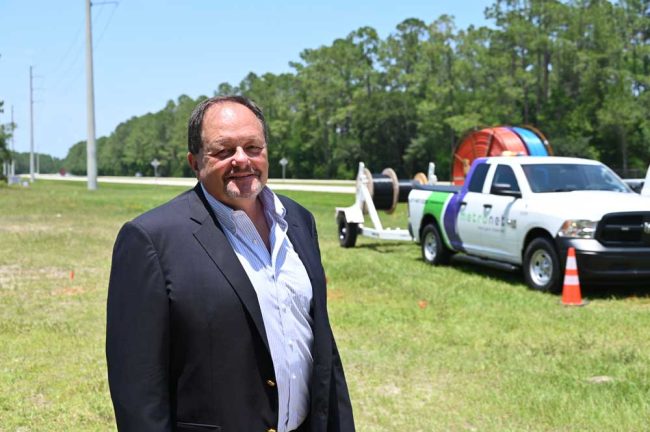 The two-sided cabinet contains equipment worth enormous sums, with one side receiving signal and the other sending it out. "So all racks will go in here," Sal Oddo, Metronet's field operations manager for Florida, said, showing the gaping space in the cabinet that will soon fill with racks, with a separate rack for customers' network cards on the other. "We'll have jumpers from there to here, and every customer that's built in this area will be allocated a spot on a shelf."




Metronet provides equal upload and download speeds of up to 2 gigabytes (what it calls symmetrical speeds), and up to 10 gigs for businesses, compared to the more common 100 to 400 megabytes current today, with some providers offering 1 gigabyte in select areas. Think of the difference between the lower and greater speeds as between a garden hose and a fire hose, with the water representing the volume and speed that can be delivered to your device. In the gigabyte range, it's so much that "for the first time we're able to offer a lot more speed sometimes then the customer really needs," Gilliam said.
Palm Coast Mayor David Alfin had been at the launch 16 months ago, and was part of the gathering near the switching station on Monday. He said Palm Coast is on its way to becoming only the second "Gig City" in the state, after Tallahassee–meaning that every street will be wired and within reach of gig-caliber internet service.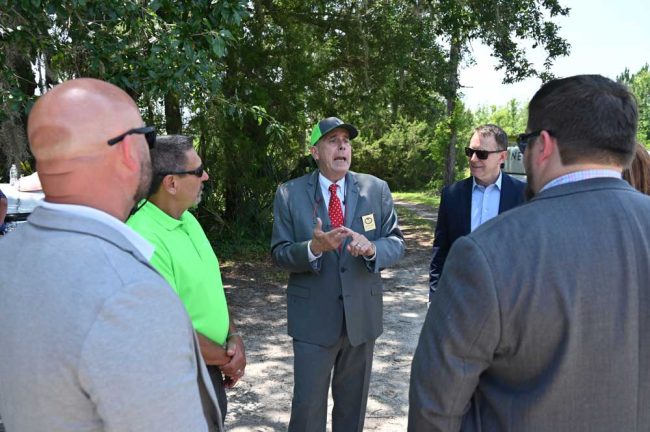 "It gives me the ability when I'm talking to site selectors, future businesses, especially in the healthcare services or medical technology field," to offer that service citywide, Alfin said. "Pharmaceutical companies, medical research companies, medical technology companies need this gig speed. They can't even look at us without it. So we will be the fastest in the area. That gives us a leg up in attracting these people, which again begins to balance our demographic and our tax base simultaneously here in the city of Palm Coast. So there's a value here to our existing residents, but especially to our future residents."
Alfin spoke of his own experience, transitioning from slide rules to the internet. But the new generation, he said, grew up only in the era of the internet, not knowing anything else. "So we're also reaching out to the next generation for the future of Palm Coast as well, which I think is really important," the mayor said.




He said there's been few complaints from residents as Metronet has dug up swales for its work, occasionally severing utility lines. "In this kind of an exercise, you're invariably going to run into something. Yeah, cut something," Alfin said. "But our number of complaints is minimal. Better than that: I've talked to the boots on the ground and congratulated these folks over here. The response to a customer ticket on a complaint has been extraordinarily fast. The supervisors shows up, they get it resolved. Sometimes they get it resolved so fast, the customer calls City Hall to cancel the ticket because it's already been taken care of."
Palm Coast government a decade and a half ago was big into its own broadband system, what it called Palm Coast Fibernet. It still runs the system, and at one point only a few years ago one of its council members saw it as a bounty of revenue. It hasn't panned out that way. Metronet now risks making it redundant. "Maybe in the long term it becomes unimportant," Alfin said. "Certainly with a speed advantage you could make that case, but I'm not willing to give up that last line of security just yet."
But Alfin conceded that Fibernet's original vision is defunct: "The original model included a component which would be a a new revenue stream for the city, which would be ideal, but no longer realistic," he said, "and quite frankly, the city could never keep up with technology as fast as we've talked about before. The city doesn't have the wherewithal or the professional experience to be competitive with companies that are dedicated full time to this kind of exercise."