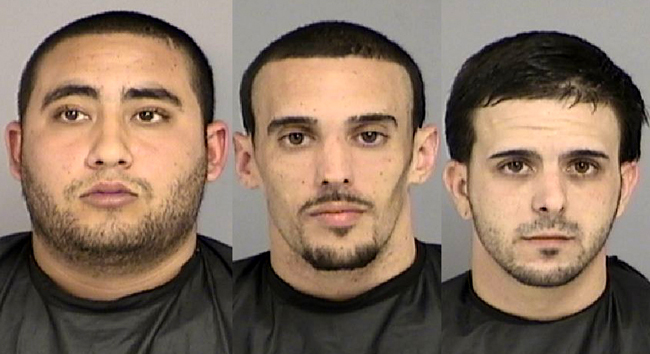 Jordan Marrero is a 20-year-old resident of Russo Drive in Palm Coast. Late Tuesday afternoon, he told cops he'd been beaten and kidnapped by 28-year-old Michael Cabral Vieira and 27-year-old Christopher Medeiros. The reason: he'd sold them counterfeit marijuana.
All three men wound up arrested on various charges and jailed Tuesday evening.
Here's how it went down. At close to 6 p.m. Tuesday, a deputy responded to a robbery call, possibly involving drugs, in the area of Rolling Sands and Rocking Horse drives in Palm Coast. Once there he located the three men.
Marrero told the deputy that Vieira had called him on his phone to put in an order for an ounce of marijuana, which he'd pick up at the intersection of Russell and Rolling Sands, not far from Marrero's house. The transaction took place at around 5 p.m., with Medeiros accompanying Vieira. Once Marrero handed over the baggie and got paid $100 (in five $20 bills), he started walking back to his house.
There was no marijuana in the baggie. There were grass clippings.
Marrero then noticed the other pair's white SUV drive toward him instead of driving away. Marrero ran into the woods, according to the account he gave the deputy. Vieira caught up with him, tackled him to the ground, punched him with a closed fist on the right side of his head, and heard Madeiros tell him that Madeiros had a Glock (the kind of gun used in the Tucson massacre a few days ago, and talked about frequently on TV since), and that–according to the report–he was going to use it on Marrero and leave him in the woods.
Medeiros didn't show his gun. He gestured to the front of his pants, to suggest that that's where the gun was. Marrero believed him.
Medeiros and Vieira then allegedly forced Marrero to get into their SUV. They drove to 68 Rockefeller Drive. The alleged kidnappers wanted to confront Diego Paiva, who they thought was involved in procuring the fake marijuana. Diego wasn't there. Diego's father, Antonio, was. Medeiros and Vieira decided to argue with him in the driveway, while Marrero stayed in the front seat of the SUV. During the argument, Marrero ran a couple of houses down and asked a resident if he could hide in her garage. Medeiros and Vieira followed him there and after allegedly threatening him profusely, convinced him to leave the garage and walk back to the Paiva house.
That's where the deputy made contact with the bunch. The deputy didn't notice any marks on Marrero' head, but he did notice that his shirt was slightly ripped.
Deputies charged Medeiros and Vieira with false imprisonment. Medeiros was also charged with aggravated assault with a firearm. There was no Glock recovered, but since he made the alleged threat citing a gun, the charge is leveled as if he had the gun. He was released from the Flagler County Inmate Facility after posting $3,000 bond. Vieira was also charged with battery. He was being held on $26,000 bond on the charges. Marrero was charged with theft and unlawful sale of a counterfeit controlled substance. His bond was set at $1,500 and he was being held in the inmate facility Wednesday afternoon.
"Apparently, drug users cannot trust their drug dealers. It worked well for us since we got all three of these losers," said Flagler County Sheriff Don Fleming.