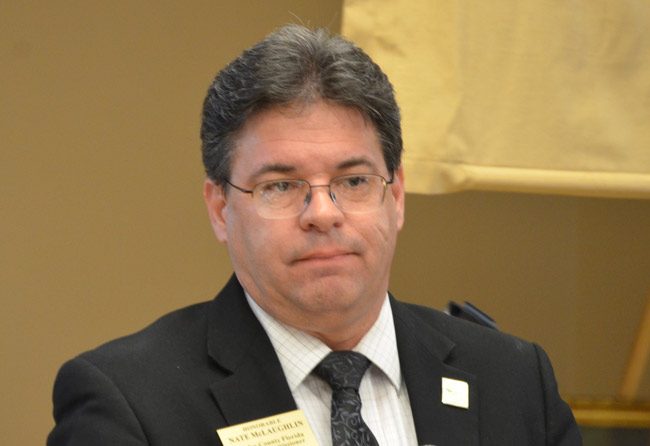 Commissioner Nate McLaughlin apologized in person to Flagler Beach City Manager Larry Newsom and City Commissioners Jane Mealy and Marshall Shupe Thursday evening in a two-minute appearance before the commission at its regularly scheduled meeting.
McLaughlin was responding to how the three individuals had spoken in an article Wednesday of his meddling in an issue involving only Newsom and city commissioners, an issue McLaughlin brought up during a phone conversation with Shupe by phone last weekend–Newsom's attempt to be briefly employed by the Bunnell city government so he could switch his retirement plan from one category to another.
Newsom's maneuver has been deemed legal, as FlaglerLive verified independently, including by a financial counselor for Florida Retirement System participants and, on Thursday, by Dennis MacKee, the communications director at the State Board of Administration in Tallahassee, which oversees the Florida Retirement System. Newsom was in FRS when he worked for Escambia County. He no longer is, as an employee of Flagler Beach, but wishes to switch his retirement plan from a pension to an investment plan. To do so, he must be employed for at least a few hours with a government that's part of FRS. He was close to being so employed by Bunnell until Bunnell City Commissioner John Rogers raised objections. Rogers informed McLaughlin. McLaughlin raised the matter with Shupe, who took issue with the chairman of the county commission doing so, especially in the context of a conversation about business involving the county and the city–dunes reparation.
Mealy considered described McLaughlin's action as a "witch hunt" against Newsom, who, according to another official familiar with the issue, was considering hiring an attorney and sue because of McLaughlin's apparent attempts to undermine his reputation. (Tonight's apology may be an attempt to preempt or diminish any likelihood of legal action: McLaughlin hopes to run for a legislative seat in a few years.)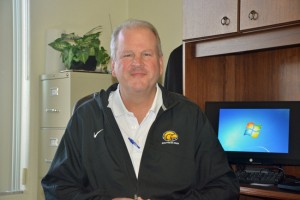 Today, McLaughlin told commissioners that contrary to reports–he never mentioned media reports specifically, nor the Newsom pension matter–the county and the city were getting along, and that he had nothing but respect for the commissioners and the city manager. He apologized to each one in turn, though in general terms. "You know I love you," he told them. The apology sounded sincere but was qualified by his claim that portraying conflict between the city and the county "makes a good headline," when in fact, the county and the city have been at odds on several issues regarding the beach–and, indeed, was devoting part of its subsequent meeting this evening to a discussion on those very issues.
McLaughlin did not blame media however, but rather said his discussions with the city commissioners had been misconstrued.
In his apology to Newsom, McLaughlin said he'd been "caught in the middle" of the issue he'd brought up to Shupe. It's not clear how McLaughlin would have been caught in the middle of an issue he instigated in his conversation with Shupe: McLaughlin chose to bring up the matter to Shupe in their conversation because, he said in an interview earlier this week, he and Shupe are friends and he was concerned, as a citizen, about matters that "as a leader, I certainly am concerned that there's stuff like that going on that ought not to be going on."
McLaughlin did not speak with Newsom in person, before or after the meeting. After the meeting, Newsom said: "I'm going to be naïve and I'm going to say he meant it, but if it wasn't for the article I don't think he would have done that."
On Friday, McLaughlin would not explain what he meant by being "caught in the middle" of the Newsom issue, saying he'd addressed it as far as he wanted to. But he said he hadn't had all the facts at the time, and was now satisfied with what he'd learned. He said there was no "witch hunt," nor was there ever an intent to do anything but mention the issue to Shupe.