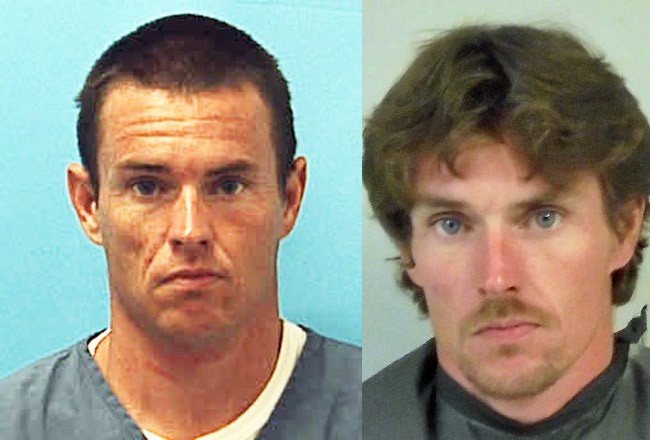 If it's not a pizzeria, it's a Chinese restaurant: Hugh W. McIntyre has a weakness for targeting Palm Coast eateries.
McIntyre, a 32-year-old resident of 12 Brian Lane in Palm Coast, is a convicted felon: three years ago he was found guilty of burglary and grand theft—each a third-degree felony—and served just over a year in state prison.
He'd burglarized Joe's New York Pizza in 2009 in a scheme elaborate enough that he shut off the breakers on the parking lot nights, according to court documents. He broke the side window of the business with a rock, entered the store, stole a computer worth $1,800, stole the cash register, and ripped off numerous "good luck" currency bills taped to a window. He then stored his loot in the v acant house next door.
His explanations to copes at the time: he was addicted to "Roxies," or roxycontin, also known as OxyContin, a narcotic pain reliever. He told cops he was looking for a rehab center. He ended up in prison.
Tuesday afternoon, McIntyre admitted to a similar felony burglary, this time at Oriental Garden, the popular Chinese restaurant in Flagler Plaza in Palm Coast.
McIntyre, according to restaurant staffers' account to police, entered the place and was looking at a menu, the way many customers do. The counter and cash register are located immediately in front of the glass-door entrance, with only a few feet's maneuvering space before the dining room opens up. The son of the owners was working at the time, as were his parents. The younger man went back to the kitchen to assist his parents with another order.
McIntyre went to the bathroom in the back, near the kitchen. But not long afterward, the younger staffer saw McIntyre lean over the front counter and reach into the cash register, which he'd managed to open. Surveillance footage would later show that McIntyre pressed the required keys to open the register.
The video shows the younger staffer and his parents intervene, but McIntyre runs out of the restaurant. An employee at ACE Hardware next door caught sight of the suspect and told police he'd be willing to identify him: he would later do so, as did the Oriental Garden staffer. McIntyre was seen fleeing in a white pickup truck, and a witness was able to provide a license plate number, which connected the truck to McIntyre.
Deputies located the suspect at the Kangaroo gas station on Palm Coast Parkway, where, after he was read his rights, McIntyre, according to his police report, took responsibility for the burglary. Deputies found $170 in his wallet.
McIntyre, who has a Homer Simpson tattoo on his right arm, according to state prison records, was charged with burglary and felony criminal mischief, for depriving Oriental Garden of an estimated $1,000 in business, as its owners had to divert their attention to the criminal matter Tuesday afternoon.
He was at the Flagler County jail Wednesday morning on $7,000 bond.