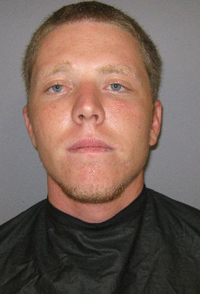 Nicholas Stolinas was hanging out at McHenry's Bar on the west end of Palm Coast Parkway the night of Sept. 2 when he overheard someone else offer to sell an Apple iphone to a friend, and saw $250 change hands. When the man who had just taken the $250 went to his car to retrieve the iphone, Stolinas followed him, according to a Flagler County Sheriff's report.
Stolinas, 22, whose last known address is listed in the 1800 block of Bahama Avenue at Marco Island, approached the phone's seller from behind and asked him if he was, in fact, selling an iphone. But before the man could turn around and answer, Stolinas allegedly struck him with a closed fist on the right side of his head and demanded the iphone and all his money.
When the victim turned over the iphone and what amounted to more than $500 in property, Stolinas ran back toward the bar, only to be wrestled down by other bar patrons, who held Stolinas until sheriff's deputies arrived.
While Stolinas was being taken to a patrol car, he yelled out to the man he'd allegedly attacked that he had bettter leave Flagler County because he knew people here who would "take care of him." An arresting deputy reported that Stolinas tried to kick out the windows of the patrol car where he was being held.
"We don't encourage citizens to confront a robber, but in this case, citizen involvement assisted deputies in making this timely arrest. Mr. Stolinas does not need to be out in the Flagler County community," said Sheriff Don Fleming.
During the booking process, deputies found Stolinas had two outstanding warrants for his arrest out of Collier County, where he has a long history of arrests on suspicion of battery, burglary and theft. He was being held at the Flagler County jail on $29,000 bond.