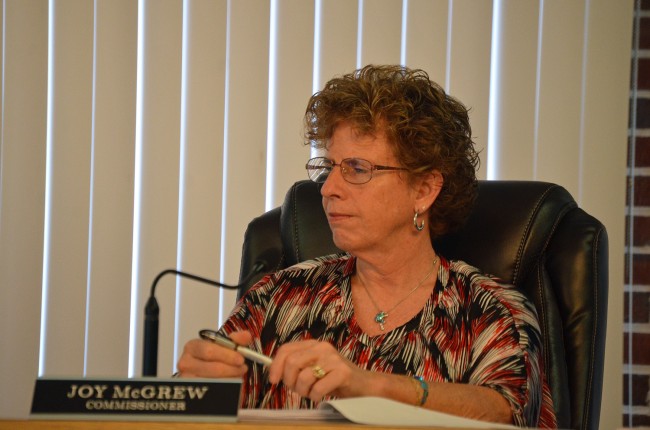 Joy McGrew had enough.
The Flagler Beach City Commissioner had enough of hearing business owner after business owner, restaurant owners especially, carp and moan about how the city is too restrictive, too business-unfriendly, too concerned about parking or noise or dogs when commissioners feel they've bent over backward to accommodate those same businesses—most of which are thriving, incidentally—while also having to contend with parades of residents carping and moaning about the city not being forceful enough about its parking and noise and other ordinances designed to protect their quality of life.
It's the oldest story in Flagler Beach, that balancing act commissioners are perpetually performing, like politicians on a tightrope, with businesses on one side and residents on the other.
So when Fuego Del Mar Restaurant owner Nicolas Kimball, who was objecting to a parking plan attached to his restaurant's entertainment permit, accused the city of essentially saying to people, "we're going to allow you to do good, but we're not going to allow you to do that good," McGrew let him have it.
"I think that's crap," McGrew said, 45 minutes into a discussion of Kimball's Fuego Del Mar permit at Thursday's city commission meeting. "All we ask you to do is follow the rules that everybody else is asked to do, and if that means find 12 parking spaces on your properties to meet our code, that's what you need to do." She didn't stop at that. She termed his charge offensive, she grew displeased at his interruptions, and she asked him not to put the commission in a place to play favorites with businesses, only to have to then defend the indefensible.
It was a tense, brisk moment that resonated with the background noise of recent flare-ups over Johnny D's and Hurricane Patty's and memories of other tugs of war involving the Funky Pelican and Oceanside Grill over various issues, among others. It was also an occasion for McGrew, with her colleague's silent assent, to set down a marker against repeated accusations of business unfriendliness. She did so sharply and unapologetically.
The issue involving Kimball and Fuego Del Mar revolves around the outdoor entertainment permit Kimball was seeking to have live music on the second floor of the restaurant. The city isn't objecting. The issue was laid out before the Planning and Architectural Review Board on June 4, which unanimously recommended approval of the permit—with conditions, among them that Fuego Del Mar secure a formal lease agreement for an adjacent parking lot and that 12 spaces be properly lined and spaced.
Kimball has that lease in hand. It was signed in February. But he doesn't want his permit to be contingent on it: the lease can be revoked on 30 day's notice either by him or by the landlord, though it's not likely to be any time soon. I just don't want to have any contingencies on my outdoor entertainment license based on a piece of property that I don't own, which I think is fair," Kimball said. "We were going to acquire the lot but now it's not feasible because the price went up $250,000."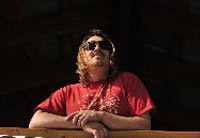 The lot belongs to Angelo Cinelli, who acquired the property at 600 South Oceanshore in 2004 under his LHP Scales company's name for $680,000. The Flagler County Property Appraiser has the land currently valued at $196,400.
Commissioners were perplexed by Kimball's request. He'd agreed to the review board's recommendation on June 14, lease requirement, parking plan and all. Nevertheless, Kimball pressed the issue, which then led into commissioner—and resident—concerns over the merit of the outdoor entertainment permit itself, and the first duel between Kimball and McGrew.
"I will tell you right now," McGrew said, "I'm not for at all you having any kind of entertainment on the second floor, because you don't have s sound barrier that—"
"I do," Kimball interrupted.
"One side, west? What happens to north, south and east? And wind? That's my concern," McGrew said. She mentioned the recent confrontations over Johnny D's and Hurricane Patty's, two businesses from whom she said the city asked for compliance without getting it. "It's been a nightmare," McGrew said. She was appreciative of the efforts Fuego del Mar was taking, but still apprehensive of the history of the issue.
Kimball said it's the license holder's responsibility to comply with the ordinance. If he doesn't, he risks losing his license, "so it doesn't behoove me not to be a good neighbor. The only thing that benefits me is to be a good neighbor,"  he said, especially since he wants those 400-some people in his neighborhood to come to his business and spend their money there. "I have no desire to disturb any of them at all. It's bad for business, Number 1, and at the end of the day that's really why I'm here."
One of those neighbors was not convinced.
"On more than the one occasion that Nick admits to, Michele Burpeau, a former business owner and resident at 602 South Central, said, "I personally, and this is my evidence, noticed and heard outdoor entertainment loud enough that I could hear it in the back of my house, with the windows closed, and the air conditioning going. So it was disturbing to me that before even a permit was applied for, that the rules were being broken. And again that was more than one occasion."
David Laffitte, a resident of 614  South Central Avenue, said he was happy with Fuego Del Mar's improvement over the previous business there, but was also skeptical of the city's willingness to make its rules stick. "It's important that these ordinances be enforced so the quality of life be maintained here," he said. He also had issues with what he called "a crazy parking plan. It should never have been allowed." The plan was criticized for poor design and inconveniences on people parking their cars.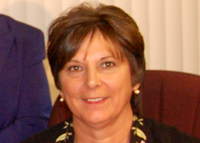 Commissioner Kim Carney was not keen on connecting the parking plan to the entertainment permit, but she made her position clear about the noise issue. "I feel that you're going to either make it or break it, and if you can't self-control, and you can't self-manage this, then you will be out of the entertainment business, because your community around you will make sure that happens," Carney told Kimball, who agreed. "So I personally can't withhold a permit because of the location of a place that is in a commercial and is in an acceptable area. You have to choose how you want to play ball in that neighborhood."
Kimball was granted a closing statement of his own after the public comment segment ended. That's when he made his accusation as part of his larger interpretation of what had been said in discussions starting at the review board meeting.
"What I felt was being said was, we're going to allow you, and whether the music brings people in or deters people, you never know," Kimball said. "You might not like Peter Frampton, I might love him, he might like Kid Rock and I might hate him. That could deter some people to come to my restaurant. Some people hate fiesta music. We need to get away from, as a community, from saying to people, we're going to allow you to do good, but we're not going to allow you to do that good, because that's what drives, that's what creates that non-business-friendly mindset for the people that might want to bring infrastructure and support and growth and financial resources to our community. So that's one issue."
He then turned to the question of parking, saying the city was looking at it the wrong way: limited parking means the community is thriving and helping to pay for such things as the city's attorney and the city manager. "So when we take this outdoor entertainment idea and we turn it into, well, we don't want him to do that good because he doesn't have a parking or we might have people backed up, what we really needed to say is, we did a great job as a community, and we knocked it out of the park, and now we have people that want to come to Flagler Beach, we have people that want to spend money and invest money in this town, and improve where not only where they're living but where they go to visit. And that's it, as far as I have to say."
"I think that's crap," McGrew shot back after a pause. "All we ask you to do is follow the rules that everybopdy else is asked to do, and if that means find 12 parking spaces on your properties to meet our code, that's what you need to do, and it doesn't mean park it in the sidewalk so people have to walk out on the road to get around it. It doesn't mean knock out a back fence wall in contingency to go into another parking lot that you may not have next year. So for you to sit there and say that I want everybody to do good but I don't want you to do that good is crap."
"Not you personally, not you at all," Kimball said.
McGrew: "OK, I'm sitting up here Nick, and you said it to me, so I take it personal, and it is my community—let me finish please," McGrew said as Kimball was trying to cut in. "All I'm saying to you is, you had it in black and white, you came in front of us a year and a half ago and said you're going to do this, this and this. You lost $10,000 because you couldn't give us what we needed to pass our audit to give you $10,000. Now, you can't open your second story because you wouldn't give whatever you needed to give to get a permit to be able to have, not have handicapped upstairs."
Kimball: "That's not true."
McGrew: "All I'm saying Nick, it's not fair for you to sit up there, to stand there and say, that we don't want you to do good."
Kimball: "It wasn't even the commission."
McGrew: "All right, I'm going to ask you one more time. Please don't interrupt me."
Kimball: "OK."
McGrew: "I want you to be successful. I don't think there's been a business come to this town short of Liquid that I did not want to see succeed. I have come to your establishment, I have supported every establishment, all of us have supported every establishment in this town. All we ask you to do is, don't ask us to give you or allow you to do something that nobody else gets to do."
Kimball: "That's fair."
McGrew: "So I just take offense to you saying that we don't want you to do well. We don't want you to do excellent. We don't want you to retire. We do. We don't want you making, putting us in a corner to where we have to go back and defend something or be the bad guys. All we ask is that you do what we have laid down as best we can as a city to govern our city for the betterment of the whole community. Be the good neighbor that we ask you to be, play the music the way you're supposed to play it, park the cars the way you're supposed to park it, and people will come. So that's it. I'm done."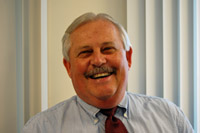 "Our ordinance is crystal clear," Commission Chairman Steve Settle said. "The outdoor entertainment portion of our ordinance clearly said that you have to meet the parking spaces. You were put through an ordeal at the PAR Board because the debate was all over whether those 12 spaces were provided or not. You would have been there all night had not the agreement been… that it was a simple solution for you just to add the parking lot adjacent, which supposedly was already under lease. So I did believe that you agreed to that, Mr. Kimball, and that certainly was the saving grace for not spending 12 more hours talking about whether or not you met the 12 parking spaces. So I'm at a loss to understand why you would not think that we, as sworn public officials to uphold the ordinance, would not do that. I mean, we have to. I took an oath."
Commissioner Jane Mealy then made a motion to approve Kimball's application for outdoor entertainment but it would not take effect until Kimball has a permanent certificate of occupancy (the temporary one expires July 1), which itself would not be issued until all the parking spaces comply with the city's code, and when the lot he's renting from Cinelli—if he agrees to rent it—is striped and landscaped by city code. Music speakers must also face east, with adequate sound barriers. The permit would be nullified if the lease on the adjacent lot expires.
The motion passed unanimously.