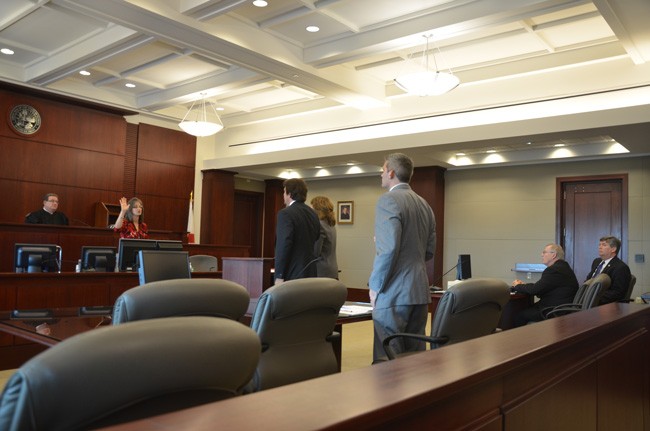 Dennis McDonald–"a thorn in the side of the city," in the words of Palm Coast's attorney–and his lawyer will have to pay Palm Coast at least a part if not all of the nearly $18,000 the city says it ran up in legal fees to defend what turned out to be a frivolous lawsuit. The question is: how much?
That wasn't answered by the sanctions hearing before Circuit Judge Michael Orfinger Monday morning in a Flagler courtrom, what was Orfinger's very first court appearance as a judge. Orfinger replaced Judge Dennis Craig, who was reassigned to Volusia County (and had been the judge of record on the McDonald-Palm Coast case).
McDonald–who's running for State Senate as a Republican in the Jan. 23 special primary– wasn't in court Monday, and hasn't been whenever his case has gone before a judge. He was represented by Josh Knight, who will have to pay half the fees the judge eventually orders. Present for Palm Coast were Mayor Jon Netts, City Council member Bill McGuire and City Manager Jim Landon, signaling the city's intent to make a statement with the case.
Debra Nutcher, the city's attorney, rejected Knight's claim that Palm Coast wanted to be "as punitive as possible" toward McDonald, who has been a frequent and acidic critic of the city. But Palm Coast's actions against McDonald and his attorney in rejecting their suit have been inherently punitive, if only to put McDonald–and others who may sue as he did–on notice that the city won't take legal attacks lightly.
"I want to have an opportunity to review it independently based upon the arguments I have heard," Orfinger said of the arguments the two sides made. He asked Nutcher to draft an order that would break out the hours worked on the case by each of three attorneys at her firm, plus a paralegal. Orfinger would then decide what the final cost to McDonald and Knight would be.
In August 2013 McDonald and his attorney filed an injunction against Palm Coast, alleging that the city was about to cut down trees in and around the Palm Harbor shopping center, ahead of construction there and along Palm Coast Parkway. Even to the untrained eye, the suit appeared poorly crafted and based on allegations of facts that could easily be either disproved or shown to be contradictory. Before long, the city filed its response, rejecting the suit's allegations and calling for it to be dismissed. It was. But the city went further, asking the court that Knight and McDonald be compelled to reimburse the city for legal fees spent defending the suit, and that both be liable for costs equally.
In early September, Craig agreed with Palm Coast and said attorneys' fees should be charged to Knight and McDonald. Knight said the judge did not himself find in favor of that approach, but rather that Knight and the city's attorney had settled on the approach. Nevertheless, Craig filed an order requiring that fees be paid. He did not say how much should be paid.
That was the issue to be decided today before Orfinger, who was seated as a circuit judge only earlier this month.
Debra Nutcher, one of the city's attorneys–and the principal attorney on the case–said the total hours her firm's attorneys put in added up to just over 120, charged at $150 an hour, and $75 an hour for paralegal work. The total bill came out to $17,775.
"I tried several times to tell him, I'm willing to compromise on our bill right now so we don't have to take it to hearing," Nutcher said, referring to Knight, "and I could never get an answer from him." She said she tried to be as reasonable as possible, short of simply throwing out the costs.
Knight claimed the city billed for inappropriate matters, including too much time spent on the case, research required for public record requests by McDonald, and for trying to get Craig pulled off the case after Craig, in a high-visibility case, took the city to task over a red-light camera ticket (which Craig ended up not having to pay). Nutcher conceded that the city tried to get Craig off the case but eventually decided against going through with that approach. She defended billing for those matters, saying McDonald "flip-flopped" in the case while Knight was difficult to get a hold of along the way, requiring various steps to be scrapped and reworked, adding to the hours billed.
Aside from the attorneys, who both testified in the case as witnesses, Palm Coast brought in just one witness on its behalf: Michael Chiumento III, the Palm Coast attorney who often works on municipal land use cases–and often in opposition to Palm Coast. Chiumento called the city's billable rate relatively low, compared to standard rates, and said the number of hours spent on the case was reasonable. The judge agreed with the rate's reasonableness. He did not indicate whether he thought spending 120 hours on the case was reasonable.
County Attorney Al Hadeed and Flagler County Commission Chairman Frank meeker were also in the audience–not because they have a direct stake in this case, but because Knight is the attorney of record on another case filed by the so-called Palm Coast Watchdogs, that one against the county (over the purchase of the old Memorial hospital in Bunnell), that Craig also threw out as frivolous. The county has filed a motion to recoup fees much as Palm Coast has in the McDonald matter. Hadeed and Meeker were present today as interested parties, since Orfinger's decision will set a precedent that will likely apply to the county matter as well.