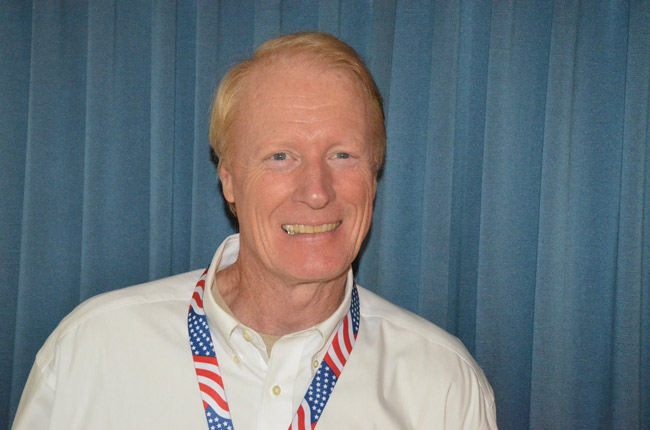 An attorney representing Commissioner Nate McLaughlin on behalf of the Flagler County Commission on Monday filed a petition to the Florida Ethics Commission to recover costs county government incurred defending an ethics complaint against McLaughlin the county deems based on malicious lies.
The complaint was filed against McLaughlin by Dennis McDonald, a director of the Ronald Reagan Republican Assemblies, on June 30. The ethics commission dismissed it on Oct. 28. It was one of 19 similarly styled complaints filed by McDonald, Assemblies member John Ruffalo and their allies against county officials since last year.
Monday's filing was not a surprise. County Attorney Al Hadeed told the county commission it was likely last month, when the McDonald and Ruffalo ethics complaints became the latest of more than half the 19 complaints to be dismissed. But the wording of Monday's filing reveals the extent to which McDonald went to–according to the county–invent a case against McLaughlin, intentionally to damage his reputation. At one point the petition suggests that McDonald lied under oath, which would amount to perjury, a criminal offense. And throughout, the 11-page petition mirrors McDonald's acts with those of his co-complainers, stating explicitly that all 19 complaints show "similarities of structure, content, and intent among the complaints filed by the group that exhibit a concerted effort to cast local officials in a false light and besmirch their reputations."
The wording and intimations of the petition is remarkable for a tone that mirrors political rather than legal rejoinders, which may well be the county's intent: it is sending a signal to the Reagan assemblies or its current and former acolytes that it is no longer taking gratuitous criticism even within the usual and very broad bounds of public and government discourse, where the threshold for injurious speech is almost invisible. For a government official to have a legal case against anyone who's been critical beyond First Amendment protections, the official must show that the criticism was not only false, but willfully so, and in reckless disregard of the truth.
That's what the petition to the ethics commission, unique in the annals of Flagler government, seeks to do.
"The complaint by Mr. McDonald was filed with a malicious intent to injure the reputation of Mr. McLaughlin," the petition, written by attorney Mark Herron but likely with generous helpings of Hadeed, "and it was fueled with knowledge that it contained one or more false allegations, or with reckless disregard for whether it contained false statements of facts material to alleging a violation of the Code of Ethics."
"I'm absolutely going to contest it," McDonald said this afternoon in an interview. "Maybe I gave them too much information and they didn't get to it, but the issue is how can we function without people freely being able to make complaints to the ethics commission?" He said it's now a First Amendment issue.
The county is listing just $630 in recoverable fees so far, but Hadeed, briefing the commission on the filing Monday evening, said the amount is far from the recoverable total because it doesn't include his office's billable hours, only those of Messer Caparello, the Tallahassee-based firm that filed the petition.
"We have been doing the bulk of the work on these complaints simply because it reduces the cost that the insurance company has to spend, which hopefully will mitigate against any insurance premium increase, so we're trying to save premium dollars long into the future by trying to do as much of the work as we can," Hadeed said.
The counter-complaint against Ruffalo, which Ruffalo filed against Hadeed, is still in the works because his allegations are "far more numerous," Hadeed said.
Others filing complaints have included Mark Richter Sr. and his son of the same name. The father ran against McLaughlin in the Republican primary in 2014 and lost, and moved from Daytona North (or the Mondex) to run in the district now held by Charlie Ericksen Jr. McDonald ran against commissioner Frank Meeker and lost.
McDonald's complaint against McLaughlin was two-fold. It claimed that when McLaughlin paid a $250 fine for an impropriety with a campaign ad, he paid the fine improperly. And that the county should not have been providing him a defense for his acts as a candidate.
Both claims are false, Hadeed said, citing documents. Beyond that, he said McDonald knew his claims were false, because he had asked for, and received–through public record requests–the documents that explicitly prove McLaughlin had used his money, not the county's, to pay the fine. Similar documents and recordings show that the county's defense of McLaughlin was legal, as had been explained to commissioners by Hadeed.
"Mr. McDonald who serves us with public record requests quite frequently," Hadeed said, "had requested records concerning these insurance claims, and he received the letters in advance of his filing of the complaint, letters that were specifically addressed to Mr. McLaughlin and the county commission, saying that there would be no coverage, there would be no assumption of any of the costs or the obligations to respond to that particular political ad complaint, and that was in his possession prior to the time that he filed the ethics commission complaint."
"I take a different viewpoint of that and I think I'm correct on that," McDonald said today. "Frank meeker did it right. Frank Meeker wrote a check from Frank Meeker to the Division of Elections and paid his fine. McLaughlin did not. McLaughlin paid his fine from a trust account." (Meeker was fined for the same reason McLaughlin was.) In other words, "he did not pay it from a personal check. I mean Frank did it right. Why does Nate have to do it through an attorney? Is he trying to hide something?"
McDonald wrote to the ethics commission: "It is believed funds disbursed from the Trust Account were funds that were not provided personally by the 'Respondent' Nathan (Nate) McLaughlin."
"This is essentially a First Amendment right, and if you stop and think about it, the reason the Ethics Commission exists, it's to find these things out," McDonald said today, stressing that it was the first time he'd made an ethics complaint. "I think I've got it right," he said, while the county is "fuzzing up the whole thing" to silence him.
But McDonald is no rookie in such legal actions against government. Two years ago he sued Palm Coast, the lawsuit was declared frivolous, Palm Coast pursued McDonald and his attorney for fees, and a circuit court ruled in Palm Coast's favor, forcing McDonald to pay several thousand dollars in legal fees.

Click to access 2015-11-16-Petition-for-Costs-and-Attorneys-Fees.pdf