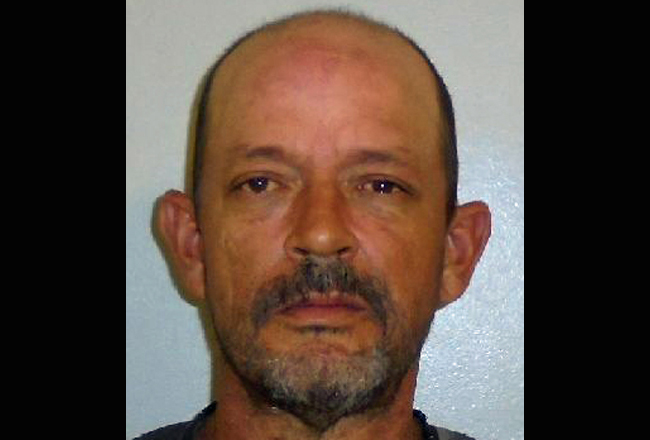 In early May Kevin McClenithan, a Bunnell felon with an arrest records in at least seven Florida counties, was arrested and charged with cruelty to animals for allegedly shooting a puppy with a 12-gauge shotgun even though the puppy was fenced in.
The dog hadn't bitten him or his live-in girlfriend at the time, Marsha Roach. It had merely wandered onto Roach's property and, according to Roach, had become aggressive. She had locked it in a pen and waited for McClenithan to return home and deal with the dog. As a felon, McClenithan was not allowed to have or use firearms. He was charged with cruelty to animals, a first-degree misdemeanor, and possession of a firearm by a convicted felon, a second-degree felony. He eventually posted $5,000 bond and was released.
On Monday (Sept. 27), McClenithan, 46, got in an argument with Roach at her property off State Road 100 in western Bunnell. He accused Roach of cheating on him while he was in jail. According to Roach, he "grabbed her and pushed her over a bar stool," grabbing her by the throat though to cause her to fear that she was about to pass out, if he were to hold on much longer. He then "slapped her across the face and then head-butted her in the forehead."
Roach, 62, was able to free herself and get in her truck, but not before "he repeatedly spat in her face," according to McClenithan's arrest report. She said she did not call police the day of the incident because she wanted to give him a couple of days to cool off.
Two days later she called for a police escort, or a "stand-by," so she could retrieve some belongings from the property. The deputy observed several marks on Roach's chin, the left side of her cheek, her neck and one of her forearms. In the house, the deputy noticed some turned over furniture. McClenithan was placed under arrest on a domestic battery by strangulation charge, a felony.
As he was driven to the Flagler County jail, McClenithan's arrest report states, McClenithan told the deputy he was "going to find me and fuck me up," and allegedly threatened that if h were to manage to free himself from handcuffs, he would hurt the deputy, and burn the house down once he is released from jail. He was charged with corruption by threat, also a felony.
He was asked if he had any contraband before being booked into the jail. He said he didn't, but a small amount of marijuana was found in a baggie in his wallet, resulting in a third felony charge–introduction of contraband in a detention facility. He was held on $7,000 bond, but on Wednesday, his bond on the earlier charges was revoked. He remains at the county jail.